News
Tony Orlando Delights Cancer Survivors
November 28, 2016
Tony Orlando Delights Cancer Survivors
Bethlehem, PA (11/28/16) –
No need for yellow – or any other color ribbons – they still wanted him.
Singer Tony Orlando
, the man who sang, "Tie a Yellow Ribbon 'Round the Old Oak Tree," and "Knock Three Times," was a hit for the second consecutive year as almost 1,500 cancer survivors and their guests took part in Orlando's tribute to those who have fought with cancer and won.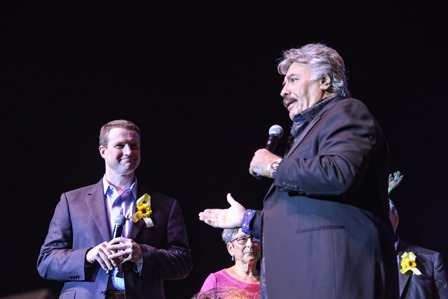 ---
Tony Orlando thanks St. Luke's Dr. Nick Taylor on Nov. 27, 2016 for the compassionate care he shows his patients.
St. Luke's University Health Network
sponsored the show that took place at the
Sands Event Center
in Bethlehem on Nov. 27.
Survivors sang and danced in the aisles, and displayed all manner of yellow ribbons for Orlando who put on a lively hour and a half concert featuring a medley of hits followed by a collection of best-loved Christmas songs. A very talented Santa Claus, a noble shepherd and others made guests appearances to the delight of the crowd.
"It's an incredible day when people can celebrate a victory over cancer,"
Nick Taylor, MD
, Chief of Gynecologic Oncology, St. Luke's University Health Network, said.
Complimentary tickets to the event were offered on a first come-first served basis to St. Luke's cancer survivors, who were able to bring a guest to accompany them for a nominal fee.
"What makes this show special is that former patients can celebrate and re-connect with their support network outside the hospital." Taylor said.
"We also recognize all those who helped make this event possible through their incredible generosity, including Tony Orlando, the Sands Event Center,
Boutique at the Rink,
The Regina Patient and Family Support Endowment,
St. Luke's Circle of Hope Society
and the
St. Luke's Auxiliary
," Taylor added.
About St. Luke's
Founded in 1872, St. Luke's University Health Network (SLUHN) is a non-profit, regional, fully integrated and nationally recognized network providing services at seven hospitals and more than 270 outpatient sites. The network's service area includes Lehigh, Northampton, Carbon, Schuylkill, Bucks, Montgomery, Berks and Monroe counties in Pennsylvania and in Warren County in New Jersey. Dedicated to advancing health education, St. Luke's operates the nation's oldest School of Nursing and 22 graduate medical educational programs and is considered a major teaching hospital, the only one in the region. In partnership with Temple University, St. Luke's created the region's first Medical School. Repeatedly, including 2016, St. Luke's has earned Truven's 100 Top Major Teaching Hospital designation as well as 50 Top Cardiovascular program in addition to other honors for clinical excellence. St. Luke's is a multi-year recipient of the Most Wired award recognizing the breadth of St. Luke's information technology applications such as electronic medical records, telehealth, online scheduling and pricing information. St. Luke's is also recognized as one of the state's lowest cost providers in comparison to major teaching hospitals and other health systems.