News
St. Luke's Recognized as 'Readers' Choice'
September 26, 2016
St. Luke's Recognized as 'Readers' Choice'

Bethlehem, PA (9/26/2016) –
St. Luke's University Health Network
has again received top honors as part of the 13th Annual Morning Call Reader's Choice awards. The Network has been identified as the region's:
• Best Hospital/Health Network
• Best MRI/Diagnostic Imaging
• Best Obstetrician (St. Luke's Riverside Women's Healthcare)

• Best Place to Have a Baby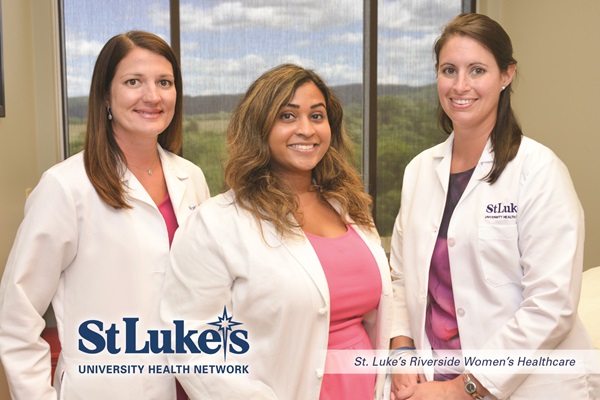 Riverside Women's Health Care was chosen as "Best Obstetrician" in The Morning Call's 2016 Readers' Choice Awards
---
Each year, Morning Call readers are asked to vote for exceptional businesses or services, including health care, throughout the Lehigh Valley. Over 77,000 readers weighed in with their choices in 294 categories. Readers have rated St. Luke's as their choice for the region's best health care year after year.
"We take great pride in this recognition because it means that we're fulfilling our main mission to provide easy access to quality health care for the Lehigh Valley," says Joel Fagerstrom, Chief Operating Officer of St. Luke's University Health Network. "To be recognized for consistently achieving our goals as a unified team committed to health care, is certainly a validation of our efforts."
In addition to the pride that comes with the "Best Hospital/Health Network" and "Best MRI/Diagnostic Imaging" awards, the validation carries through to St. Luke's Women's Services with the distinctions of being named both Best Place to Have a Baby and Best Obstetrician.
"We are committed to providing the best possible experience for our moms, babies and their families," Jared King, service line administrator for
St. Luke's Women's and Children's Services
, said. "By assembling the very best medical staff and facilities in our OB/GYN practices and Labor and Delivery units, we help patients stay informed, educated and most of all, healthy."
About St. Luke's
Founded in 1872,
St. Luke's University Health Network (SLUHN)
is a non-profit, regional, fully integrated and nationally recognized network providing services at soon-to-be seven, hospitals and more than 270 outpatient sites. The network's service area includes Lehigh, Northampton, Carbon, and Schuylkill, Bucks, Montgomery, Berks and Monroe counties in Pennsylvania and in Warren County in New Jersey. Dedicated to advancing health education, St. Luke's operates the nation's oldest School of Nursing and 22 graduate medical educational programs and is considered a major teaching hospital, the only one in the region. In partnership with Temple University, St. Luke's created the region's first Medical School. Repeatedly, including 2016, St. Luke's has earned Truven's Top 100 Major Teaching Hospital designation as well as Top 50 Cardiovascular program in addition to other honors for clinical excellence. St. Luke's is a multi-year recipient of the Most Wired award recognizing the breadth of St. Luke's information technology applications such as electronic medical records, telehealth, online scheduling and pricing information. St. Luke's is also recognized as one of the state's lowest cost providers in comparison to major teaching hospitals and other health systems.
---
Media Contact:
Mariella B. Miller
Senior Director, Corporate Communications
St. Luke's University Health Network
484-526-4134
Mariella.Miller@sluhn.org
For more information about St. Luke's services or to find a physician, call St. Luke's InfoLink toll-free at
1-866-STLUKES (785-8537) Monday through Friday from 8:30 am to 4:30 pm or email us anytime at
Info.Link@sluhn.org
.