News
St. Luke's Quakertown Campus Earns 'Center for Excellence in Hernia Surgery'
July 05, 2016
St. Luke's Quakertown Campus Earns 'Center for Excellence in Hernia Surgery'
Quakertown, PA (7/5/2016)
– St. Luke's University Health Network's
Quakertown Campus
has been designated a Center of Excellence in Hernia Surgery™ (COEHS) by Surgical Review Corporation.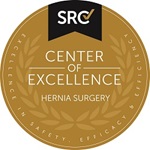 Additionally, Quakertown physician
Emanuel Nogueira, MD
has earned the Surgeon of Excellence in Hernia Surgery™ (SOEHS) designation.
St. Luke's Quakertown and Dr. Nogueira are the first and only Center of Excellence in Hernia Surgery designees in Pennsylvania.
"Earning these designations signifies our ability to consistently deliver the safest, highest-quality care to hernia surgery patients," said Dr. Nogueira. "The COEHS program fosters quality improvement in hernia surgery, and participation has focused our team on exceeding clinical benchmarks and guidelines. Most importantly, our commitment to excellence improves the health and well-being of our patients."
The Hernia Center at St. Luke's Quakertown Campus promotes patient-centered care for all types of hernia from simple to extremely complex. Minimally invasive surgery is the preferred approach whenever possible, resulting in smaller scars, faster recuperation and shorter hospital stays.
About St. Luke's
St. Luke's University Health Network (SLUHN)
is a non-profit, regional, fully integrated, nationally recognized network providing services at six hospitals and more than 200 sites, primarily in Lehigh, Northampton, Carbon, Schuylkill, Bucks, Montgomery, Berks and Monroe counties in Pennsylvania and in Warren County, New Jersey.
About Surgical Review Corporation
Surgical Review Corporation (SRC) is an independent, nonprofit organization governed by industry stakeholders and dedicated to advancing the safety, efficacy and efficiency of surgical care worldwide. For more information, visit
www.surgicalreview.org
.
---
Media Contact:
Mariella B. Miller
Senior Director, Corporate Communications
St. Luke's University Health Network
484-526-4134
Mariella.Miller@sluhn.org
For more information about St. Luke's services or to find a physician, call St. Luke's InfoLink toll-free at
1-866-STLUKES (785-8537) Monday through Friday from 8:30 am to 4:30 pm or email us anytime at
Info.Link@sluhn.org
.