News
St. Luke's Miners Awards Scholarships to Area Students
May 18, 2016
Coaldale, PA (5/18/2016)
– Fourteen area students were awarded academic scholarships for $1,000 each by the administration and trustees of
St. Luke's Miners Hospital
at a May 17 ceremony in the hospital lobby.
The awards are presented annually to graduating seniors from seven area high schools who meet the specific criteria including graduating in the top 25 percent of his or her class and being enrolled full-time in an accredited four-year college or university in the health care field.
"To be able to provide these scholarships to these students is an honor for us at St. Luke's,"
William Moyer, President of St. Luke's Miners Campus
, said. "We hope that the young men and women receiving the awards will return to our area after completing their training to provide health care services to the community in which they were raised."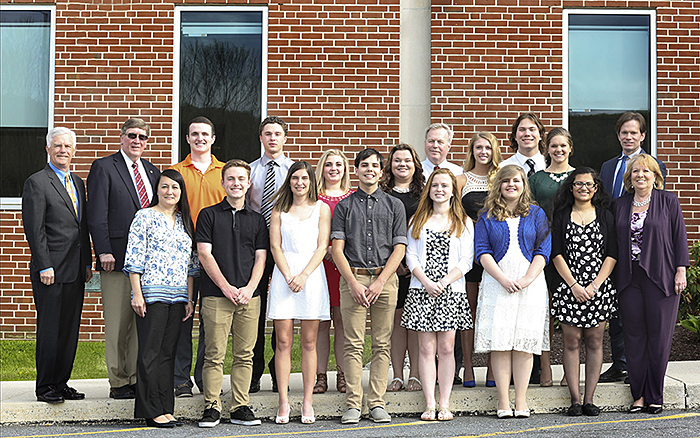 ---
Fourteen graduating seniors on May 17, 2016 accepted scholarships for $1,000 each from St. Luke's Miners' Board of Trustees and Medical Staff with the hope that once they become health care professionals they will return to care for the people in their home communities.
The scholarships were announced by the distinguished members of the St. Luke's Miners Campus administration and medical staff including
President Moyer
, Maureen Donovan, Chairman of St. Luke's Miners Board of Trustees,
James D. Bohri, MD
, Radiologist and President of Medical Staff, and
Mark Kender, MD
, Vice Chairman of St. Luke's Miners Board of Trustees
Of the 14 annual scholarships, seven are awarded by the Board of Trustees (BOT) and seven from the Medical Staff (MS). Recipients include:
Jim Thorpe High Schoo
Ava Lowen, Susquehanna University, BOT
Kayla Sompel, Bloomsburg University, MS
Lehighton High School
Joshua Knappenberger, Temple University, BOT
Tanner Zwetolitz, Temple University, MS
Marian Catholic High School
Molly Carnish, DeSales University, BOT
Emma Macaluso, University of Tampa, MS
Mahanoy Area High School
Desiree Malacusky, Lock Haven University, BOT
Madison Ansbach, Pennsylvania State University, MS
Panther Valley High School
Jordan Reis, Pennsylvania State University, BOT
Kelsey Van Horn, Temple University, MS
Tamaqua Area High School
Julia Shellhamer, Wilkes University, BOT
Alexis Baddick, Misericordia University, MS
Weatherly Area High School
Muskan Khatiwala, Pennsylvania State University, BOT
Ashley Nunez, Old Westbury College, MS
About St. Luke's
St. Luke's University Health Network (SLUHN)
is a non-profit, regional, fully integrated, nationally recognized network providing services at six hospitals and more than 200 sites, primarily in Lehigh, Northampton, Carbon, Schuylkill, Bucks, Montgomery, Berks and Monroe counties in Pennsylvania and in Warren County, New Jersey.
---
Media Contact:
Mariella B. Miller
Senior Director, Corporate Communications
St. Luke's University Health Network
484-526-4134
Mariella.Miller@sluhn.org
For more information about St. Luke's services or to find a physician, call St. Luke's InfoLink toll-free at
1-866-STLUKES (785-8537) Monday through Friday from 8:30 am to 4:30 pm or email us anytime at
Info.Link@sluhn.org
.