News
St. Luke's is Aggressively Pursuing a Cure for Cancer
June 02, 2016
Bethlehem, PA (6/2/2016)
– As the local leader in cancer clinical trials, St. Luke's offers patients access to the very latest in cancer care, breakthrough treatments that are giving patients new hope in their fight against cancer, while giving clinical cancer experts the opportunity to study their effectiveness.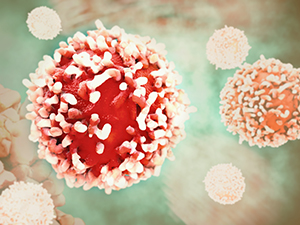 "The best treatment for a cancer patient may be a clinical trial," says
Sanjiv Agarwala, MD
, Chief of Hematology and Oncology,
St. Luke's University Health Network
. "A patient is receiving the most current treatment for his or her specific cancer, along with what could be the next medical breakthrough or next generation of cancer fighting therapy. No one in the region has more experience than St. Luke's in cancer clinical trials, and by hosting them, we can offer innovative treatments before other cancer centers can."
St. Luke's Cancer Center participates in numerous cancer clinical trials, including ones testing new medications or combinations of medications, and new surgery and clinical procedures. Eligible patients carefully review the criteria, potential benefits, risks and other considerations with their St. Luke's physicians and support staff before being enrolled in a clinical study.
"We're at the frontier of personalized cancer treatment and targeted therapies," stated
David Anderson, MD
, PhD, Chairman, Department of Pathology, St. Luke's University Health Network. "We can test patient tissue more specifically and accurately than ever before to provide therapies and treatments that are more targeted to the individual's type of cancer. St. Luke's looks for trials that are actionable, so a patient is receiving the potential next big thing in cancer treatment that could impact his or her life and the lives of many others."
Now at St. Luke's: Breakthrough Immunotherapy Study for
Triple-Negative Breast Cancer
St. Luke's Cancer Center is one of only two sites in Pennsylvania selected by Genentech, an international powerhouse in biotechnology, to participate in a clinical trial for a new immunotherapy breast cancer treatment. The WO29522 metastatic triple-negative breast cancer study will determine the efficacy and safety in using MPDL3280A (an Anti-PDL-1 antibody) in combination with nab-paclitaxel in treating patients with untreated triple negative breast cancer.

To enroll in the study, a patient must be diagnosed with metastatic or locally advanced, histologically-documented Triple-Negative Breast Cancer (TNBC); have had no prior chemotherapy or targeted systemic therapy for inoperable locally advanced metastatic TNBC; and has measurable disease. Also, patients cannot have any known central nervous system (CNS) disease, except for treated asymptomatic CNS metastases.
Immunotherapy is at the forefront of cancer treatment, harnessing the power of the immune system to fight cancer. Because of St. Luke's extensive experience with immunotherapies, St. Luke's knows how to best manage potential symptoms and side effects of immunotherapy treatments, as well as the expected rate of response. Looking forward, immunotherapies may replace some standard regimens of chemotherapy as they tend to be more effective, less toxic and better tolerated, often causing fewer and less severe side effects. Some immunotherapies work in conjunction with chemotherapies.
St. Luke's is often first in the region and even nationally to offer leading immunotherapies for many types of cancer. Working with numerous drug companies throughout the world, St. Luke's carefully selects the trials to offer and can have a study open to patients at our cancer centers within 80 days of the trial becoming available. The decision to participate is made by St. Luke's team of cancer specialists. After a careful evaluation, St. Luke's chooses only the most promising studies that offer the best response and opportunity for compliance with the fewest side effects. Trials are then awarded based on a visit from the sponsoring company and a thorough review and approval by the St. Luke's Institutional Review Board (IRB).
St. Luke's Oncology Clinical Trials team offers studies that are sponsored by industry pharmaceutical companies, government sponsored studies through NCI's National Clinical Trials Network (NCTN) such as ECOG-ACRIN, NRG, Alliance and SWOG, as well as homegrown investigator-initiated trials (IITs), some of which are multi-site with St. Luke's serving as the lead coordinating center. This robust clinical trial portfolio consists of numerous treatment trials, and trials that are exclusive to St. Luke's, bringing innovative therapies to the Lehigh Valley and the surrounding area. St. Luke's also offers clinical trials which consist of newly FDA-approved drugs, as well as expanded access trials (awaiting FDA approval), providing the latest and greatest therapies, as well as unapproved therapies, to patients.
St. Luke's has become the go-to center for oncology clinical trials, according to
Tracy Butryn
, MS, CCRP, CHRC, Director of Clinical Trials and Research. "We're known for having the infrastructure to successfully open, administer and navigate the entire process," she says. "We're approached by pharmaceutical and biotech firms to host trials for new therapies, and we're very selective in which ones we choose to host. We only open studies that are well-thought out and that offer the best, most promising treatments."
Patients not only have access to the vast expertise available at St. Luke's. There is also the extensive knowledge of what is going on at other top cancer centers around the country.
"There are 700 clinical trials within a 300 mile radius of the Lehigh Valley," according to
Lee Riley, MD
, PhD, FACS, St. Luke's University Health Network Chairman of Oncology. "Many are taking place right here at St. Luke's. It all depends on the patient and which particular trial may be most appropriate. If there is no particular trial in the Lehigh Valley, there may be one elsewhere. What's most important is getting the information to the patients so they are well educated, can make a well-informed decision and most importantly, get the best care."
Clinical trials at St. Luke's are available for the following cancers: Bladder Cancer; Brain Cancer; Blood Cancer (Lymphoma and Multiple Myeloma); Breast Cancer; Gynecologic Cancers (Cervical, Ovarian and Uterine); Colorectal Cancer: Head and Neck Cancer; Liver Cancer: Lung Cancer; Melanoma: Pancreatic Cancer: Prostate Cancer; and Renal Cancer.
For more information, call St. Luke's University Health Network's Clinical Trials office at 484-503-4151.
About St. Luke's
St. Luke's University Health Network (SLUHN)
is a non-profit, regional, fully integrated, nationally recognized network providing services at six hospitals and more than 200 sites, primarily in Lehigh, Northampton, Carbon, Schuylkill, Bucks, Montgomery, Berks and Monroe counties in Pennsylvania and in Warren County, New Jersey.
For more information about St. Luke's services or to find a physician, call St. Luke's InfoLink toll-free at
1-866-STLUKES (785-8537) Monday through Friday from 8:30 am to 4:30 pm or email us anytime at
Info.Link@sluhn.org
.