News
St. Luke's Epic Electronic Medical Record Implementation is a Success
May 20, 2016
Bethlehem, PA (5/20/2016)
–
St. Luke's University Health Network
recently converted its inpatient electronic records system to a new system developed by Epic Systems Corp. based in Verona, WI.
St. Luke's went live with Epic, its new clinical and revenue cycle system on January 9, 2016 at all six hospitals and multiple outpatient departments. With thousands of employees involved in the preparations for the installation,
St. Luke's is one of the largest organizations in the country to deploy Epic across all of its hospitals at once while handling a patient capacity increase during the go-live phase.
St. Luke's use of the Epic electronic medical records system will provide its staff and patients with easier access to patients' charts in a more secure environment as well as better records portability.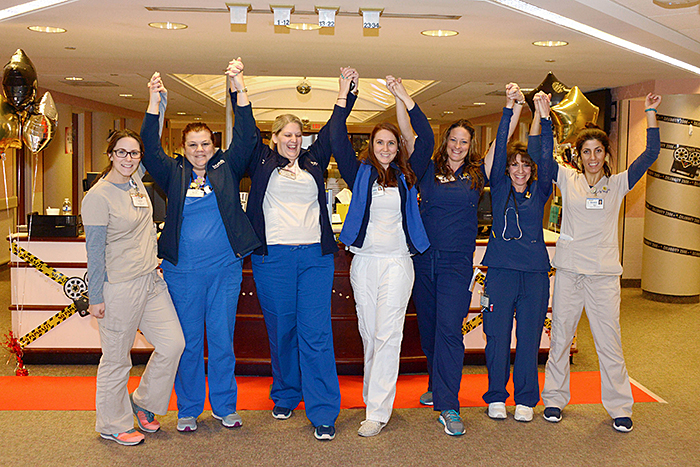 ---
Epic users at St. Luke's University Health Network celebrate the system's "Go Live."
"We had a phenomenal roll-out of Epic, thanks to the teamwork and cooperation among departments, staff, clinicians, and management," says
Joel Fagerstrom
, Executive Vice President & Chief Operating Officer at
St. Luke's University Health Network. "St. Luke's made it our mission to engage, inform and empower every employee to learn about Epic. We are faster, more efficient and better than we've ever been."
Carl Dvorak
, President of Epic, congratulates St. Luke's on its successful implementation of Epic and their return on investment. "Going live big-bang across 6 hospitals with a full enterprise suite was a tremendous accomplishment by their clinical and business teams," says Dvorak. "The St. Luke's team did a great job fostering engagement at every level of their organization. They went live on-time, stayed under budget and their doctors didn't skip a beat and were able to handle more patients even during go-live. They knocked it out of the park."
In many instances conversion to an electronic medical records system has slowed down organizations for many months after go-live and resulted in significant revenue cycle impacts. St. Luke's experience has been just the opposite. St. Luke's achieved top decile in revenue cycle metrics. The management plan for leading this organizational change was well executed leading to phenomenal operational and organizational results just weeks after go-live. The six hospital system go-live handled a 10 percent increase in capacity and the project came in on-time and under-budget. Three months after go live, throughput, productivity and revenue has improved throughout the health system compared to pre-Epic baselines.
St. Luke's effort was led by
Chad Brisendine
, Vice President and Chief Information Officer, who states, "St. Luke's Epic implementation had many factors that led to great success and it started with all of our employees. Our project included comprehensive plans for communication, operational engagement and benefits which made the project truly transformational for St. Luke's and our community."
With great success, St. Luke's is rolling into its next Epic installation, Epic Ambulatory which will start its implementation process this spring. Epic Ambulatory will connect outpatient offices and community providers who practice at St. Luke's. St. Luke's outpatient will be on Epic by January 2018.
About St. Luke's
St. Luke's University Health Network (SLUHN)
is a non-profit, regional, fully integrated, nationally recognized network providing services at six hospitals and more than 200 sites, primarily in Lehigh, Northampton, Carbon, Schuylkill, Bucks, Montgomery, Berks and Monroe counties in Pennsylvania and in Warren County, New Jersey.
---
Media Contact:
Kenneth Szydlow
Vice President, Marketing & Public Relations
St. Luke's University Health Network
484-526-4946
Kenneth.Szydlow@sluhn.org
Mariella B. Miller
Senior Director, Corporate Communications
St. Luke's University Health Network
484-526-4134
Mariella.Miller@sluhn.org
For more information about St. Luke's services or to find a physician, call St. Luke's InfoLink toll-free at
1-866-STLUKES (785-8537) Monday through Friday from 8:30 am to 4:30 pm or email us anytime at
Info.Link@sluhn.org
.