News
Donald C. Seiple Jr. Named President of St. Luke's Monroe Hospital
February 15, 2016
Bethlehem, PA (2/15/2016) – St. Luke's University Health Network has named Donald C. Seiple Jr. as president of its seventh and newest hospital which is expected to open in fall 2016 along Route 611 in Bartonsville, Monroe County.

A Nazareth resident, Seiple has been the Network's Vice President of Operations since 2010. In that role he managed clinical engineering, plant operations, safety and security, nutrition services, environmental services, volunteer services, property management, , sterile processing, grounds, and the nephrology service line which includes inpatient and outpatient dialysis and the Network's nephrology practice.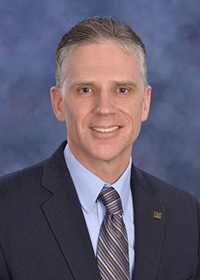 Donald C. Seiple Jr.
In 2007, Seiple was named St. Luke's Network Director clinical engineering. During that time he developed equipment standards to improve safety and reduce ownership expenses, negotiated and administered clinical service contracts valued at $4.2 million, managed the evaluation and selection of all medical equipment in the network, developed policies and procedures to ensure compliance with various regulatory agencies, and developed staff to eliminate the reliance on contract services. Seiple began his St. Luke's career in 2000 as a biomedical equipment technician hired to establish an in-house nuclear medicine service program.

"I am ecstatic at the opportunity to bring a higher level of health care – St. Luke's excellent inpatient care – to the Monroe County community," Seiple said. "Being part of a brand new hospital that will provide the residents of Monroe County and the surrounding area access to better care is an exceptional honor. Working with the physicians, clinical staff and operational team is a welcome professional challenge, and knowing what a difference we can make in the community is also very personally rewarding."

"I have not taken a traditional career path," he said, "I came to St. Luke's 15 years ago and 12 years ago became a member of the management team. I have always appreciated the people who mentored me and looked out for me."

Seiple has a degree in Specialized Technology Electronics from Lincoln Technical Institute, a degree in Business Administration from Northampton Community College and a degree in Business Administration in Healthcare Management from Liberty University.

The new St. Luke's Monroe Campus is under construction on a 41-acre parcel of land located on Route 611 in Bartonsville. It's close to the Route 33 and I-80 interchange and is within a 30-minute drive of most of Monroe County.

Targeted to open in the fall of 2016, St. Luke's Monroe Campus is the first new hospital in Monroe County in 100 years. It will provide easy access to outstanding physicians and advanced practitioners, nationally recognized health care and superb customer service.

The first phase of the new campus includes a beautifully-appointed four-story, 180,000 square foot acute care hospital with a large, full-service emergency room, surgical services and spacious private patient rooms with home-like features, hotel-style amenities and beautiful views.
About St. Luke's
St. Luke's University Health Network (SLUHN) is a non-profit, regional, fully integrated, nationally recognized network providing services at six hospitals and more than 215 sites, primarily in Lehigh, Northampton, Carbon, Schuylkill, Bucks, Montgomery, Berks and Monroe counties in Pennsylvania and in Warren County, New Jersey.
About St. Luke's Monroe Campus
The Network's seventh hospital will mirror the look and feel of the St. Luke's Anderson Campus. The four-story building will have 108 private patient rooms including 12 beds for critical care patients, a large and efficient emergency room, helipad, operating rooms, a cardiac catheterization lab and the most modern diagnostic technology.
---
Media Contact:
Mariella B. Miller
Senior Director, Corporate Communications
St. Luke's University Health Network
484-526-4134
Mariella.Miller@sluhn.org
For more information about St. Luke's services or to find a physician, call St. Luke's InfoLink toll-free at
1-866-STLUKES (785-8537) Monday through Friday from 8:30 am to 4:30 pm or email us anytime at
Info.Link@sluhn.org
.