News
St. Luke's University Health Network Named Exclusive Provider and Sponsor for HWSAA, New Jersey
November 21, 2015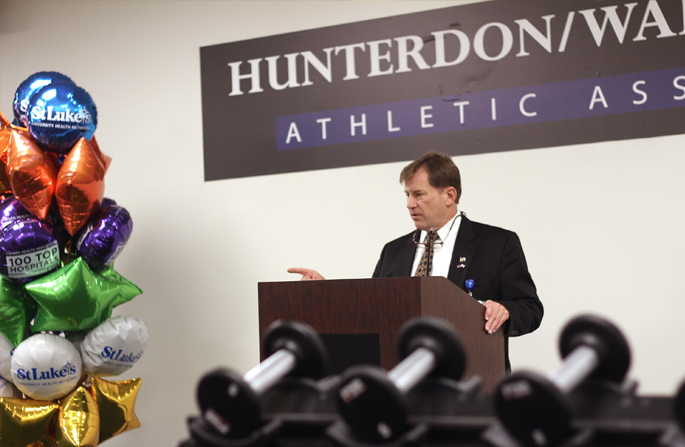 Phillipsburg, NJ (11/11/2015) – St. Luke's University Health Network and the Hunterdon, Warren, Sussex Athletic Association (HWSAA) are teaming up to provide all HWSAA schools and teams with the regions' most comprehensive, technically advanced and responsive care and training for athletes.

"St. Luke's is already the official medical provider for the Parkettes National Gymnastics Training Center as well as the Pennsylvania Interscholastic Athletic Association (PIAA) District XI," says John Hauth, Director of Sports Medicine at St. Luke's University Health Network."

St. Luke's provides a full spectrum of sports-related medical services including orthopaedic surgery, sports medicine, athletic trainers, physical therapy, primary care sports medicine, a concussion program, sports performance facilities and fitness centers.

In addition to acting as the official presenting sponsor of the HWSAA, St. Luke's will provide athletic training services and physician coverage for HWSAA championship events and assist all member schools in providing quality health care to all participating athletes.

Bob Hopek, President of the Hunterdon-Warren-Sussex Athletic Association had this to say about the partnership: "The experiences our conference has had to date with St. Luke's have been very beneficial to our schools and student athletes. Professional, knowledgeable and dedicated are some of the words that describe our relationship with St. Luke's staff, and we look forward to continuing a meaningful partnership with the organization."

Further, St. Luke's and HWSAA will award two annual scholarships of $1,000 each.
High Schools Included Under the Agreement

Bevidere
Delaware Valley
Hackettstown
High Point
Hopatcong
Hunterdon Central
Kittatinny
Lenape Valley
Newton
North Hunterdon

North Warren
Phillipsburg
Pope John XXIII
South Hunterdon
Sparta
Sussex Tech
Vernon
Voorhees
Wallkill Valley
Warren Hills
---
HWSAA Championship Events Include

Fall

Boys Soccer
Girls Soccer
Field Hockey
Boys & Girls Cross Country
Girls Tennis
Cheerleading
Girls Volleyball

Winter

Boys Basketball
Girls Basketball
Field Hockey
Boys & Girls Swimming
Boys Bowling
Wrestling

Spring

Girls Golf
Boys Golf
Boys & Girls Track
Baseball
Softball
Boys Tennis
Boys Lacrosse
Girls Lacrosse
---
Contact
Ayn Carey
Marketing & Public Relations
St. Luke's University Health Network
908-387-6320
Ayn.Carey@sluhn.org