News
Moravian College And St. Luke's University Health Network Partner To Develop Center For Sports Medicine
January 23, 2015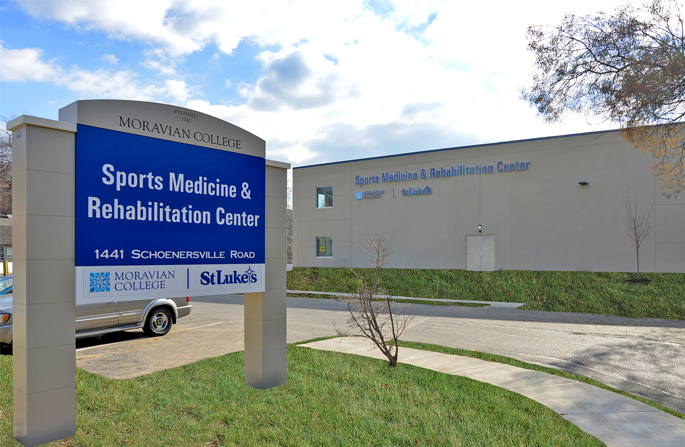 Former 24/7 Fitness Facility In Bethlehem To Serve As Site For New Programs And Services

Bethlehem, PA (1/23/2015) -- Moravian College recently purchased the property at 1441 Schoenersville Road in Bethlehem, Pa., formerly the 24/7 Fitness Club , and is partnering with St. Luke's University Health Network (SLUHN) to develop a center for sports medicine at the site that will integrate an academic learning environment with the real-world application of programs and services.

"St. Luke's University Health Network will lease approximately 9,000 sq. ft. of space from the College," said Robert Martin, Senior VP for Network Development, St. Luke's University Health Network. "The space will house a comprehensive sports medicine program that will include orthopaedic surgeons, primary care sports medicine physicians, physical therapists, athletic trainers and other sports medicine specialists." The center will be open to the general public as well as the faculty, staff and students of Moravian College. St. Luke's University Health Network recently became the official sports medicine provider for Moravian's 18 NCAA Division III athletics programs, Martin added.

The remaining space will be used to support academic programming developed by the College in conjunction with SLUHN. Moravian College is in the process of developing a master's level athletic training program that will be offered through the College's Comenius Center for continuing and graduate studies that is expected to start during the summer/fall of 2016. According to John Hauth, senior director of sports medicine relationships for St. Luke's, " This unique Program will feature expert faculty from Moravian College as well as nationally recognized clinician-scholars from St. Luke's University Health Network."

"We are pleased to partner with St. Luke's University Health Network, a nationally recognized teaching hospital with an exceptional commitment to the advancement of medical education," said Bryon L. Grigsby '90, president of Moravian College. "We anticipate the development of programs of mutual benefit that will provide our students with hands on clinical experiences as we build a complex that will serve as a center of learning for our students, and serve the sports medicine and physical therapy needs of the community."

The building will include specially designed classroom and laboratory spaces for the master's level program in athletic training and other health care professions. In addition, the facility will include research laboratories designed for collaborative projects with faculty, students and employees of the St. Luke's network. "We are excited to expand our sports medicine services in the Bethlehem region while partnering with a great College like Moravian. We look forward to working with them to establish a national reputation for athletic training education and sports medicine research," said John Hauth, senior director of sports medicine relationships at St. Luke's.

The College will renovate the interior of the building which has approximately 27,800 square feet of usable space. "We are currently designing and programming the overall space utilization of the building and hope to complete the renovation by December 2015, at which point SLUHN would begin to utilize the facility," said Mark Reed, vice president for administration at Moravian College. "The project will include the complete renovation of some spaces, and more modest renovations and repurposing of other spaces."

St. Luke's University Health Network (SLUHN) is a nonprofit, regional, fully integrated, nationally recognized Network providing services at more than 200 sites, primarily in Lehigh, Northampton, Carbon, Schuylkill, Bucks, Montgomery, Berks and Monroe counties in Pennsylvania and in Warren County, New Jersey. For more information, visit: www.slhn.org.

Moravian College is a private coeducational liberal arts college, offering undergraduate and graduate degrees, in Bethlehem, Pennsylvania. Tracing its founding to 1742, Moravian is recognized as America's sixth-oldest college and the first to educate women. The College emphasizes the deliberate integration of a broad-based liberal arts curriculum with hands-on learning experiences to prepare its 1,600 students, not just for jobs, but for successful careers. Moravian College excels at transforming good students into highly competent graduates who are ready to enter the workplace with confidence or shine in graduate school. Visit the Web site at: www.moravian.edu.
---
Media Contact:
Michael P. Wilson
Director of Public Relations and Marketing
Moravian College
610-861-1365
wilson@moravian.edu
Denise E. Rader
Director, Network Media Relations
St. Luke's University Health Network
484-526-4104
Denise.Rader@sluhn.org
For more information about St. Luke's services or to find a physician, call St. Luke's InfoLink toll-free at 1-866-STLUKES (785-8537) Monday through Friday from 8:30 am to 4:30 pm or email us anytime at
Info.Link@sluhn.org
.