Emergency Transport Services

Emergency and Transport Services (ETS)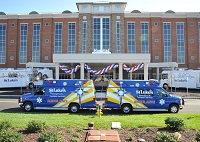 St. Luke's Emergency and Transport Services (ETS), licensed in Pennsylvania and New Jersey, provides 911 emergency transport, non-emergent transport and para-transport van services to the communities we serve. Operating out of four strategically located ambulance stations, St. Luke's ETS is one of the largest hospital based ambulance services in Pennsylvania with over 30 years of experience in Emergency Medical Services. St. Luke's ambulance service is ready 24 hours-a-day, 365 days-a-year, to respond to calls for help.
St. Luke's ETS maintains licensure as a Critical Care/Specialty Care Transportation, Advanced Life Support and Basic Life Support units with multijurisdictional radio interoperability. Our ETS dispatching center monitors all ETS operations which promotes efficient and effective deployment of resources to manage the 911 and non-emergent transportation requests.
St Luke's ETS operations include 16 ambulances, over 108 employees, in-house transport billing services and St. Luke's Com our internal communications/dispatch center. St Luke's ETS provides primary Advanced and Basic Life Support ambulance services to the following municipalities:
Pocono, Jackson and Hamilton Township's in Monroe County

Fountain Hill and Salisbury Township in Lehigh County

Quakertown, Richlandtown and Milford in Bucks County

Knowlton Township in New Jersey

St. Luke's ETS also provides mutual aid coverage and MCI assistance to its surrounding agencies and municipalities
St. Luke's ETS annual fund drive and community support help to underwrite its delivery of emergency services. For more information about our volunteer opportunities, membership/subscription program and/or contributions, call 215-538-4540.
For routine non-emergency transportation services or para-transport van services, call 215-538-4543.
In an emergency, St. Luke's ETS is activated by dialing 911.