Our Program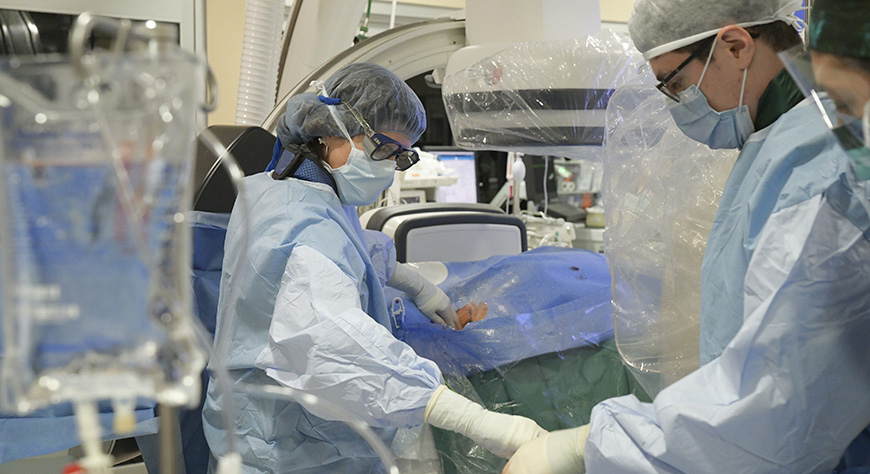 The St. Luke's Interventional Radiology residency program is dedicated to molding empathetic and skilled interventional radiologists who will provide exceptional care to patients in both inpatient and outpatient settings and make a meaningful impact on the lives of their patients.
Our program is designed to provide residents with a comprehensive and rigorous training experience that prepares them for board eligibility and equips them with the tools necessary to thrive in their chosen practice setting.
Our teaching faculty is committed to cultivating the leaders of tomorrow, with an emphasis on community care. By working with a nationally recognized sponsoring institution, our residents will have the opportunity to make a real difference in the lives of the greater Lehigh Valley community, in line with the St. Luke's University Health Network (SLUHN) mission: "Provide patients and the community with the best care, and to advance medical practice and technologies through quality research and innovation."
We believe that fundamental patient safety practices are crucial in both diagnostic imaging and interventional radiology. As such, we encourage residents to engage in quality initiatives that promote safe and effective patient care. Our ultimate goal is to prepare our residents for success in their future practice by equipping them with the tools necessary to thrive in this fast-paced and constantly evolving field.
As residents progress through the program, they will gain a deep understanding of the imaging pathology and cutting-edge technologies used to diagnose and treat disease. By the end of their training, they will emerge as astute IR clinicians with a passion for providing high-quality care and a commitment to staying at the forefront of their field. Join us and embark on a transformative journey towards becoming a skilled and compassionate interventional radiologist.
At St. Luke's, we are committed to promoting a healthy work-life balance and fostering an environment of lifelong learning. Our program encourages residents to develop not only their professional skills, but also their personal growth, ensuring they become well-rounded individuals who mill make a positive impact in the community.
Sorry, search has found no providers.