For many, physical therapy may be an integral part of cancer treatment. Your physical therapist plays a vital role in helping support you before, during, and after your cancer treatment.
A cancer diagnosis may require a multitude of treatments that can cause physical impairments. Gait, balance, fatigue, limited range of motion and reduced strength as well as a swelling (known as lymphedema) can all occur due to chemotherapy, radiation and surgical lymph node removal. Head and neck cancer and its treatment can also cause changes in both speech and swallowing.
We have several specially trained physical therapists that can tailor a Lymphedema or Oncology rehab program to meet your needs. Then, once your cancer treatment is complete, we can help you return to regular activities as a survivor. We also have Speech-language pathologists for those who experience difficulty with speech and swallowing.
Call the location nearest you for more information, or to schedule a free consultation.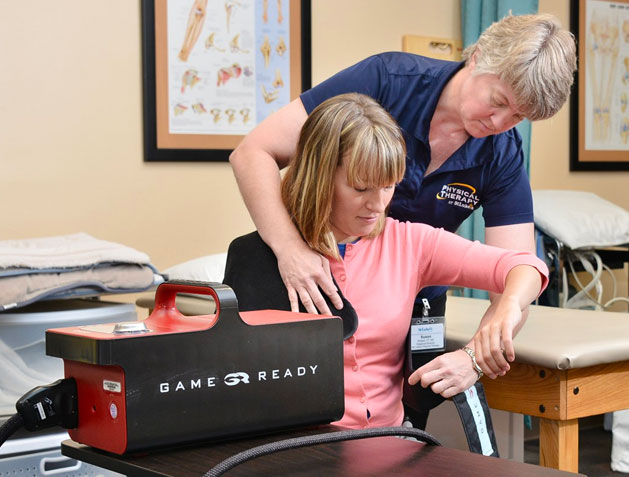 Lymphedema and Oncology PT Locations
Bethlehem
St. Luke's North
153 Brodhead Road
484-526-3200
Bethlehem (Third & New)
St. Luke's North
306 South New Street, Suite 202
484-822-5515
Brodheadsville
111 Route 715
272-212-0430
Easton
St. Luke's Anderson Campus, Medical Office Building
1700 St. Luke's Blvd
484-503-0040
Emmaus
518 Chestnut Street
610-967-0770
Macungie
3760 Brookside Rd 484-426-2055
Palmer
3213 Nazareth Road
484-822-5300
Phillipsburg
Hillcrest Plaza
755 Memorial Parkway
908-847-6756
Quakertown
1534 Park Avenue
267-424-8750
Speech Therapy Locations
Allentown
4136 West Tilghman Street
610-530-2363
Bethlehem
1417 Eighth Avenue
484-526-4781
St. Luke's North
153 Brodhead Road
484-526-3200