News
Minimally Invasive Nuss Procedure Raises Chest Wall and Confidence in Phillipsburg Teen
September 22, 2022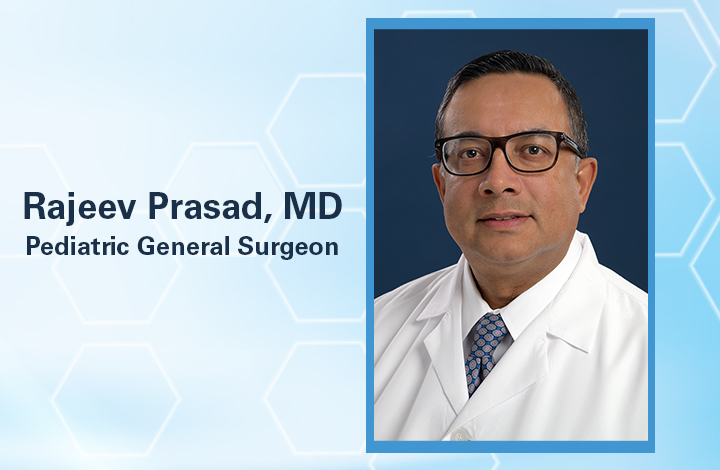 By age nine, it became clear that the recessed chest Jacob was born with was officially pectus excavatum, better known as a "sunken" or "caved-in" chest. The condition and ideal treatment timeline were discussed annually at his pediatric well-visits, but the ailment wasn't affecting Jacob's health and he was seemingly untroubled by it, so his parents also remained unconcerned for the time being.
At age fifteen, his pediatrician reminded Jacob and his parents the ideal window for correcting his condition was closing, so Jacob and his parents scheduled a consultation with Rajeev Prasad, MD, Pediatric General Surgeon at St. Luke's University Health Network to learn more.
"I was known as the kid with the hole in his chest," says Jacob. "That made me feel I should get something done about it."
Normally a little shy, Jacob immediately hit it off with Dr. Prasad. "Thanks to the rapport Dr. Prasad established, Jacob felt comfortable opening up and asking questions," shared stepmom Cheryl. Adds Jacob, "Dr. Prasad is an extremely nice guy and respectful, and pretty funny."
As a pediatric general surgeon Dr. Prasad performs a full spectrum of surgery on children from premature babies to young adults. Surgeries range from simple to complex and include the removal of cysts on the face and scalp, to thyroid, lung and esophageal surgeries and abstracting lumps and bumps from extremities. Dr. Prasad has a special interest in chest wall abnormalities and has been performing the Nuss Procedure, which he recommended for Jacob, for more than twenty years.
"Pectus Excavatum can cause issues with exercise intolerance and pain," explains Dr. Prasad, "but the cosmetic component causes psychological and self-esteems issues, which are just as important, especially for teens."
The ideal age for the procedure is between 10 and 14 years of age. The chest wall is still flexible at that age and a younger patient may not be mature enough to consent. Says Dr. Prasad "I really want the patient to make the decision that "I want to get this done" and not just have a parent make the decision for him." The minimally invasive procedure requires two small incisions on the sides of the chest followed by camera-assisted implantation of the metal bar(s).
Nervous but confident on the morning of the surgery, Jacob's parents said everyone at St. Luke's University Hospital – Bethlehem was great. "We didn't wait around – everything moved along and Dr. Prasad communicated with us throughout the 90-minute procedure," says Cheryl. Jacob stayed in the Pediatric Intensive Care Unit (PICU) for 48-hours following his surgery. "The unit was awesome," remembers Cheryl. "Everyone was wonderful, the nurses were amazing and there was a window right next to Jacob so the care team could see him 24/7." Jacob's dad slept comfortably in his room every night.
Coming home equipped with a walker, a few days of medication and tips for how to sit properly, Jacob began his recovery which included limited movement and help from dad for showering. One month later, he was healing well and looking forward to being released to lift more than ten pounds. According to Cheryl, "Jacob's confidence is really blooming – it's wonderful."
He'll continue to see Dr. Prasad twice a year and have the bar removed in three years. In the meantime, Jacob is back at work and has started his senior year at Philipsburg High School. Jacob's parents appreciated how nice everyone was – in the surgical suite, the PICU and the Pediatrics Inpatient Unit. "Everyone was patient and kind and we never felt like we were in the way," says Cheryl. "We are so grateful! We do not have one negative memory … it's all positive."
Says Jacob, "I have a lot more confidence and will be able to work out more and feel a lot better about myself."