News
Tips For Heart Healthy Holidays
November 30, 2020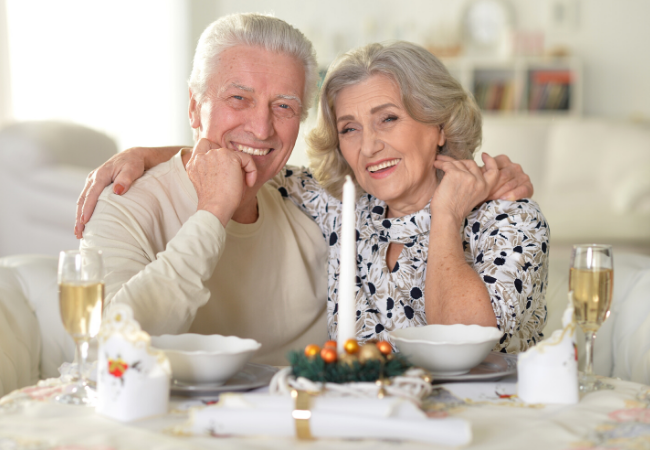 Planning for busy and indulgent holidays this year? 'Tis the season for endless food-focused parties, shopping for "just the right" gifts and drinking more alcohol than usual. But overdoing it might be costly to your health.
St. Luke's cardiologist Christopher Cutitta, DO, has heart-healthy advice to help you avoid possible seasonal pitfalls of overindulgence: "Try not to stray from your normal healthy behaviors during the holidays."
The holidays bring an uptick in heart attacks and other heart-related disorders, he cautions, because some people forgo their healthy diets, forget to take their medicines and feel more stress this time of year.
"Research shows there's a spike in heart attacks and cardiac-related deaths at Christmas and New Year's," he explains, citing a study published in 2004 in the cardiology journal Circulation.
Consuming foods high in fat, salt and sugar and excessive alcohol intake are the main culprits that we should try to avoid, says Dr. Cutitta.
"Their effects can be magnified if you leave your heart medicines at home when traveling, don't get enough sleep and, worst of all, delay seeking medical attention when you have symptoms of a heart attack."
He recalls treating a 60-year-old woman, who despite having chest pain, put off getting to the ER until she finished wrapping presents on Christmas Eve. "She talked herself out of going until Christmas Day, and needed to have a blocked artery opened," Dr. Cutitta says. "Fortunately, she had a good outcome and was home for the holiday. But it might have been a different story."
"Time is of the essence when you're having a heart attack," he says. "Heart muscle that is permanently damaged often cannot be repaired."
Severe emotional stress triggered by the recent loss of a loved one, or by a family conflict, can cause "broken heart" syndrome. This temporary weakening of the heart muscle can mimic heart-attack like symptoms and take a toll on people.
"Be aware of sources of your stress and learn to manage or avoid them especially during the holidays," Dr. Cutitta advises.
Too much alcohol can trigger an irregular heart rhythm, called atrial fibrillation, sometimes termed "holiday heart." An increase in salty foods will cause fluid retention and labored breathing in patients with heart failure. Moderation means knowing when to say when, in advance.
"Preventing heart problems from ruining your holidays takes planning and discipline," says Dr. Cutitta. "You won't regret the health benefits of moderation, and you'll probably enjoy your celebrations more."
Do's and don'ts for heart-healthy holidays
Do
Avoid too much alcohol and foods high in fat, salt and sugar
Remember to take your medicines
Try to get 6-7 hours of sleep
Manage or avoid stressful situations
Keep a moderate exercise routine
Don't
Ignore heart attack symptoms; act on them
Neglect your normal, healthy diet
Forget to pack your medications when traveling
Put excessive pressure on yourself to be perfect