News
St. Luke's Vascular Screenings
January 15, 2020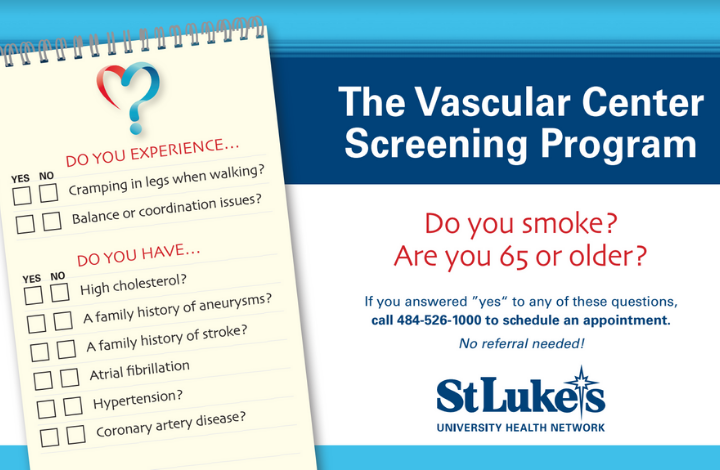 Vascular disease is among the leading causes of death in the United States. Although preventive screening is available, millions of Americans at risk for stroke or death from vascular disorders remain unaware of their risk.
Vascular diseases such as stroke, peripheral artery disease, and abdominal aortic aneurysm are the three most serious, non-cardiac related vascular diseases that affect Americans. Early detection through screening can help prevent life-threatening conditions or long-term disabilities. Having a vascular screening can help detect blood vessel blockages or plaque buildup that puts a person at risk for aneurysm, stroke or other vascular diseases. The screening provides a good snapshot of what is going on in the blood vessels.
What screening tests are performed? The screening consists of three separate scans:
Carotid Ultrasound scans for the build-up of fatty blockages, or plaque, in the carotid arteries in the neck. This condition may lead to a stroke.
Abdominal Aortic Aneurysm: scans for a ballooning of the wall of the abdominal aorta, or aneurysm, which may rupture and be fatal. Many people do not know they have this condition.
Peripheral Arterial Disease (PAD): uses the Ankle Brachial Index (ABI) to check for blockages, narrowing, and plaque buildup in the leg arteries. Abnormal results may indicate a high risk for coronary artery and peripheral arterial disease.
Who should be screened? Anyone over age 55 or anyone over age 40 who has multiple risk factors, including:
Family history of heart disease or stroke

History of smoking

High blood pressure

Overweight

High-stress levels

Inactive lifestyle

High cholesterol

Diabetes
A physician referral not required and each screening takes approximately 15 minutes to complete.
Patients can have all three screenings at the same appointment for $49. Payment is required at the time of the screening.