News
St. Valentine at Work at St. Luke's
August 15, 2019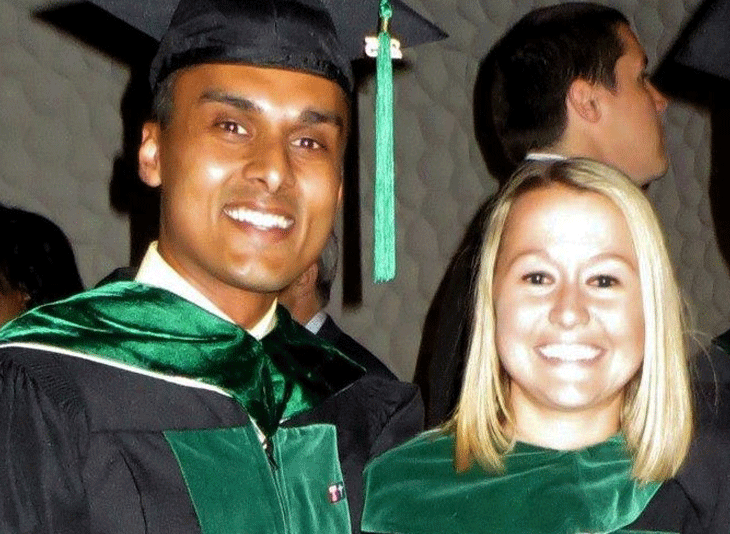 Married couple who met at St. Luke's medical school returns to Network as physicians.
When Dr. Cori Shollenberger applied to medical school, she wanted a small program that was close to her family in Berks County. That's what also led Dr. Akaash Kumar, who grew up in the Lehigh Valley, to the Lewis Katz School of Medicine at Temple University/St. Luke's University Health Network.
Little did they know that being part of the 2015 inaugural class of the Temple/St. Luke's School of Medicine would be one for the storybooks.
The two would not only fall in love, but they would stay together through four years of residency programs and get married. Now, they'll be coming back to St. Luke's to work as physicians.
In September, Shollenberger will join St. Luke's Obstetrics & Gynecology Associates at 8th & Eaton avenues in Bethlehem. Kumar will join Anesthesia Specialists of Bethlehem, P.C., which provides anesthesia care to the Network. He will be based at the Bethlehem Campus as well.
"We had such a good experience in medical school that we really only looked at St. Luke's," Shollenberger said. Both cited having a small class size of 30 students, and having their second-year lecturers also serve as their attending physicians in their third and fourth years.
Dr. Joel C. Rosenfeld, chief academic officer for St. Luke's University Health Network and senior associate dean for Lewis Katz School of Medicine at Temple University, said he is thrilled that Shollenberger and Kumar are returning.
"The pipeline is working. We started the medical school as a pipeline to ensure that we would have enough physicians in the future, considering the physician shortage that is going to take place in this country," Rosenfeld said.
He said Kumar and Shollenberger will be a great addition to the St. Luke's community. "They were both excellent students. I know they will be fantastic doctors in terms of their knowledge, patient care skills and as well as interpersonal skills," he said.
For Kumar and Shollenberger, the path to medicine began in their youth when they were living barely 40 minutes apart. Both credit their parents and families with helping them achieve their dreams of becoming physicians.
Kumar, a 2006 graduate of Emmaus High School, said he was "a math and science nerd" who looked up to his older sister Neha so much that he wanted to go to medical school like she had.
Shollenberger, a 2005 graduate of Fleetwood High School, said she was always interested in science and felt inspired to help people by her late mother, Karen, who was a radiology technician.
After high school, Kumar went to the University of Rochester and Shollenberger to the University of Pittsburgh.
They met briefly in their first year at Temple, but didn't have their first "unofficial" date until the next year at St. Luke's when they saw Blake Shelton at the Great Allentown Fair with a group of fellow students. "We went on a real date the next night," Kumar said.
It wasn't easy keeping a relationship going. For their residencies, Kumar was at the University of Pennsylvania Health System while Shollenberger was at Penn State Milton S. Hershey Medical Center. "We saw each other on average once a month," Shollenberger said.
The couple got engaged in November 2017 when Kumar proposed under the star of Bethlehem on the hills behind Lehigh University. They were married in a Christian-Hindu ceremony on Dec. 29, 2018, where Shollenberger wore her mother's wedding dress and a traditional lehenga that was bright blue.
Since finishing their residencies, Shollenberger and Kumar have moved into a new home with their rescue dog, Lacie. They can't wait to get started at St. Luke's. "I'm most excited to come back and work with all the people who were my mentors," Kumar said.
Shollenberger said she is eager to provide a continuum of care for her patients, seeing them from adolescence through pregnancy and menopause. She's also delighted to spend more time with Kumar – and not just at home.
"We are going to be running into each other at the hospital," Shollenberger said.
"Obstetrics and anesthesiology work together quite a bit," said Kumar with a smile.