News
St. Luke's Represents at National Family Medicine Education Consortium
December 05, 2019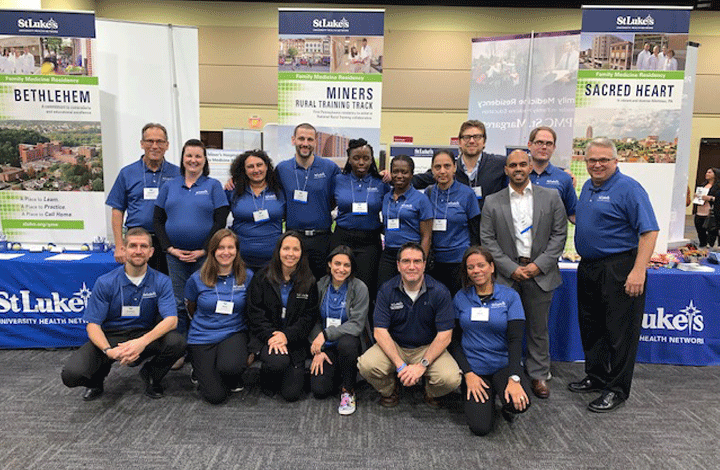 St. Luke's five Family Medicine Residency (FMR) programs were pleased to be part of the host committee for the 2019 Family Medicine Education Consortium (FMEC) annual meeting, which took place in Lancaster in November. The multi-day conference featured lectures, skills training and collaboration between 85 family medicine programs across the north east. More than 450 family physicians and 250 medical students participated in the annual conference.
St. Luke's FMR programs had a notable presence, with multiple training sessions, lectures and poster presentations. Highlights include:
Greg Dobash, MD program director for Miners FMR, Pennsylvania's only Rural Training Track (RTT) presented on topics of addiction, opioid treatment, and gun violence. He also hosted a "What is a Rural Health Center?" session to shed light on the unique qualities of rural health care.
The Bethlehem FMR team presented on their implementation of a resident Wellness Curriculum. Presenters included Linda Garufi, MD, Elspeth Black, MD, and program director Nguyet-Cam Vu Lam, MD.
Lifestyle Medicine was also a hot topic during the conference, with Meagan Grega, MD presenting on key community initiatives such as the Kellyn Foundation's "Eat Real Food Mobile Market" and school-based initiatives to encourage young kids to eat more fresh vegetables and fruits.
Dr. Grega also received distinction, being inducted as a fellow to the American College of Lifestyle Medicine.
Multiple table discussions were led by St. Luke's, with topics including:
In addition, the following poster presentations were showcased by St. Luke's:
Identifying Social Determinants of Health and Inequities Between Low- and High-Income Counties When Assessing the Prevalence of Diabetes Vikas Yellapu MD, Stephen DeTurk MD, Ileana Perez-Figueroa MD, Gregory Dobash MD, FAAFP
Lyme Carditis: More Than Conduction Defects Sonya Elnagar MD, Christine Lee MD, Stephen DeTurk MD, Vikas Yellapu MD, Gregory Dobash MD, FAAFP
Clinical Associations Between Abnormal Uterine Bleeding and Chronic Endometritis Madeline Lederer BA, James Anasti MD, Richard Vigh MD
Combating Physician Burnout Through Lifestyle Modification Stephen DeTurk MD, Vikas Yellapu MD, Robert Lee MD, Sidra Sindhu MD, Alan Remede MD