News
St. Luke's Polka for Parkinson's: An Uplifting Treatment for a Debilitating Disease
April 02, 2019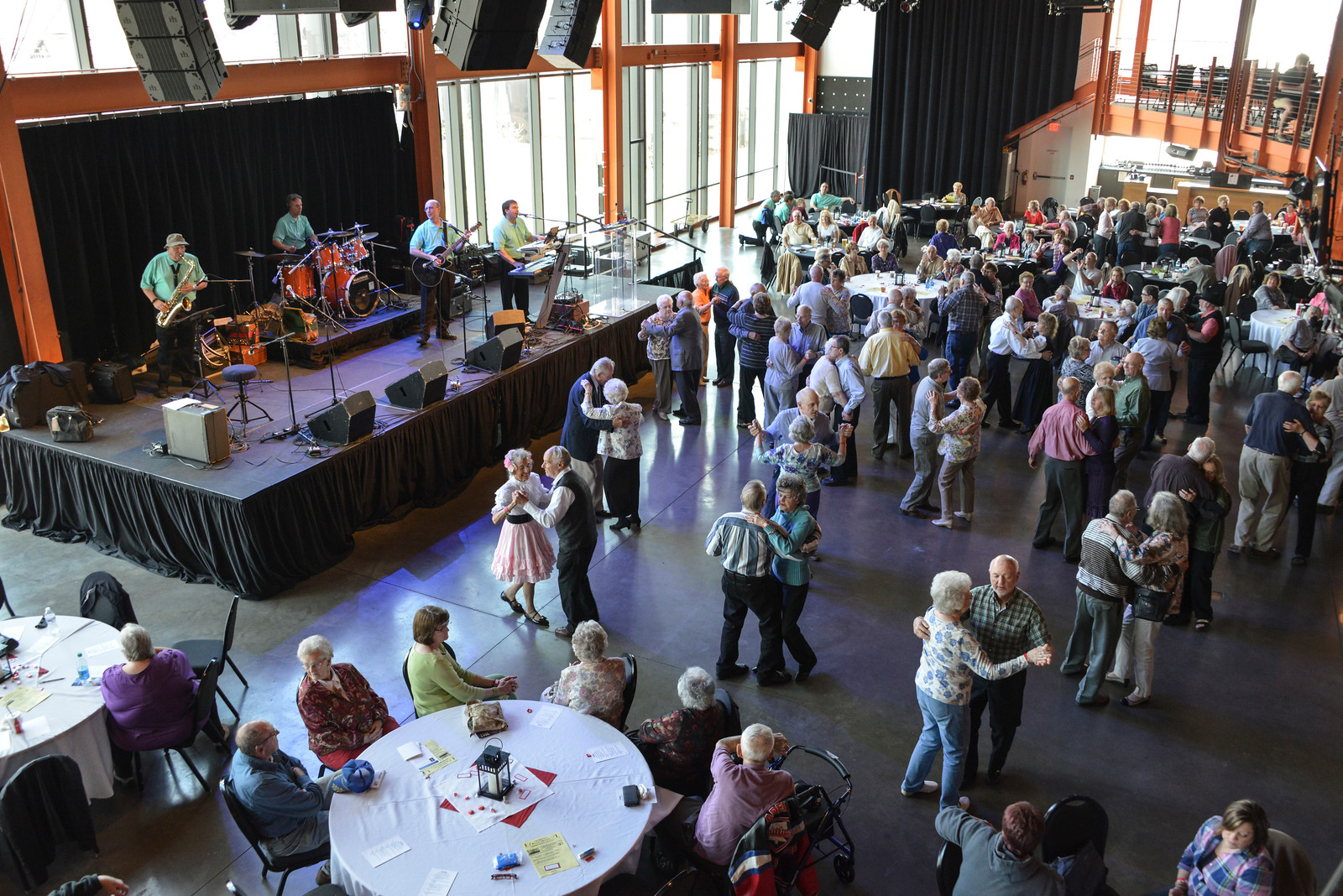 BETHLEHEM, PA – When the Josef Kroboth Quartet takes the stage at ArtsQuest's Musikfest Cafe on Sunday, April 7, Eric Aquino will be on the floor.
Aquino, a 41-year-old EMT from Easton, recalls only ever dancing to polka music once — back in his college days. But the married father of two is more than willing to give it another go — for good reason. Aquino was diagnosed with Parkinson's disease a year ago in February.
St. Luke's University Health Network is once again sponsoring the dance — called Polka for Parkinson's — as a way to bring people like Aquino together with their families and friends for an afternoon of fun, camaraderie, education and healing.
Polka for Parkinson's, which runs from 1-4 p.m., will feature old world polka and waltzes. It will include appearances by Button Box Committee and famed accordion player Walt Groller. Artsquest is located at 101 Founders Way, Bethlehem. Registration is required by calling 1-866-STLUKES (785-8537).
One aim of Polka for Parkinson's is to show the role that movement — in this case polka dancing -- can play in reducing symptoms and delaying the progression of the neurological brain disorder.
St. Luke's began has been hosting the annual even since 2013 as a way to mark the April observance of Parkinson's Disease Awareness Month.
"Movement in general, staying active, can have a huge impact on a patient with Parkinson," said Dr. Aaron Lasker, a neurologist who is Medical Director of St. Luke's Movement Disorders Center.
"It can actually slow the progression of Parkinson's disease," Dr. Lasker said.
Parkinson's is a progressive brain disorder that typically strikes mostly men in their 60s and 70s but can occur at younger ages such as with the popular actor Michael J. Fox.
It occurs when nerve cells that produce dopamine are damaged or die, which, in turn, disrupts the smooth control of muscle movements. This results in impairments that include limb tremors and difficulty with walking, balance and speech. Symptoms get worse as time goes on.
There is no cure at this time. At St. Luke's Movement Disorders Center, Dr. Lasker said individuals with Parkinson's are managed with a multi-pronged approach by a team of neurologists, neurosurgeon, specially trained physical therapists and a social worker.
Most patients are given the latest medicines to control the symptoms.
Eligible patients who don't respond to medical treatment can undergo deep brain stimulation, where a battery-operated neurostimulator is implanted in the brain. The electrical device blocks the abnormal nerve signals that cause tremors and other symptoms, Dr. Lasker said.
Patients also under go physical therapy to target their symptoms.
Beyond that St. Luke's offers Big and Loud exercises classes where patients with Parkinson's can work out together, a monthly support group, monthly patient education lectures and annual events such as the November half-day wellness program.
The Polka for Parkinson's event is one way St. Luke's encourages people with the disorder to get moving.
Though small in numbers, research has found that people with Parkinson's who engaged in weekly dance lessons showed measurable improvement in their balance and gait, according to a review of studies by Dr. Gammon M. Earhart, a physical therapy program director and professor at Washington University School of Medicine.
Dr. Nancy Diaz-Pechar, a Movement Disorder Specialist at St. Luke's, said polka, a bouncy, half tempo duet, can be a perfect dance for people with Parkinson's.
It not only allows them to build strength and get the heart rate pumping, but also provides a patterned movement that must be followed throughout a song.
Dance is a good exercise for balance. It allows patients to practice forward and backward movement, the latter of which can be particularly difficult.
Dr. Diaz-Pechar said dancing also allows a people with the disorder to work on strategies for dealing with symptoms such a freezing, where a person feels stuck in place.
Moving and walking to a rhythm can help facilitate movement. Music such as Polka can provide cues which unblock freezing. It's a beat that the patient with freezing episodes can use off the dance floor by counting in his or her own head.
In addition, Dr. Diaz-Pechar said, dancing seems to alleviate symptoms and improve mood.
"I can certainly see the positive long-term effects in patients who incorporate dancing and exercise into their lives," she said.
There's another benefit that might be so apparent as well. It's a couple's dance. "It's usually not done alone. Having the support of a partner is important," she said.
Polka for Parkinson's isn't only about dancing. The $5 suggested donation will go to St. Luke's Parkinson's Disease Fund.
Dr. Lasker said the money is used to buy educational materials for individuals with Parkinson's and to host special programs such as a recent Drumming for Parkinson's event.
Polka for Parkinson's also features an education component, including talks during breaks by patients who have benefited from treatment at St. Luke's Movement Disorders Center.
Matt Foltz, 54, who lives in Lancaster County, shared his story at last year's event.
Foltz, a woodworker, was among the first patients at St. Luke's to undergo deep brain stimulation. At the time, he wasn't officially diagnosed with Parkinson's but had been experienced tremors in his right hand — which impacted his job at a mill shop.
His tremors went away but over a few years, he began developing trouble with his balance, gait and speech.
That's when he went to see Dr. Diaz-Pechar, who officially diagnosed him with the disease and set out a course of treatment.
"She assured me that she could help me with all these problems," Foltz, a married father of two grown daughters, said.
Foltz said his disease is under control.
"I'm amazed at what St. Luke's can do. I would have had to stop working and that would have affected everything," Foltz said.
At this year's event, Aquino plans on attending with his wife Rosalinda, son Eric, 16, and daughter Elena, 12.
He became a convert to exercise after going on a Boy Scout camping trip with his son Eric in August.
"I never felt so energized and focused during the week of camping and hiking," Aquino said. "My symptoms were milder."
He now works out regularly at a St. Luke's Fitness & Sports Performance Center in Palmer Township.
As for polka dancing, Aquino said he plans on practicing ahead of time. "I'm definitely going to have to YouTube some videos and use my daughter as a dancing partner," he said with a laugh.