News
St. Luke's Has OB/GYN Doctors in Your Neighborhood
November 18, 2019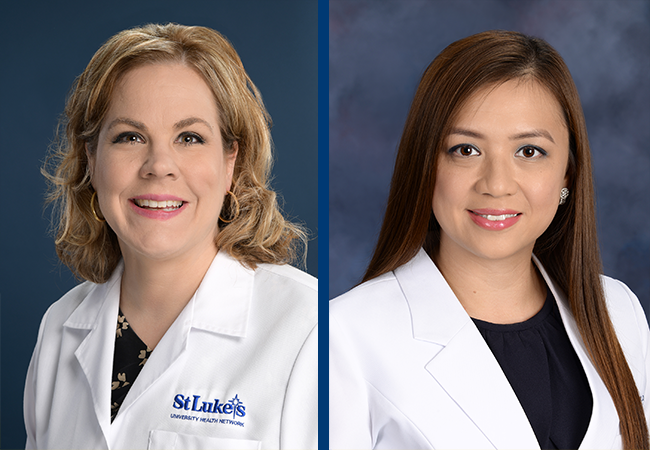 When you choose a St. Luke's OB/GYN provider, you get personalized care in one of our small practice settings where you'll be treated as more than just a number. Your doctor will get to know you and your needs and health goals and you'll get to know them too. Building long-term, trusting relationships is how we make sure you are getting the best care, customized for you.
Get to know OB/GYN providers Kristen Stone-Mulhern, MD and Hazel Tuazon, MD who are accepting new patients in offices convenient to where you live. Both of them practice within St. Luke's health centers, giving you convenient access to other St. Luke's services like primary care, maternal fetal medicine, physical therapy, laboratory services and more.
Get to Know…
St. Luke's Obstetrics & Gynecology Associates
St. Luke's Center Valley Health Center
5445 Lanark Road
Center Valley, PA 18034
484-526-7474
Dr. Stone-Mulhern feels strongly about educating patients regarding all of their health care options. She encourages them to feel empowered to ask questions, no matter how trivial they seem, because the more information they have, the better equipped they are to make informed choices to manage their health.
Dr. Stone-Mulhern has extensive training in all laparoscopic surgeries, high-risk obstetrics and gynecological cancer prevention and detection. She has experience in hereditary cancer counseling and stresses the importance of screening for gynecological cancers, especially in families that may be at higher risk of breast or ovarian cancers, which is why getting to know her patients and their histories is so important to her.
"I love that I'm able to see women through both happy and challenging times in their lives and I can be there for them not only as a physician, but as a friend and confidant," says Dr. Stone-Mulhern. "I want to give patients a full education and instruct them about all of their options - a well-informed patient is a happy patient."
Dr. Stone-Mulhern attended Villanova University and then completed her medical school and residency training at Loyola University Medical Center in Chicago. She has three active kids and spends most of her free time at ballparks watching them play softball or baseball. She loves to travel and collect and restore antique furniture.
Dr. Stone-Mulhern's expert team includes nurse practitioner, Kori Rusnock. After completing her nursing education at Moravian College and spending nearly ten years as a labor and delivery nurse at St. Luke's Bethlehem, Kori Rusnock, CRNP, went on to complete her graduate degree as part of the DeSales University Family Nurse Practitioner program. She's happy to use her years of experience as a labor and delivery nurse to provide compassionate, comprehensive, one-on-one care to patients at St. Luke's Obstetrics & Gynecology Associates.
St. Luke's OB/GYN - Complete Women's Care
St. Luke's Health Center - Fogelsville
1251 Turnstone Drive
Suite 230
Fogelsville, PA 18051
484-822-5154
Dr. Tuazon has been with St. Luke's since she completed her residency. She continues to practice within the St. Luke's Network because she feels strongly about the compassionate, personalized care that patients get in a small practice setting where physicians really get to know their patients.
"I place a lot of value on the relationships I'm able to form with my patients, because I feel that forming those personal relationships over the years is part of giving patients the best care they deserve," says Dr. Tuazon. "And within a smaller practice, patients have better access to their physicians, so it's easier to communicate with them and get answers and appointments faster. The more we communicate with our patients, the more educated they are and when patients are invested in their own care, they get better care."
Dr. Tuazon's interests within the gynecology and obstetrics field include routine and high-risk pregnancies, minimally invasive surgeries, family planning, contraceptive management and treatment for menopause. She is also fluent in Tagalog, a language spoken in the Philippines.
Dr. Tuazon received her education from De La Salle University and St. Luke's College of Medicine, both in the Philippines, before completing her residency through St. Luke's University Health Network.
She's also a busy mom and spends time with her husband and daughters, exploring the local and surrounding areas of the Lehigh Valley, traveling and cooking.