News
Nationally-Renowned St. Luke's Pediatric Dermatologist Helps Patients of All Ages Seeking Skin Care Solutions
March 14, 2019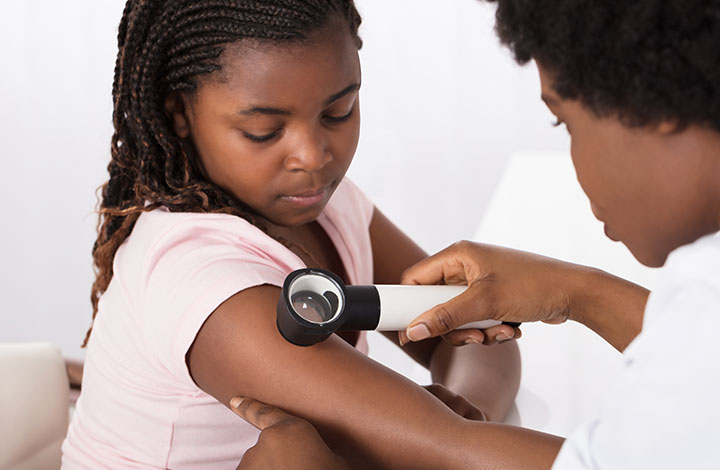 Andrew Krakowski, MD is a board-certified dermatologist and pediatric dermatologist who recently joined St. Luke's University Health Network, where he serves as chief of dermatology and program director for the residency in dermatology.
"Dr. K," as his patients and their families refer to him, lived in Philadelphia where he attended undergraduate, graduate and medical school at University of Pennsylvania, followed by residencies in dermatology at the University of California, San Diego and in pediatrics at Johns Hopkins Medical Institute in Baltimore. He was eager to relocate and practice in the Lehigh Valley area where most of his family members already live.
Dr. Krakowski was drawn to dermatology, and medicine in general, because it combines science with personal interaction. "Having someone come to me with a problem or a concern and having a chance to make them feel better is really rewarding," says Dr. Krakowski. "With all the technology and medical breakthroughs available right now, that solution might come in the form of a correct diagnosis, a prescription that relieves symptoms or it might just be as simple as having someone to talk with that day. You never know what the patient is dealing with unless you ask, and dermatology, especially in my practice within the St. Luke's Network, allows me to do just that."
Dr. Krakowski specializes in pediatric dermatology, but he sees patients of all ages, from newborns to the elderly. He treats skin issues ranging from acne, eczema, warts and psoriasis to basal cell carcinoma, squamous cell carcinoma and melanoma. He has particular expertise in laser surgery of pediatric birthmarks (e.g., hemangiomas, port wine birthmarks, epidermal nevi, etc.) and scars – particularly when a scar may interfere with normal function or range of motion.
Dr. Krakowski places a strong emphasis on collaboration with his highly-trained staff and other specialists within the Network to give patients an intensive, comprehensive treatment plan that sometimes includes direct access to reconstruction/plastic surgery, specialized imaging studies, physical/occupational therapy and psychological counseling.
"I am happiest when I first walk through the door — both at my practice when I start the day seeing my patients and at home, when I get to see my own kids and family," says Dr. Krakowski. Outside of the hospital, Dr. Krakowski serves as the wilderness first-aid expert for Boys Scouts of America and their official website, BoysLife.com. He also enjoys coaching his sons in soccer, cheering for the Philadelphia Flyers and Lehigh Valley Iron Pigs and sharing adventures with his horse veterinarian wife, two young sons and black Labrador.
"I consider myself a lifelong learner, driven by a passion for patient care, education and scientific investigation," concludes Dr. Krakowski. "In my practice, I always try to remember that 'a good dermatologist heals the skin; a great dermatologist heals the patient.'"