News
Meet Our New OB/GYN Physicians at St. Luke's
October 28, 2019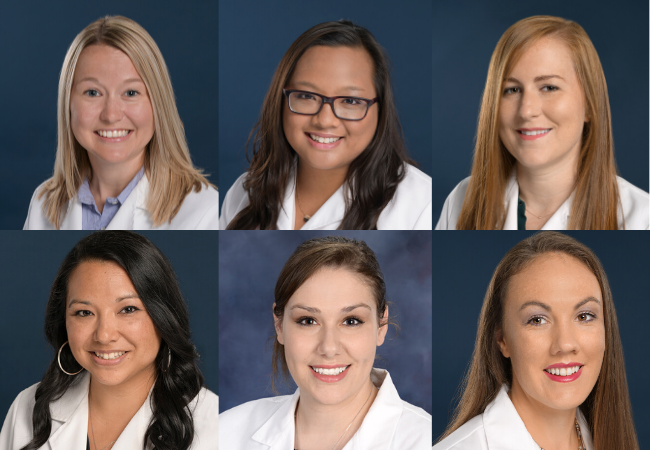 St. Luke's University Health Network welcomes six new physicians to its expert team of OB/GYNs. The addition of these specialists further strengthens St. Luke's commitment to providing the highest level of quality, personalized, obstetric and gynecology care for patients close to home.
Cori Shollenberger, MD—St. Luke's Obstetrics & Gynecology Associates
Dr. Shollenberger treats both common and uncommon issues in obstetrics and gynecology including low- and high-risk pregnancies, contraception management, management of abnormal periods and pelvic pain, treatment of symptoms of menopause, providing minimally invasive surgery options and optimizing health prior to and during pregnancy in both healthy women and those with complicated medical histories.
Dr. Shollenberger graduated from medical school as part of the St. Luke's/Temple program, completed her residency at Penn State Hershey Medical Center and then joined St. Luke's Obstetrics & Gynecology Associates with whom she shares the mission of always putting patient care first.
"St. Luke's Obstetrics & Gynecology Associates puts a great emphasis on getting to know their patients as individuals to provide the best possible care," says Dr. Shollenberger. "Women of all ages hold many roles within their families and communities, so it's important to keep them healthy through thorough, personalized, nonjudgmental care."
"Many of my patients are pregnant and generally, come equipped with many questions, which I always welcome," she says. She advises her obstetric patients to focus on not only optimizing their baby's health, but their own health as well. She continues, "I always encourage my patients not to be embarrassed or afraid to ask questions - that's why I'm here."
Anna Mesina, MD—St. Luke's Obstetrics & Gynecology Associates
Dr. Mesina has a special interest in adolescent gynecology and educating young patients, but also treats routine obstetric, perimenopausal and post-menopausal patients and specializes in minimally invasive surgery.
She graduated from the University of Pennsylvania, earned her medical degree at Drexel University and completed her residency at Penn State Hershey Medical Center. She chose to continue her practice at St. Luke's, as it combines the benefits of a large hospital system with a small community feel, and it is close to her family in southeast Pennsylvania.
St. Luke's Obstetrics & Gynecology Associates shares her vision of putting the patient first and fostering a small, comfortable, family feel. "The OB/GYN specialty is inherently intimate and sometimes even uncomfortable for patients, but that's why it's so important to put patients at ease - that's how we give them the best possible care," says Dr. Mesina. She likes to put herself in the place of the patient and think about what she would look for in a practice, which is a guiding principle in her doctor-patient interactions.
Kelly Copeland, MD—St. Luke's Obstetrics & Gynecology Associates
Dr. Copeland focuses on providing women with treatments that work best for them while using the least invasive methods. She has a special interest in minimally invasive surgery, including an expertise in robotic surgery.
After completing her undergraduate, medical school and residency at The Ohio State University, Dr. Copeland joined St. Luke's because of the Network's strong focus on personalized medicine. "St. Luke's and St. Luke's Obstetrics & Gynecology Associates prioritize that doctor/patient bond in the same way that I do," says Dr. Copeland. "As OB/GYNs, we have the unique opportunity to participate in such meaningful moments of a patient's life, especially with our pregnant patients, and it's even more special because we're able to form a strong relationship with them along the way."
She always stresses the importance of preventive care with her patients. "From prenatal care appointments to paps and other screening tests to routine vaccinations, seeing a doctor regularly is the key to remaining healthy and functioning at your best self," says Dr. Copeland.
Emer Colalillo, MD—St. Luke's Obstetrics & Gynecology Associates
Dr. Colalillo chose St. Luke's because she wanted to practice within a hospital system that focuses on the whole patient. She also feels that St. Luke's gives her patients access to highly qualified specialists in multiple disciplines who work together for the best possible care.
She treats high-risk obstetrics, sexual dysfunction and hormone replacement therapy. Dr. Colalillo performs laparoscopic surgery for complex conditions to reduce the necessity for overnight hospital admission.
Born in Ireland, Dr. Colalillo earned her undergraduate degree at Middlebury College in Vermont, conducted research at the National Institutes of Health in DC, followed by medical school at Northwestern University and residency at George Washington University in Washington, DC. Dr. Colalillo is bilingual which helps establish and strengthen her connection with her Spanish-speaking patients.
"I've always felt that it's especially important to take care of the wellness of women because, in many instances, they are the center of the family," says Dr. Colalillo. "I encourage them to know and listen to their bodies and then communicate any concerns to me - that collaboration between physician and patient is so important for maintaining a healthy body and mind."
Meet Jaclyn Davolos, MD—Ob-Gyn Care Associates of St. Luke's
Dr. Davolos says she is humbled by the way her patients allow her into a very intimate part of their lives and health. "What initially drew me to the OB/GYN field was the trust and mutual respect involved in this particular patient-physician relationship," says the newest member of the Ob-Gyn Care practice.
"I pride myself in the time I take to educate my patients about their health and both the normal and abnormal states that affect it," says Dr. Davolos. She has expertise and a special interest in pregnancy care (both routine and high-risk), contraception, family planning and minimally invasive gynecological surgical techniques.
A graduate of the Lewis Katz School of Medicine at Temple University, she completed her residency in obstetrics and gynecology at St. Luke's, serving as chief resident from 2018-2019. She received multiple awards for educating medical students and residents.
Dr. Davolos resides in the Bethlehem area with her husband and two young children. "When I'm not at work, you will find me spending time with my family," she says. "We enjoy hiking, camping and vacationing in our favorite spot in Cape Hatteras on the Outer Banks."
Meet Stephanie Lum, MD—St. Luke's Riverside Women's Healthcare
Dr. Lum joined Riverside Women's Health Care this year, providing a wide range of personalized OB/GYN care and education to women of all ages.
"Teaching women to be their own advocates, to be self-aware of their bodies throughout different phases of life, is a big part of what I do," she says. "Education promotes confidence, especially for women and girls, and how I educate my patients largely depends on where they are in their lives."
Whether she's counseling adolescents, pregnant women, women not wanting to be pregnant or menopausal patients, Dr. Lum focuses on her patient's individual needs and goals.
Dr. Lum earned her medical degree at Virginia Commonwealth University School of Medicine. After completing her residency at St. Luke's, the Hawaii native chose to stay in the area because of the Network's strong focus on patient-centered, high quality, compassionate health care.
Dr. Lum has one critical piece of advice for her patients at every stage of life: keep moving. "Obesity affects women at all stages of life from adolescents through pregnancy to menopause, so it's really important to stay active to stimulate your brain and challenge your body."
"In my personal life, I try to maintain an active lifestyle by spending a lot of time outdoors, walking on the trail near my home, enjoying the wonderful festivals this area has to offer and also traveling, which often includes trips home to my native Hawaii to spend time with family at the beach."