News
St. Luke's Expert Gynecologic Care Close to Home. Now in Tamaqua!
October 09, 2019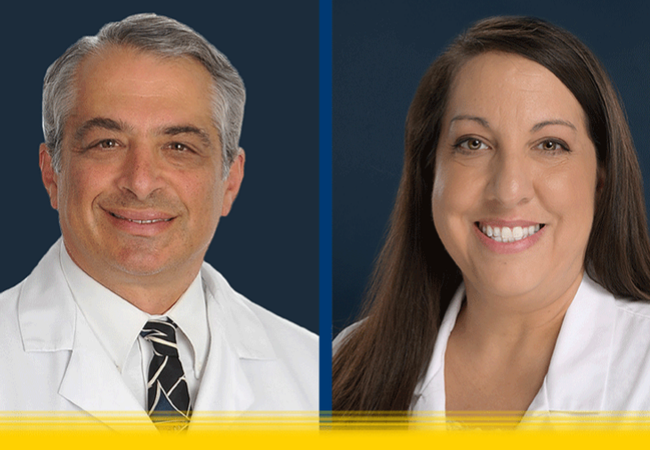 St. Luke's gynecology specialists Michael Patriarco, DO, and Valerie Schissler, CRNP, bring decades of experience and expertise to their patients. They welcome new patients to their Pine St. office in Tamaqua.
Dr. Patriarco specializes in providing personalized gynecologic care for common conditions, including menstrual irregularities, endometriosis, fibroids, pelvic pain and pelvic dysfunction. When surgery is needed, he offers minimally invasive procedures for hysterectomies, uterine cysts, endometriosis, infertility, urinary continence, pelvic floor abnormalities and other gynecologic conditions. Dr. Patriarco finds it rewarding to see his patients feeling great and returning to their normal activities after experiencing less pain and a quicker recovery with minimally invasive surgery. He has been treating patients for more than 30 years.
Valerie Schissler, CRNP, who has been caring for women for 18 years, has expertise in non-surgical evaluation, treatment and management of urinary incontinence and voiding dysfunction, as well as pelvic floor evaluation and many other gynecologic conditions. Treating, educating and empowering her patients to take care of themselves brings her great personal and professional satisfaction. "It is a privilege to spend time listening and giving women the tools they need for better health and wellness," she says.
At St. Luke's Center for Advanced Gynecologic Care in Tamaqua, you'll receive:
Personal care from a provider you know

Expertise in treating a wide range of gynecologic conditions, from routine to complex disorders

Advanced surgical options, specializing in minimally invasive gynecologic surgery
Experience the care you deserve. Schedule your appointment today.

New location in your neighborhood! New patients welcome!
St. Luke's Center for Advanced Gynecologic Care
120 Pine Street, Suite A
Tamaqua
Phone: 484-426-2670