News
Breastfeeding Moms Invited to Join 'Big Latch On' Event at St. Luke's
July 11, 2019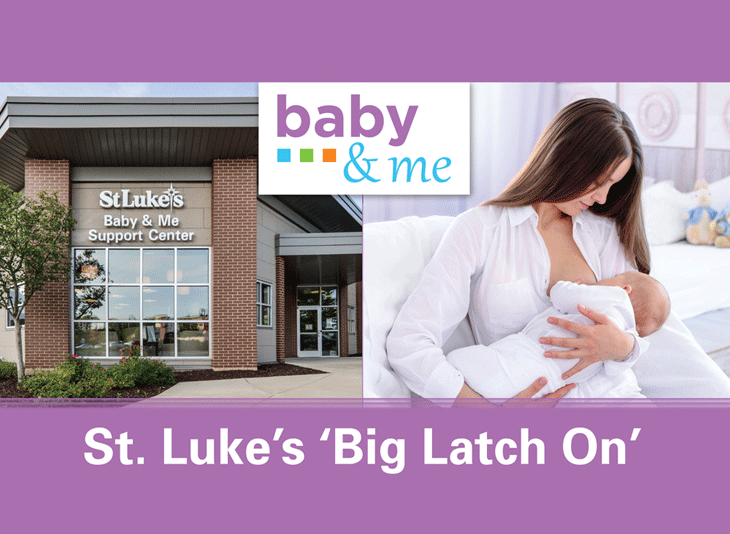 Attention: Breastfeeding Moms. In celebration of World Breastfeeding Week, you are cordially invited to participate in our "Big Latch On" event Friday, Aug. 2, at the St. Luke's Baby & Me Support Center, at 1425 8th Avenue, Suite 1 in Bethlehem.
At 10:30 a.m., women and their babies will participate in a synchronized breastfeeding event. "Thousands of breastfeeding women and their babies/children across the world will gather in their respective communities to take part in the Global Big Latch On to raise awareness of the benefits of breastfeeding and the need for global support," said Heidi Koch, RN, CPN, IBCLC, lactation consultant at St. Luke's Baby & Me Support Center.
More than 120 countries participate in World Breast Feeding Week, August 1-7, while close to 30 countries hold Latch On synchronized events.
The first Big Latch On took place in Aotearoa, New Zealand, in 2005. It was introduced to Portland, Oregon, in 2010 by Small Beginnings Group LLC and has since taken off globally. This will be St. Luke's first time hosting the event, although the Baby & Me Support center has participated in other local Big Latch On events in the past.
The Latch On event at St. Luke's will include light refreshments and games for siblings and breastfeeding babies old enough to participate.
Doors will open at 9:30 a.m. Participants are asked to arrive by 10 a.m. when the festivities begin. The latch on will begin promptly at 10:30 a.m. The event is indoors so it will be held rain or shine.
Space is limited, so registration is necessary. To register, visit https://go.activecalendar.com/sluhn/event/big-latch-on-breastfeeding-event/
St. Luke's Baby & Me Support Center
St. Luke's Baby & Me Support Center provides mothers, fathers, support persons and family members with a variety of services commonly needed before, during and after pregnancy in one convenient location. St. Luke's Baby & Me Support Center delivers personalized and compassionate care that includes: classes, support groups, lactation support services, post-partum emotional wellness services, activities/exercise, and onsite play.
For more information or questions, contact us at 484-526-BABY(2229).