News
Top Honors for St. Luke's Research at National Academic Surgical Congress
February 15, 2018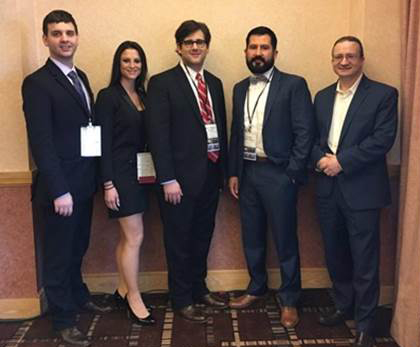 St. Luke's University Health Network received top honors in research quality at the recently concluded Academic Surgical Congress.
The Congress, which is the largest academic surgical meeting of its kind, attracted nearly 2,000 participants from top hospitals and universities from the United States and abroad.
The meeting, in Jacksonville, Fla., featured more than 1,000 scientific abstract submissions. Although St. Luke's contributed only four abstracts, the high quality of the projects earned the "Best Average Score of Accepted Abstracts" – an honor equaled only by University of Michigan, placing St. Luke's ahead of all other TOP medical institutions in the country!
The St. Luke's team featured the following presenters, projects and investigative teams:
Dr. Anthony Cipriano – "Less Telemetry, Better Outcomes: University Network Implementation of SafetyNet Monitoring System" – Team members included Dr. Christopher Roscher, Dr. Aldo Carmona and Ms. Jaclyn Rowbotham
Dr. Ashley Jordan – "Indicators of Shock in Trauma: Anything is Better than Nothing, but Lactate is Best" – Team members included Dr. Hillman Terzian, Dr. Thomas Wojda, Dr. Marissa Cohen, Joshua Luster and Jacqueline Seoane (both Temple/St. Luke's), Dr. Philip Salen and Dr. Holly Stankewicz
Dr. Hillman Terzian – "Intravenous + Inhaled Colistin versus Intravenous Monotherapy for Multi-Resistant Gram-Negative Pneumonia" – Team members included Dr. Livia Bratis, Dr. Mohamed Turki, Dr. Neha Civic and Dr. Claire Murphy (Ohio State University)
Dr. Rodrigo Duarte-Chavez – "Fecal Microbiota Transplant Protocol Implementation: A Community-Based University Hospital Experience" – Team members included Dr. Thomas Wojda, Dr. Berhanu Geme and Dr. Gloria Fioravanti. (Dr. Duarte-Chavez will be a member of the inaugural class of the St. Luke's Gastroenterology Fellowship.)
Media Contact:
Sam Kennedy, Corporate Communications Director, 484-526-4134, samuel.kennedy@sluhn.org
About St. Luke's
Founded in 1872, St. Luke's University Health Network is a fully integrated, regional, non-profit network providing services at nine hospitals and nearly 300 outpatient sites. With annual net revenue of $1.7 billion, the network's service area includes 10 counties: Lehigh, Northampton, Carbon, Schuylkill, Bucks, Montgomery, Berks and Monroe counties in Pennsylvania and Warren and Hunterdon counties in New Jersey. Dedicated to advancing medical education, St. Luke's is a major teaching hospital – the only one in the Greater Lehigh Valley. In partnership with Temple University, St. Luke's created the region's first and only regional medical school campus. It also operates the nation's longest continuously operating School of Nursing, established in 1884, and 23 fully accredited graduate medical educational programs with 189 residents. Repeatedly, including 2017, St. Luke's earned Truven's 100 Top Major Teaching Hospital and 50 Top Cardiovascular Program designations, in addition to other honors for clinical excellence. St. Luke's, utilizing the EPIC electronic medical record (EMR) system, is a multi-year recipient of the Most Wired award recognizing the breadth of St. Luke's information technology applications such as telehealth, online scheduling and online pricing information. St. Luke's is also recognized as one of the state's lowest cost providers.