News
St. Luke's Plastic & Reconstructive Surgery Raises Money for Breast Cancer Patients
December 13, 2018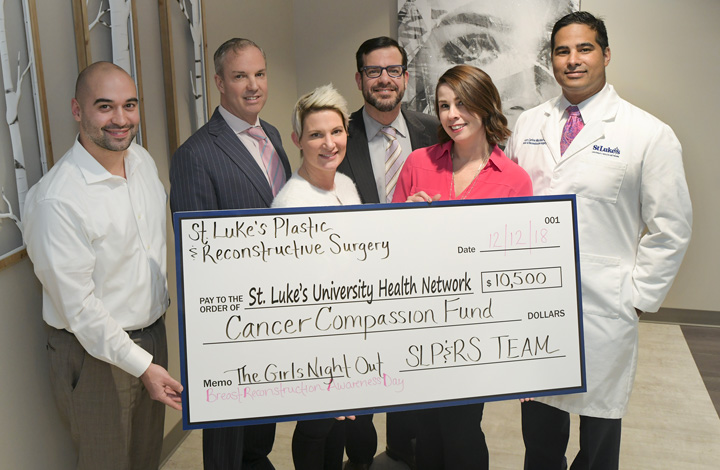 Photo Caption: (LEFT - RIGHT) Michael Rinker, Administrative Director- Oncology Service, accepts a check from St. Luke's Plastic & Reconstructive Surgery from Doctor Michael Morrissey, Practice Administrator Crystal Corredera, Doctor Lino Miele, Director of Development Melissa Siegfried and Doctor Juan Carlos Martinez Grullon.
St. Luke's Plastic & Reconstructive Surgery raised $10,500 for the St. Luke's Cancer Compassion Fund for breast cancer during a fun-filled evening at the Event Center at Blue in Bethlehem on Oct. 25. A check was presented Wednesday.
The Girls" Night Out also raised awareness about the role that breast reconstruction can play in helping women heal after mastectomy.
St. Luke's Cancer Compassion Fund for breast cancer patients helps alleviate the financial burden of patients who struggle to pay for medications, medical supplies and/or necessities for during their cancer journey. The event was held in recognition of Breast Reconstruction Awareness Day, observed nationally this year on Oct. 17.
During the evening, breast cancer survivor Lisa Dove discussed the role breast reconstruction played in helping her to heal both physically and emotionally.
"It was an honor to share some of my story and publicly thank Dr. Morrissey for giving me hope in feeling physically whole again after I was told reconstruction would not be an option for me," Dove said. "Not only was I able to share this journey with so many family and friends tonight, but was also blessed to have them witness the best night of life with my surprise engagement!" (She said yes.)
Added St. Luke's Plastic Surgeon W. Michael Morrissey, Jr., MD: "We welcomed the opportunity to sponsor this event in honor of our patients who have had breast reconstruction after mastectomy or lumpectomy. Many women consider breast reconstruction to be an important part of their healing process, and as physicians, we feel privileged to help restore what cancer took away."
At the event, the band "Rotten Apples" entertained approximately 300 guests with live music and Boos Rock Winery provided a complimentary wine tasting. Cancer survivors were invited to compete in a bra decorating contest. The winners were Brenda Jones, Lisa Gerber and Darlene Dailey, the people's choice winner. Also, Donna Martin won the most creative pink outfit contest.
"We thank everyone who came out and supported the event," said Lino Miele, MD, "We appreciate all of the organizations who made contributions."
Big Girls sponsors: Drs. Michael Morrissey, Juan Carlos Martinez & Lino Miele and Allergan.
Uplift sponsors: Hellertown Dental Group – Dr. Ann Hunsicker-Morrissey and KCI
Supporting sponsors: Allentown Corvette Club, Laura & Marty Hegyi, Physical Therapy at St. Luke's, Doctors Lee & Valerie Riley and Sientra.
In-kind supporters: Boos Rock Winery, Balloons by Paulette, Andy's & Pennewell's Flower Shop, Bev's Cakes & Candies, Mentor, Merz & MTF
St. Luke's Plastic & Reconstructive Surgery offers several breast reconstructive surgery options, ranging from saline and silicone implants to leading edge microsurgery options, where physicians use tissue from the patient's body to reconstruct the breast. For more information about breast reconstruction after mastectomy or lumpectomy, or to schedule a consultation, contact St. Luke's Plastic & Reconstructive Surgery at 484-526-1260.
About BRA Day
The American Society of Plastic Surgeons (ASPS) and The Plastic Surgery Foundation (The PSF) lead the Breast Reconstruction Awareness USA Campaign to build awareness around breast reconstruction options after mastectomy and lumpectomy. Their goal of the event is to share the message that:
All women who are candidates for breast reconstruction should be made aware of the options available to them.
All women who are candidates for breast reconstruction should be offered treatment in a safe and timely manner.
Federal law mandates coverage of breast reconstruction for all breast cancer patients, even if such reconstruction is delayed until after other treatments.