News
St. Luke's Opens New Regional Breast Center in Monroe County
March 15, 2018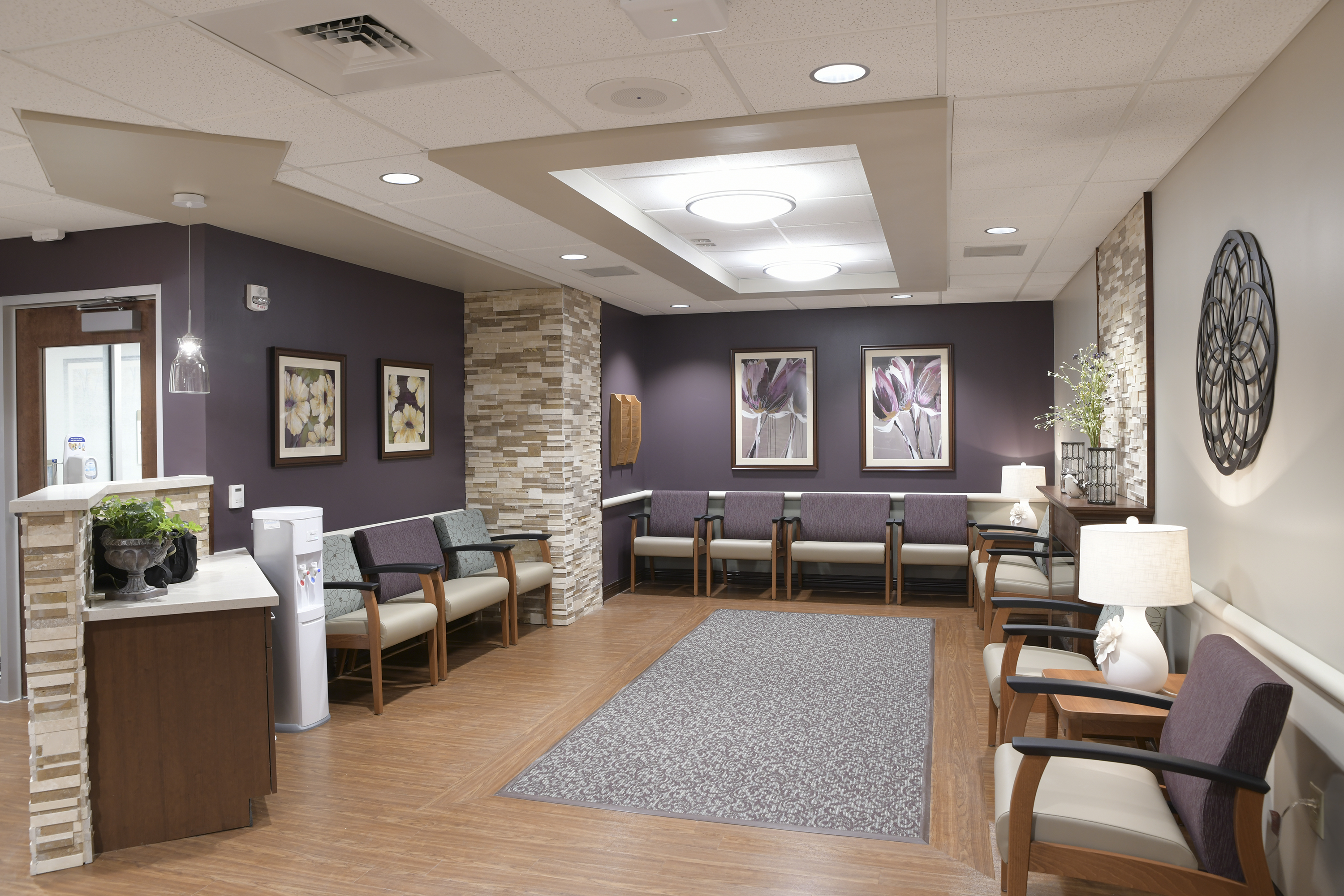 New mammography system features remote control allowing patients to control their own breast compression with help of a technologist.
St. Luke's University Health Network opened its second diagnostic breast imaging facility, specifically designed to serve Monroe County and surrounding area patients in need of screening and diagnostic mammograms or advanced breast imaging.
The new St. Luke's Regional Breast Center-Monroe – located at 200 St. Luke's Lane in Stroudsburg – is a state-of-the-art facility, modeled in function and design after the highly successful St. Luke's Regional Breast Center in Center Valley.
Every detail of this new facility, whose creation was driven by overwhelming demand at St. Luke's Women's Imaging in E. Stroudsburg, is structured to be patient-driven and patient-focused with tranquility at the forefront of the design. From the latest breast health technology to the warm colors of the waiting room and the fireplace and coffee bar, every amenity was constructed with patient comfort and ease in mind.
"We are committed to doing everything we can to reduce a patient's anxiety and that influenced each decision regarding the overall concept, patient flow and physical design," says Michele Giletto, St. Luke's network director, women's imaging. "Knowing that most patients have anxiety about getting their mammograms because of the possibility of having breast cancer, we wanted to focus on patient comfort and care by providing a warm, welcoming atmosphere for patients and accurate and thorough evaluations with less wait time."
The Regional Breast Center includes breast imaging technologies from GE Healthcare, including its latest mammography system, Senographe Pristina, and Pristina Dueta, an industry-first, patient-assisted compression remote control device that gives women the ability to control their own breast compression during a mammogram with the help of a technologist. St. Luke's is the first healthcare provider in Pennsylvania to offer this patient-assisted compression device.
Several of the nation's top academic medical centers have recently adopted the Senographe Pristina mammography system that is now available at the Regional Breast Center. Developed by a team of women at GE Healthcare, the system is designed to provide a more comfortable patient experience with rounded corners, a thinner image detector made of carbon fiber composite that is softer and warmer to the touch than the material used on traditional systems and armrests so women can lean comfortably and relax their muscles to simplify positioning, compression and image acquisition.
Patients can also choose to use Pristina Dueta, which helps to minimize the perceived pain and discomfort often associated with a mammogram.1 After the breast is properly positioned by the technologist, the patient uses a handheld, wireless remote control to adjust the compression based on her individual comfort level. Patients who use the remote control tend to be more relaxed and have found it improves the comfort of the exam.1
Danielle Dupuis and her husband, Roland, donated a grant to St. Luke's in order to purchase the Senographe Pristina with Dueta. "I was very excited to help obtain this new equipment that will make the whole mammography experience as patient-friendly as possible and soothe anxious patients concerned about the discomfort of mammograms," says Danielle. "We're excited to help St. Luke's bring this revolutionary technology to the Monroe County community."
The Center also features GE Healthcare's SensorySuite, a spa-like exam room designed to create a more pleasant atmosphere for patients by allowing them to choose sounds, scents and imagery to experience during their mammograms, such as seascapes, gardens or waterfalls, which can help reduce anxiety, discomfort and pain during the exam.
St. Luke's Regional Breast Center - Monroe provides women's imaging services including:
● Lowest dose 3D screening and diagnostic mammography
● Automated breast ultrasound (ABUS)
● Diagnostic breast ultrasound
● Stereotactic breast biopsy
● Ultrasound-guided breast biopsy and cyst aspirations
The Center is staffed by highly skilled technologists and fellowship-trained breast imagers as well as a certified breast nurse navigator to provide education and support throughout diagnostic exams, and if needed, breast biopsy and diagnosis.
"The concept of this facility reemphasizes St. Luke's commitment to breast cancer screening and early detection. Because finding breast cancer early begins with proper screening, we make testing as easy and accessible as possible," says Joseph Russo, MD, section chief of women's imaging, St. Luke's University Health Network. "With all of the state-of-the-art digital breast imaging and resources the Monroe facility has to offer, we provide the screening options that best address a patient's individual risk factors, making early onset cancer most treatable and giving the patient the best possible outcome."
To schedule an appointment at the new Regional Breast Center - Monroe, call St. Luke's Central Scheduling toll-free: 1-800-801-7745 Monday thru Friday 7 am – 7 pm; Saturday 8 am – 12 pm.
Serving patients in their community is important to us. That's why Regional Breast Services are offered at the St. Luke's Warren Campus. Patients in the Miners community also have access to diagnostic breast services close to home.
*Media Tours Available Upon Request
1 IPSOS Patient Satisfaction Study sponsored by GE Healthcare, conducted with 160 patients who used patient-assisted compression across two sites in Europe, February 2017. Data on file.
Media Contact:
Sam Kennedy, Corporate Communications Director, 484-526-4134, samuel.kennedy@sluhn.org
About St. Luke's
Founded in 1872, St. Luke's University Health Network is a fully integrated, regional, non-profit network of 14,000 employees providing services at 10 hospitals and over 315 outpatient sites. With annual net revenue of $1.9 billion, the network's service area includes 10 counties: Lehigh, Northampton, Carbon, Schuylkill, Bucks, Montgomery, Berks and Monroe counties in Pennsylvania and Warren and Hunterdon counties in New Jersey. Dedicated to advancing medical education, St. Luke's is the preeminent teaching hospital in central-eastern Pennsylvania. In partnership with Temple University, St. Luke's created the region's first and only regional medical school campus. It also operates the nation's longest continuously operating School of Nursing, established in 1884, and 28 fully accredited graduate medical educational programs with 226 residents and fellows. St. Luke's is the only health care network in central-eastern Pennsylvania to earn Medicare's five-star rating (the highest) for quality, efficiency and patient satisfaction. Repeatedly, including 2018, St. Luke's has earned the 100 Top Major Teaching Hospital and 50 Top Cardiovascular Program designations from IBM Watson Health (formerly Truven Health Analytics). St. Luke's, utilizing the EPIC electronic medical record (EMR) system, is a multi-year recipient of the Most Wired award recognizing the breadth of St. Luke's information technology applications such as telehealth, online scheduling and online pricing information. St. Luke's is also recognized as one of the state's lowest cost providers.