News
Secret Donor Gives Again: St. Luke's NICU Gets Annual Anonymous Gift
January 12, 2018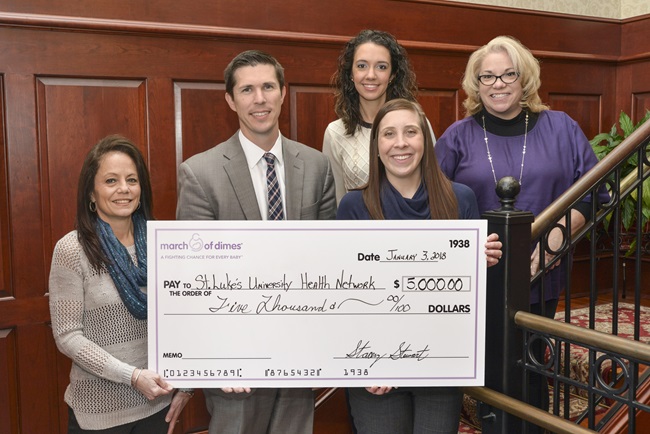 2018 started off with a special gift for the St. Luke's University Health Network's Level II and Level III NICUs (Neonatal Intensive Care Units) in Bethlehem and Allentown. March of Dimes representatives presented a $5,000 check to the NICU team at St. Luke's Hospital - Bethlehem this week.
Each year, this anonymous donor provides a generous gift to the NICU Family Support Program, which funds professional development and staff education, family activities and offsets costs for repairs or upkeep of facility equipment.
"We're grateful for the generosity of this anonymous angel donor because it helps our staff provide a caring, nurturing atmosphere for our families," says Barbara Raab, RNC, NICU Family Support Program coordinator. "Time in the NICU can be hard on families, but we hope the programs supported by this donation will help make families and babies happy and less stressed and in that way, we're achieving our ultimate goal of providing the best healthcare for NICU babies."
As part of the NICU Family Support Program, the staff helps families mark special occasions throughout the year, like making a personalized holiday footprint ornament or handing out cookie trays to families of NICU babies who rarely have time for holiday baking. The donated money also supports the Journey Jewels program, established to help parents and families commemorate significant events in their baby's life like first IV, first time parents held or changed a diaper or did kangaroo care.
With each event, a new glass bead is added to a small keepsake, which is filled weekly and given to the parents at discharge. Funds from the donation help purchase fabric for Cuddle Covers, or nursing covers handmade by staff and volunteers to help promote the extraordinary benefits of breastfeeding and kangaroo care, especially for sick or premature infants in the NICU.
For the past two years, the money from this donation also helped send a family representative to national meetings of the Vermont Oxford Network, a worldwide association of NICUs who evaluate the quality and performance of neonatal practices through information-sharing, education and networking, in order to improve perinatal and neonatal care.
St. Luke's University Health Network has both a Level II and Level III NICU. The Level II NICU in Allentown cares for babies 32 weeks and older and Bethlehem's Level III NICU is equipped to care for all infants from viability (roughly 22-23 weeks) up to term with medical issues. Having two NICUs within the Network ensures that critically ill newborns and premature babies have a high level of medical care. Both NICUs at Allentown and Bethlehem are staffed by a team of highly specialized, board-certified neonatologists, neonatal nurse practitioners, specialty trained nurses, lactation consultants and occupational and physical therapists.
Media Contact:
Sam Kennedy, Corporate Communications Director, 484-526-4134, samuel.kennedy@sluhn.org
About St. Luke's
Founded in 1872, St. Luke's University Health Network is a fully integrated, regional, non-profit network providing services at nine hospitals and nearly 300 outpatient sites. With annual net revenue of $1.7 billion, the network's service area includes 10 counties: Lehigh, Northampton, Carbon, Schuylkill, Bucks, Montgomery, Berks and Monroe counties in Pennsylvania and Warren and Hunterdon counties in New Jersey. Dedicated to advancing medical education, St. Luke's is a major teaching hospital – the only one in the Greater Lehigh Valley. In partnership with Temple University, St. Luke's created the region's first and only regional medical school campus. It also operates the nation's longest continuously operating School of Nursing, established in 1884, and 23 fully accredited graduate medical educational programs with 189 residents. Repeatedly, including 2017, St. Luke's earned Truven's 100 Top Major Teaching Hospital and 50 Top Cardiovascular Program designations, in addition to other honors for clinical excellence. St. Luke's, utilizing the EPIC electronic medical record (EMR) system, is a multi-year recipient of the Most Wired award recognizing the breadth of St. Luke's information technology applications such as telehealth, online scheduling and online pricing information. St. Luke's is also recognized as one of the state's lowest cost providers.