News
In the News: Glioblastoma
August 28, 2018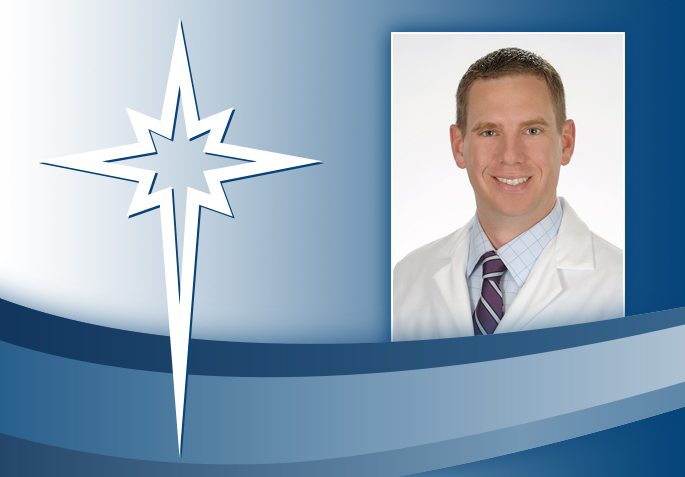 St. Luke's chief of neurological surgery, Hugh Moulding, MD, shares some high-level information on glioblastoma, a type of brain cancer.
What is glioblastoma?
Glioblastoma is the most common malignant primary brain tumor, or, in other words, the most common cancer that comes from the brain itself. There are approximately ten thousand new cases of this tumor diagnosed every year in the United States.
How do you know if you have it? Are there symptoms?
It can present a number of different ways, depending on the part of the brain where it develops. It can present with headaches, or cognitive issues/confusion, or weakness in an arm or leg, or visual difficulties, even seizures.
Is there anything we can do to prevent it?
Unfortunately, there are no known prevention strategies, or early detection strategies other than imaging (e.g. gadolinium enhanced brain MRI) with presenting symptoms.
How is glioblastoma typically treated? What is the prognosis?
GBM can be treated with surgery, radiation, chemotherapy, and combinations of these techniques. Still, despite this, average life expectancy after diagnosis is typically under 2 years. Treatment is often centered on slowing progression and maintaining quality of life as much as possible.
Are these types of treatment options available at St. Luke's?
Yes. We are able to deliver optimal, personalized care for this diagnosis, using all of the above modalities, including technologies (LITT/Visualase, 5-ALA/Gleolan, frameless stereotactic radiosurgery) offered. We also offer clinical trial options to patients with this disease.
Learn more about St. Luke's Brain & Spine Tumor Center.
Media Contact
Samuel Kennedy, Corporate Communications and Media Relations Director, Marketing & Public Relations, 484-526-4134, Samuel.Kennedy@sluhn.org
About St. Luke's
Founded in 1872, St. Luke's University Health Network (SLUHN) is a fully integrated, regional, non-profit network of 14,000 employees providing services at 10 hospitals and over 300 outpatient sites. With annual net revenue of $1.9 billion, the Network's service area includes 10 counties: Lehigh, Northampton, Berks, Bucks, Carbon, Montgomery, Monroe and Schuylkill counties in Pennsylvania and Warren and Hunterdon counties in New Jersey. Dedicated to advancing medical education, St. Luke's is the preeminent teaching hospital in central-eastern Pennsylvania. In partnership with Temple University, St. Luke's created the region's first and only regional medical school campus. It also operates the nation's longest continuously operating School of Nursing, established in 1884, and 28 fully accredited graduate medical educational programs with 226 residents and fellows. St. Luke's is the only health care system in central-eastern Pennsylvania to earn Medicare's five-star rating (the highest) for quality, efficiency and patient satisfaction. St. Luke's has earned the 100 Top Major Teaching Hospital designation from IBM Watson Health (formerly Truven Health Analytics) repeatedly – six times total and four years in a row including 2018. It has also been cited by IBM Watson Health as a 50 Top Cardiovascular Program. Utilizing the EPIC electronic medical record (EMR) system for both inpatient and outpatient services, the Network is a multi-year recipient of the Most Wired award recognizing the breadth of the SLUHN's information technology applications such as telehealth, online scheduling and online pricing information. St. Luke's is also recognized as one of the state's lowest cost providers.