News
St. Luke's New Baby & Me Mobile App
June 16, 2017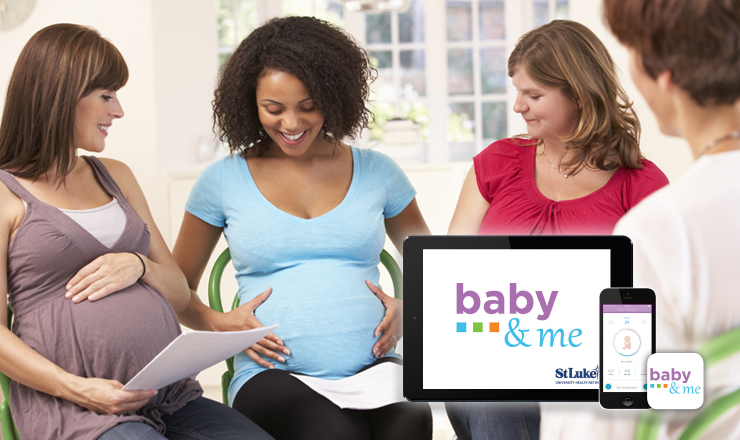 St. Luke's New Baby & Me Mobile App
Helps New Moms Stay Organized and Informed from Pregnancy to Parenthood
St. Luke's University Health Network recently launched its new St. Luke's Baby & Me mobile app to help pregnant and new moms stay informed and healthy throughout the stages of pregnancy, labor, birth and newborn care.
The mobile app, which can be downloaded for free, is part of St. Luke's ongoing commitment to mothers, babies, fathers and support persons before, during and after they have a baby. The app's launch coincides with the announcement of the new St. Luke's Baby & Me Support Center, opening this summer.
Both the app and the Support Center are part of St. Luke's philosophy of care that implements evidenced-based practices such as skin to skin contact, rooming in and strong encouragement of breastfeeding while listening to and respecting each patient's choice and personalizing care accordingly.
For many first time moms, pregnancy and motherhood can be overwhelming and confusing, prompting them to seek out information from untrustworthy sources found through random internet searches. But the Baby & Me app helps moms stay on top of all the relevant pregnancy wellness information from highly skilled, well-regarded pregnancy and newborn experts, consultants, obstetricians and maternal fetal medicine specialists.
"The Baby & Me app is another way for patients to really connect with St Luke's and their doctors," explains Holli Warholic, DO, of St. Luke's Riverside Women's Healthcare. "We pride ourselves on being able to get to know our patients and be their true guide throughout pregnancy and new motherhood. The Baby & Me app and St. Luke's Baby & Me Support Center are a big part of that."
The St. Luke's Baby & Me app features tips about:
Healthy pregnancy
Labor & Birth
Postpartum issues
Newborn care
Classes, tours and pre-birth visits
St. Luke's obstetricians and pediatricians
Breastfeeding
Newborn tests and care
Week-by-Week push notifications
Appointment tracker
Contraction timer
Journal for recording newborn feeding schedules
Users can view photos of baby's development and a synopsis of what's happening at each phase, tips on what to ask your provider at your next visit and a rundown of prenatal testing and why each is important. And after the baby comes, the app provides a pediatrician finder, as well as videos about breastfeeding, taking care of your newborn (including everything from how to install a car seat properly to infant CPR and signs of jaundice.) Through the use of animation, video and milestone markers, Baby & Me app users can keep track of doctor appointments and feeding and immunization schedules. With access to tools and support like this, moms feel prepared and in control every step of the way.
"Having and caring for a baby is one of the most important experiences and responsibilities in life and while it's not always without challenges, we believe that moms, babies and families can truly thrive when they have the support they need and are able to make the most appropriate decisions for their individual circumstances," says Jared King, St. Luke's Women's and Children's Service Line Administrator. "The Baby & Me app is specifically designed for today's on-the-go moms and brings into the on-line space what St. Luke's has always been known for – providing the highest level of maternal and newborn care."
Wherever moms go, whenever they can find the time, they can quickly and easily get the information they need to do what's best for their babies and themselves with the St. Luke's Baby & Me app. The app is available for download now in the App Store if you have an iphone and on Google Play for Android users. The Baby & Me Support Center is slated to open later this summer at 1425 Eighth Avenue in Bethlehem. Both the app and the Support Center represent St. Luke's commitment to providing exceptional, quality maternal and newborn care and helping moms and families during the most important experience of their lives – having and caring for a baby.
Media Contact
Samuel Kennedy, Corporate Communications and Media Relations Director, Marketing & Public Relations, 484-526-4134, Samuel.Kennedy@sluhn.org
About St. Luke's
Founded in 1872, St. Luke's University Health Network (SLUHN) is a non-profit, regional, fully integrated and nationally recognized network providing services at seven hospitals and more than 270 outpatient sites. The network's service area includes Lehigh, Northampton, Carbon, Schuylkill, Bucks, Montgomery, Berks and Monroe counties in Pennsylvania and in Warren County in New Jersey. Dedicated to advancing health education, St. Luke's operates the nation's oldest School of Nursing and 22 graduate medical educational programs and is considered a major teaching hospital, the only one in the region. In partnership with Temple University, St. Luke's created the region's first Medical School. Repeatedly, including 2017, St. Luke's has earned Truven's 100 Top Major Teaching Hospital designation as well as 50 Top Cardiovascular program in addition to other honors for clinical excellence. St. Luke's is a multi-year recipient of the Most Wired award recognizing the breadth of St. Luke's information technology applications such as electronic medical records, telehealth, online scheduling and pricing information. St. Luke's is also recognized as one of the state's lowest cost providers in comparison to major teaching hospitals and other health systems.