News
St. Luke's Hosts 3-day "Micropreemie" Collaborative Conference
May 09, 2017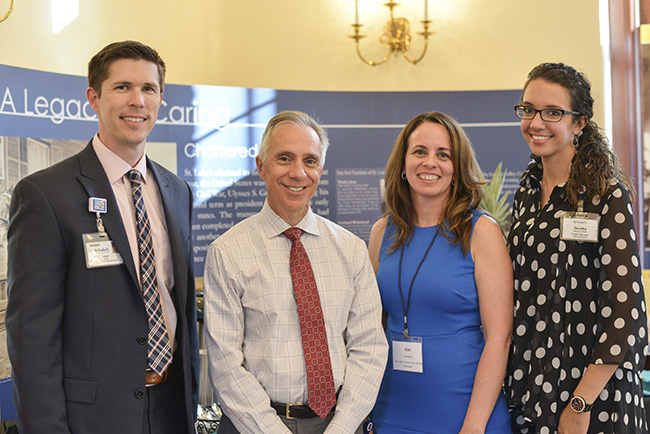 VON Micropreemie Collaborative Welcome Reception - Jared King, St. Luke's service line administrator, women's and children's services; Joseph Bell, MD, St. Luke's maternal fetal medicine; Kimberly Costello, MD, director of neonatology; Jessika Haynos, project manager, children's services
Bethlehem, PA (5/9/2017) – Lehigh Valley area residents are very fortunate to have access to Level I emergency services through St. Luke's University Health Network, responding to hundreds of life-threatening situations each year. But did you know that there is a Level III life-saving facility right here in the Lehigh Valley dedicated to the critical care of our smallest and newest members of the community?
St. Luke's Hospital's NICU(Neonatal Intensive Care Unit) is a Level III facility, providing a high level of medical care to critically ill newborns and premature babies. As such, St. Luke's NICUs are part of the "Vermont Oxford Network," a worldwide association of NICUs who evaluate the quality and performance of neonatal practices through information-sharing, education and networking, in order to improve perinatal and neonatal care.
St. Luke's University Health Network was recently tapped by VON's subgroup, the Micropreemie Collaborative, to host their annual meeting which took place in Bethlehem last week. VON's Micropreemie Collaborative is composed of ten hospitals throughout the United States whose collective focus is care for micropreemies, or babies born at less than 28 weeks and/or fewer than 1500 grams.
"The Micropreemie Collaborative meeting is important for perinatal health professionals from Level I, II and III care centers from around the world who strive to improve the care and safety of newborns who need special support," says Kimberly Costello, DO, director of neonatology, St. Luke's University Health Network and executive director of team engagement, Onsite Neonatal Partners. "We're a collaborative community and by networking, education and information sharing, members can return to their respective NICU centers with the most updated research, data and best practices."
St. Luke's hosted the 3-day conference at sites on the St. Luke's Bethlehem campus and the Sands Hotel. Over 80 practitioners, representatives and patient families from hospitals around the country gathered to share vital information about micropreemie care and to observe how St. Luke's NICU is managed. "Part of the reason St. Luke's was chosen for this meeting is because of our efficient and successful multidisciplinary approach to NICU care," explains Dr. Costello. "VON was impressed with how well our doctors, nurses, administrative personnel and parents collaborate to accomplish goals and move the needle of care for NICU patients and their families."
The meeting's agenda included discussions and lectures about quality improvement methods, family centered integrated care and evidence-based practice with a featured presentation by Kimberly Firestone, MSc, RRT, a respiratory therapist from Akron Children's Hospital, who discussed NAVA: Neurally Adjusted Ventilatory Assist for Noninvasive Support in Neonates, which is a new way to ventilate micropreemie babies who need breathing support.
Meeting attendees also observed the St. Luke's NICU in action as part of the Simulation Lab and NICU Immersion, where the NICU staff reenacted real life situations like delivery, intubation and transport. "Our goal is definitely to share our best practices, but also to be evaluated by and get feedback from our peers in the field," says Jessika Haynos, project manager, children's services.
"Sharing is what this meeting was all about," says Dr. Costello. "Not only did we listen and learn from the practitioners who attend the event, but we hope we shared what we know and what we do with other hospitals to help them improve their services too."
Media Contact
Samuel Kennedy, Corporate Communications and Media Relations Director, Marketing & Public Relations, 484-526-4134, Samuel.Kennedy@sluhn.org
About St. Luke's
Founded in 1872, St. Luke's University Health Network (SLUHN) is a non-profit, regional, fully integrated and nationally recognized network providing services at seven hospitals and more than 270 outpatient sites. The network's service area includes Lehigh, Northampton, Carbon, Schuylkill, Bucks, Montgomery, Berks and Monroe counties in Pennsylvania and in Warren County in New Jersey. Dedicated to advancing health education, St. Luke's operates the nation's oldest School of Nursing and 22 graduate medical educational programs and is considered a major teaching hospital, the only one in the region. In partnership with Temple University, St. Luke's created the region's first Medical School. Repeatedly, including 2017, St. Luke's has earned Truven's 100 Top Major Teaching Hospital designation as well as 50 Top Cardiovascular program in addition to other honors for clinical excellence. St. Luke's is a multi-year recipient of the Most Wired award recognizing the breadth of St. Luke's information technology applications such as electronic medical records, telehealth, online scheduling and pricing information. St. Luke's is also recognized as one of the state's lowest cost providers in comparison to major teaching hospitals and other health systems.