News
St. Luke's Champions 'March Gladness,' Seeks All-Star Baby Photos
March 17, 2017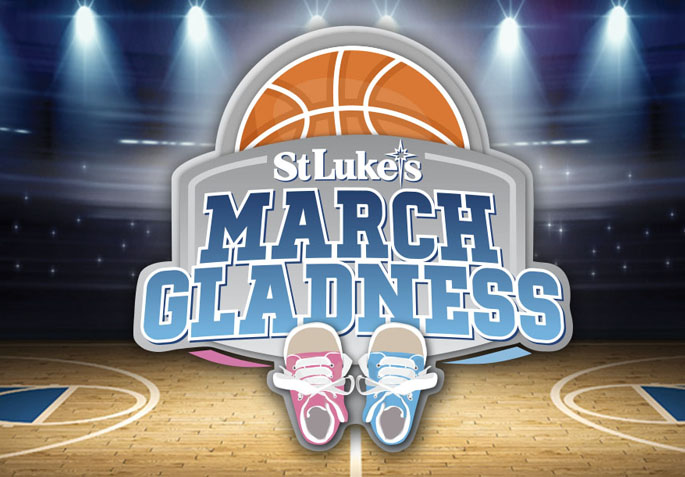 St. Luke's Champions 'March Gladness,' Seeks All-Star Baby Photos
Bethlehem, PA (3/17/2017) –
In the age-old – yet newborn – fight for gender dominance,
St. Luke's University Health Network
launches its 2017
"March Gladness"
competition to showcase
its regionally and nationally recognized Obstetrics and Gynecology services.
During March, St. Luke's is tracking the number of girls versus boys born in its
Allentown
and
Bethlehem
hospitals during the highly publicized "March Madness" NCAA Basketball competition. The results will then be displayed in aggregate totals on a network of regional digital billboards throughout the Lehigh Valley owned by "March Gladness" partner Adams Outdoor Advertising.
St. Luke's will promote March Gladness on social media in order to encourage audience engagement for their
OB/GYN and maternity services
.
"The March Gladness competition is intended to be a fun, engaging promotional effort to call attention to our stellar maternity services. It's a great way to get the word out that once again we have been named the Morning Call's "Best Place to Have a Baby" and that we have the "Best Obstetricians," Ken Szydlow, Vice President of Marketing and Public Relations of St. Luke's, said.
"We want future parents to know St. Luke's is a slam dunk for them," he said.
Tallying the "March Gladness" babies digitally is sure to add a competitive element and to draw attention to the scores.
"Digital out-of-home creative campaigns are flexible, successfully drive results, and create an exclusive venue for advertisers to communicate their messages quickly to the masses. Adams Outdoor is excited to partner with St. Luke's on this incredibly unique marketing opportunity," Tony Cioffi, General Manager Adams Outdoor Lehigh Valley, said.
Additionally, in 2017, St. Luke's is hosting an
All-Star Baby Photo Contest
in conjunction with "March Gladness." Whether your "baby" is 21 days old or 21 years old, submit your photo by April 4 for a chance to win a $500 Target gift card and other prizes. To enter and for a complete list of contest rules click on
http://womens.slhn.org/March-Gladness
and follow the guidelines.
About St. Luke's University Health Network Family Birth Centers
St. Luke's New Beginning's Family Birth Centers in Allentown and Bethlehem are state of the art birthing units, offering parents the comforts of a safe, family-centered atmosphere for welcoming their babies into the world. St. Luke's is a leader in perinatal care and high risk deliveries and has been voted Best Place to Have a Baby and Best Obstetricians by the readers of The Morning Call. The Centers are also recent recipients of the Blue Distinction® Centers for Maternity Care Designation.
About St. Luke's
Founded in 1872, St. Luke's University Health Network (SLUHN) is a non-profit, regional, fully integrated and nationally recognized network providing services at seven hospitals and more than 270 outpatient sites. The network's service area includes Lehigh, Northampton, Carbon, Schuylkill, Bucks, Montgomery, Berks and Monroe counties in Pennsylvania and in Warren County in New Jersey. Dedicated to advancing health education, St. Luke's operates the nation's oldest School of Nursing and 22 graduate medical educational programs and is considered a major teaching hospital, the only one in the region. In partnership with Temple University, St. Luke's created the region's first Medical School. Repeatedly, including 2017, St. Luke's has earned Truven's 100 Top Major Teaching Hospital designation as well as 50 Top Cardiovascular program in addition to other honors for clinical excellence. St. Luke's is a multi-year recipient of the Most Wired award recognizing the breadth of St. Luke's information technology applications such as electronic medical records, telehealth, online scheduling and pricing information. St. Luke's is also recognized as one of the state's lowest cost providers in comparison to major teaching hospitals and other health systems.