News
St. Luke's Approach to Stroke Care Saves Precious Time and Brain
May 15, 2017
When it comes to stroke care, there is a mantra in the health care community: Time is brain. This simple phrase powerfully underscores the importance of both rapid recognition of stroke symptoms and rapid treatment.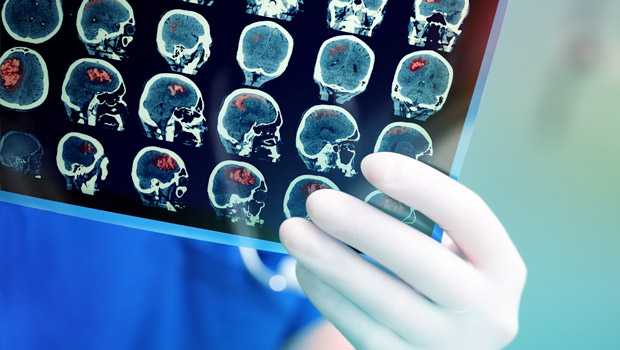 "For every minute that a large stroke is happening, the patient loses up to 2 million neurons," says
Daniel Ackerman, MD
, Medical Director of the St. Luke's Stroke Center. "Ultimately, the more quickly we can treat the stroke, the better the chances are for a patient to get through it with as little disability as possible."
St. Luke's University Health Network
(SLUHN) takes several critical steps to ensure patients are treated quickly and expertly to achieve the best possible patient outcomes. These steps include:
Having a presence throughout the region with trained stroke specialists who are available 24 hours a day, seven days a week, and have immediate access to each SLUHN facility.
Working closely with local EMS to shave precious time from the stroke care process. For example, the City of Bethlehem EMS has decreased door-to-CT time to an average of 5.5 minutes at the St. Luke's Bethlehem Campus.
Providing the most effective stroke therapies, including intravenous thrombolysis (a "clot-busting" medication) and intra-arterial thrombectomy (a procedure to remove a blockage of a blood vessel in the brain).
Taking a multidisciplinary team approach to stroke care that addresses individual patient needs.
The crucial element of time
Rapid diagnosis, transport and evaluation are crucial elements in effective stroke care. For example, intravenous thrombolysis, which Dr. Ackerman says has been the standard of treatment for the past 20 years, must be given up to 4.5 hours after the onset of symptoms in order to be effective.
To account for this, SLUHN worked in conjunction with local EMS to develop its "Direct to CT" procedure to maximize time and decrease duplication in the stroke alert process.
"Coordination is extremely important between all parties as even the smallest delay can cause a significant delay in obtaining definitive care for the stroke patient," says E.J. Coleman, supervisor, City of Bethlehem EMS. "Getting definitive care as soon as possible gives the patient the best outcome."
During the transport, the paramedics establish the IV access needed for a CTA at the hospital. They also perform an EKG and lab work. "The paramedics drawing the prehospital lab work expedites definitive care at the hospital," says Coleman. "Upon arrival, the paramedics proceed directly to the CT scan, and are met by the emergency room staff and members of the neurological department for immediate evaluation."
EMS and SLUHN medical teams have a solid working relationship, according to Ryan Buttner, RN, emergency room charge nurse at St. Luke's University Hospital in Bethlehem. "We meet with members of the EMS team and know them on a first-name basis," says Buttner. "They are outstanding at what they do and we trust what they tell us. This relationship helps stroke patients receive the correct care they need much more quickly."
National recognition for stroke care
St. Luke's has received recognition its proficiency in stroke care. In 2015 and 2016, St. Luke's University Hospital and
St. Luke's Allentown Campus
received the American Stroke Association's "Get With The Guidelines – Stroke Gold Plus, Target: Stroke Honor Roll Elite Award."
The award recognizes demonstrated clinical excellence in the treatment and care of stroke victims based on national standards and evidence-based clinical protocols.
"In Allentown and Bethlehem, we gave clot-busting medication to 75 percent of acute ischemic stroke patients within 60 minutes of their arrival," says Jessica Heckenberger, SLUHN Stroke Program Coordinator. "This is a testament to the quick response and collaboration that goes into effective stroke care."
The unified and rapid efforts, from transport to care, ensure that each stroke patient receives the most effective care to achieve the best possible outcome.
Stroke facts: What you need to know
May is National Stroke Awareness Month. Following are key facts about stroke that are important to know.
For every minute that a large stroke is happening, the patient loses up to 2 million neurons.
For every hour that a large stroke occurs, the patient's brain ages the equivalent of three and a half years based on the damage that's being done.
Approximately 800,000 strokes occur in the United States every year, with a new stroke happening every 40 seconds.
Of the 800,000 strokes that occur in the United States each year, approximately 160,000 of them are suffered by people who are having a second stroke.
Stroke is the fifth leading cause of death in the United States, and among the leading causes of long-term disability.
The primary risk factor for stroke is high blood pressure, but other prominent risk factors include diabetes, high cholesterol, sleep apnea and tobacco use.
Up to 80 percent of strokes are preventable if people understand the risk factors, take control of them and improve their health.
The 'BE FAST' approach to stroke
A stroke is an emergency health event, and every second between onset and treatment matters. If you suspect someone is having a stroke, St. Luke's encourages you to "BE FAST" by taking the following steps:
Balance. Is the person experiencing a sudden loss of balance?
Eyes. Does the person have a sudden loss of vision in one or both eyes?
Face. Ask the person to smile. Does his or her face look uneven?
Arm. Ask the person to raise both arms. Does one arm drift down?
Speech. Ask the person to repeat a simple phrase like "the sky is blue." Does his or her speech sound strange?
Time. If you observe any of these signs, note the time the symptoms started and call 911 or an ambulance.
"Early recognition and early activation of EMS will help the patient suffering a stroke have the best outcome," says E.J. Coleman, supervisor, City of Bethlehem EMS. "If you suspect someone is having a stroke, don't hesitate…activate."
About St. Luke's
Founded in 1872, St. Luke's University Health Network (SLUHN) is a non-profit, regional, fully integrated and nationally recognized network providing services at seven hospitals and more than 270 outpatient sites. The network's service area includes Lehigh, Northampton, Carbon, Schuylkill, Bucks, Montgomery, Berks and Monroe counties in Pennsylvania and in Warren County in New Jersey. Dedicated to advancing health education, St. Luke's operates the nation's oldest School of Nursing and 22 graduate medical educational programs and is considered a major teaching hospital, the only one in the region. In partnership with Temple University, St. Luke's created the region's first Medical School. Repeatedly, including 2017, St. Luke's has earned Truven's 100 Top Major Teaching Hospital designation as well as 50 Top Cardiovascular program in addition to other honors for clinical excellence. St. Luke's is a multi-year recipient of the Most Wired award recognizing the breadth of St. Luke's information technology applications such as electronic medical records, telehealth, online scheduling and pricing information. St. Luke's is also recognized as one of the state's lowest cost providers in comparison to major teaching hospitals and other health systems.