News
St. Luke's 5th Annual Luminaria Lighting Raised More than $2,500 for Bereavement Programs
December 02, 2017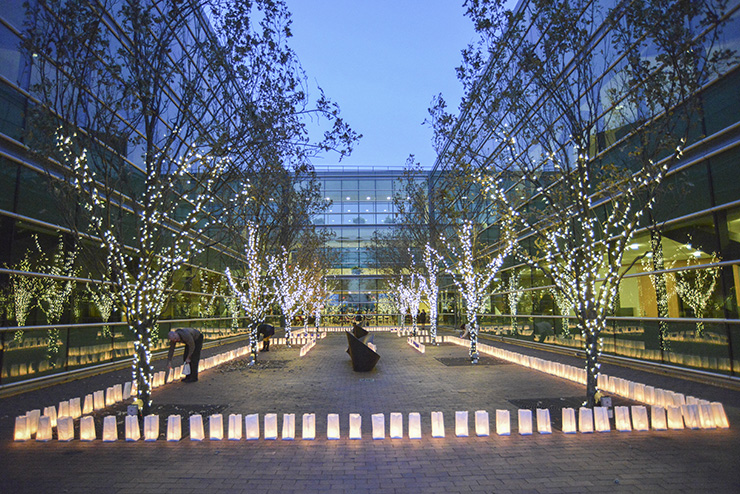 St. Luke's 5th Annual Luminaria Lighting was held Saturday November 11 at St. Luke's Center, Allentown. This year 130 individuals attended, lighting more than 350 luminarias honoring the memory of those who have passed away but are not forgotten. The luminarias, which consist of a votive candle set in a small paper bag weighted with sand, represent light and hope.
The luminaria lighting ceremony, part of the National Hospice and Palliative Care Month observations, raised more than $2,500 to support St. Luke's Hospice bereavement programs and services. This year's sponsors include James Funeral Home & Cremation Services, PC, Renaissance Hotel Allentown, Black River Farms, J.S. Burkholder Funeral Home, Inc. and Strunk Funeral Home, Inc.
For more information about St. Luke's Hospice and available services please visit vna.slhn.org/Hospice.
Media Contact
Samuel Kennedy, Corporate Communications and Media Relations Director, Marketing & Public Relations, 484-526-4134, samuel.kennedy@sluhn.org
About St. Luke's
Founded in 1872, St. Luke's University Health Network (SLUHN) is a non-profit, regional, fully integrated and nationally recognized network providing services at seven hospitals and more than 270 outpatient sites. The network's service area includes Lehigh, Northampton, Carbon, Schuylkill, Bucks, Montgomery, Berks and Monroe counties in Pennsylvania and in Warren County in New Jersey. Dedicated to advancing health education, St. Luke's operates the nation's oldest School of Nursing and 22 graduate medical educational programs and is considered a major teaching hospital, the only one in the region. In partnership with Temple University, St. Luke's created the region's first Medical School. Repeatedly, including 2017, St. Luke's has earned Truven's 100 Top Major Teaching Hospital designation as well as 50 Top Cardiovascular program in addition to other honors for clinical excellence. St. Luke's is a multi-year recipient of the Most Wired award recognizing the breadth of St. Luke's information technology applications such as electronic medical records, telehealth, online scheduling and pricing information. St. Luke's is also recognized as one of the state's lowest cost providers in comparison to major teaching hospitals and other health systems.