News
A Mother's Day Story: One Family Has 40 Births at St. Luke's Hospital Over 70 Years
May 02, 2017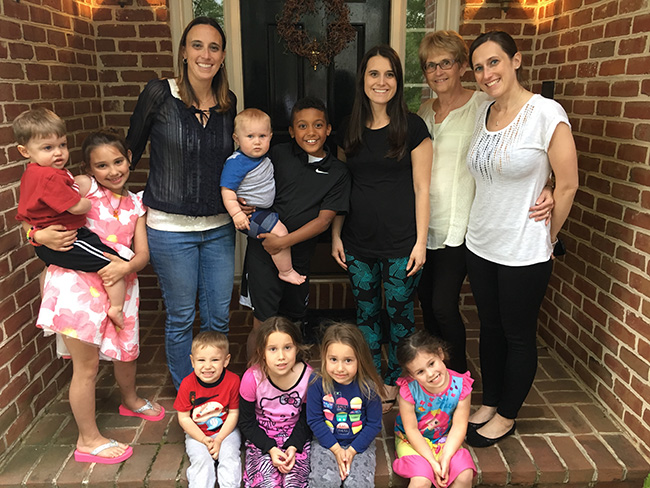 Maria Wolf (blue shirt) gathers with her sisters, Teresa Biggs (black shirt) and Katie Kelly (white shirt), their mother, Kathy Grasso, and all their children on Mother's Day weekend. Maria had five children at St. Lukes. Katie had two children at St. Luke's and Teresa had one child at St. Luke's… and is pregnant with her second!
---
With 40 births at St. Luke's Hospital, spanning nearly 70 years, the children and grandchildren of Dorothy Ripper really do Mother's Day in a big way.
"When my mom had us at St. Luke's, it was mostly because of location...St. Luke's was where everyone in our neighborhood had their babies," reflects Kathy Ripper Grasso, 64, second of Ripper's six children. "Now, our children are CHOOSING to have their babies at St. Luke's because they know it's where they'll get the best possible care for themselves and their babies."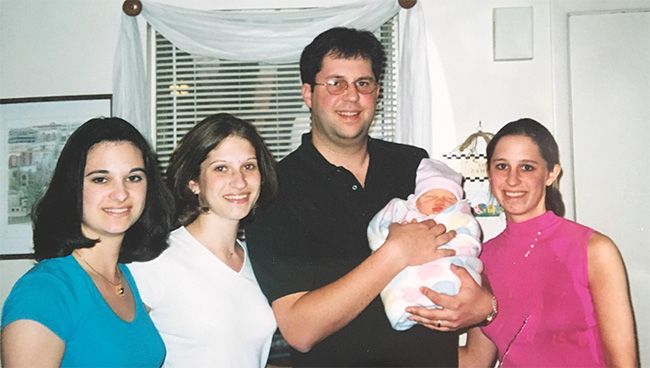 Rosemary's four children and first grandchild, all born at St. Luke's.
---
Kathy's mom, Dorothy Ripper, was born in 1927. She was the youngest of 13 children who were all born and raised in South Bethlehem. Dorothy and her husband made their home in Fountain Hill. Kathy was one of six children that included her older sister Rosemary Ripper Zambo, 68, all of whom were born at St. Luke's too.
In the 1950s and the early 60s, children were not allowed to visit moms post-delivery. Back then, a hospital stay for new mothers could be up to seven days - quite a long time for moms to be away from their other children. But Rosemary remembers that each night, after their dad got home from work, he would pile all the kids in the car and drive to the parking lot on Ostrum Street to wave up to their mom on the Labor & Delivery floor. "It really could have been any woman waving down at us!" laughs Rosemary. "But we would all fight over seating position in the car so we could get the best view of mom waving down at us from above!"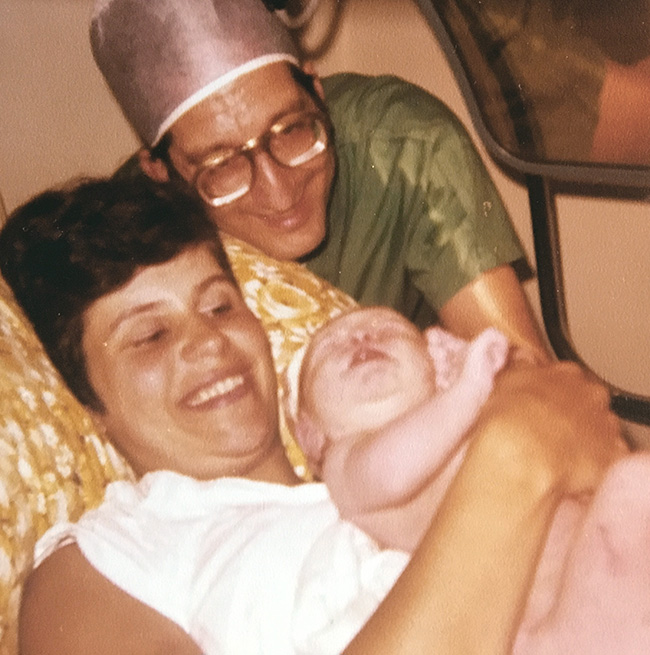 Rosemary and her husband with daughter, Mary in 1981.
---
In the 50s, says Rosemary, as was the practice at the time, prenatal care consisted only of taking a multivitamin every day. "There was certainly no birth plan, no prep, no reading, no books, no research when my mom was pregnant," says Kathy. "It's just not something that was done at the time - it was almost like the less you knew the better."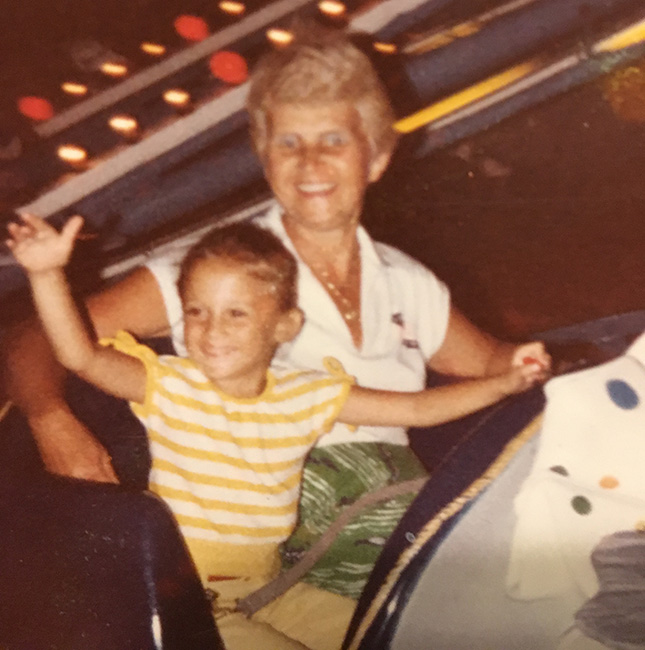 After babies were born,1950s moms didn't have much support when it came to breastfeeding. It was an option, of course, but many moms at the time chose to feed their babies canned evaporated milk or formula in a bottle. "With a largely paternalistic view of obstetrics back in the 50s and 60s, there was virtually no support for breastfeeding," explains Suzanne Basha, MD, of St. Luke's Women's Care Ob/Gyn. "There were no lactation consultants, no hospital support and not a lot of knowledge or research about the benefits breastfeeding provides to newborns."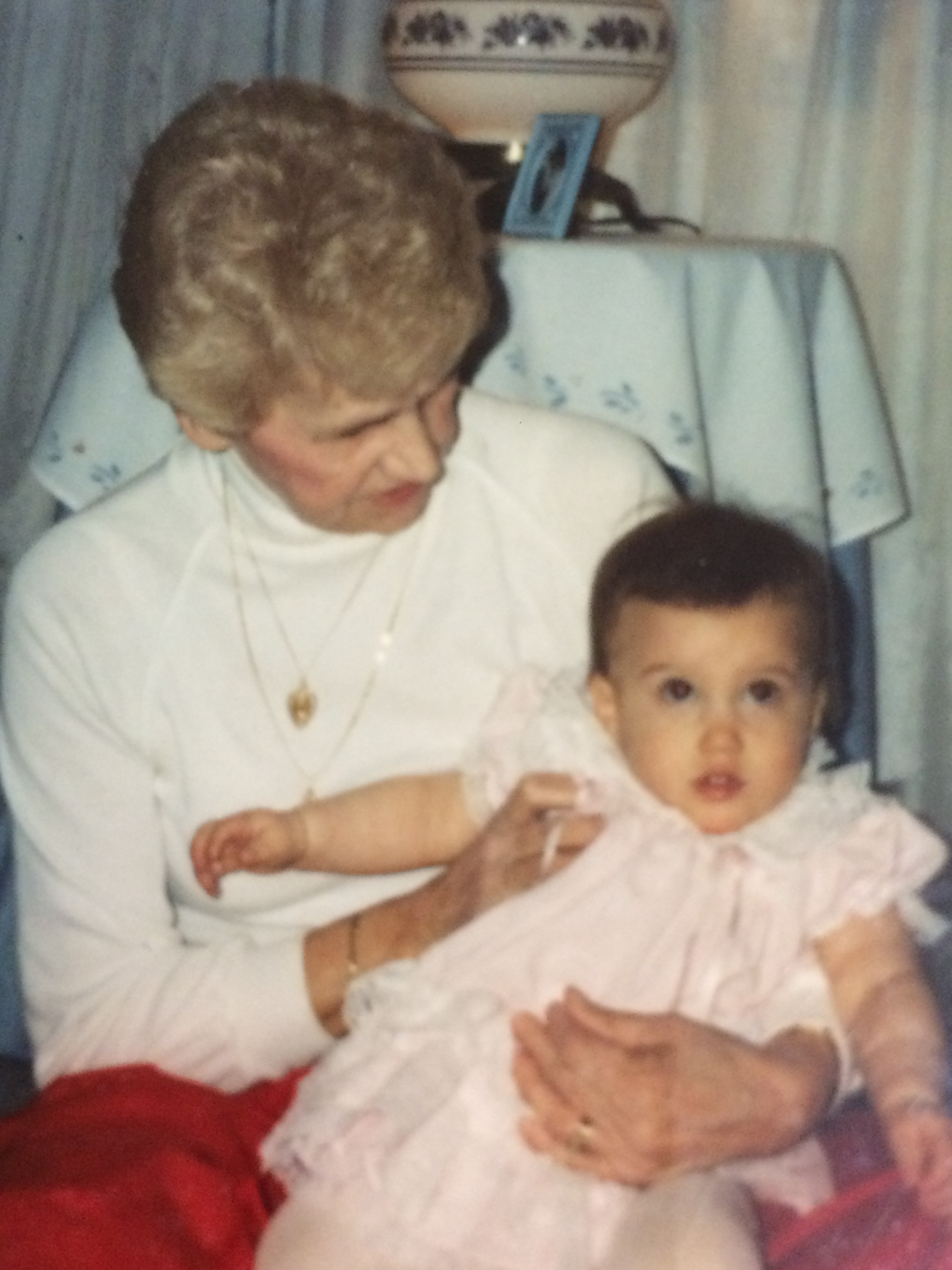 During the 70s and early 80s, Rosemary and Kathy and their siblings all had their babies at St. Luke's Hospital, and childbirth practices, particularly the role of fathers, were changing quite a bit. The Lamaze method was very popular and allowed fathers to take on a more active role in delivery. Lamaze combined childbirth education, breathing techniques and emotional support and was meant for couples to "train" for the childbirth process together, helping usher in an era of more collaboration and preparation for the expectant couple. Up until that time, there was not really a role for dads in delivery. And if there wasn't a supportive role they could play in the delivery process, there really wasn't a need for them in the room. But Lamaze changed all that for dads in the 70s. Rosemary, mother of four, who had her first baby in 1972, recalls that since she didn't attend Lamaze classes with her husband prior to her first baby, they wouldn't let him into the delivery room, but for her subsequent births, she and her husband took the classes every time.
Kathy's four children had a slightly different birth story. Labor with her oldest child, Maria, born in 1978, started off well, but went off course. "While birth plans weren't really a thing back then, you could say the only item on my 'birth plan' was to have my husband, Mike, there with me," recalls Kathy. So she and Mike made sure to take the Lamaze classes so he could be in the delivery room with her, but unexpected complications and fetal distress resulted in Maria being delivered via emergency caesarian section and Mike wasn't allowed in the OR. Maria was delivered safely and Kathy went on to have three more babies delivered via C-section with Mike by her side.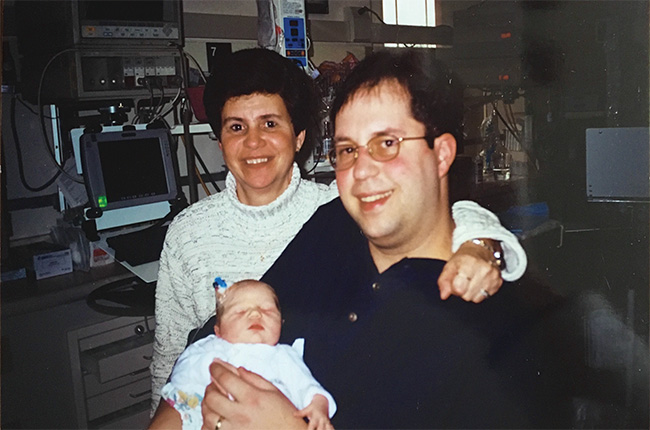 Rosemary Zambo, her oldest child, David and her first grandchild, Julia, now 16.
---
Now, Rosemary and Kathy's children, as well as most of their siblings' children, are having their babies at St. Luke's, carrying on the family tradition. Prenatal care and childbirth have evolved since Dorothy's time - breastfeeding is strongly supported; birth plans are encouraged; epidurals are a safe, viable pain management option; dads have an active role and moms are out of the hospital relatively quickly. Also, today, the baby's sex can be determined via ultrasound during an anatomy screen at about 20 weeks and early anatomy screenings can detect complications that would have been undiagnosed 70 years ago.
While things have certainly changed over the nearly 70 years since Dorothy had her babies, what hasn't changed is the integral role St. Luke's Hospital played in the beginning of so many families. "St. Luke's has always been a place that felt like home, like family," says Kathy. "Not only because the doctors, nurses and the entire staff are exceptional, but because it's where our families begin and have begun for generations."
"It's funny to think about what it may have been like for my grandmother to be in this same hospital, giving birth to my mom, and now, here I am having my babies at St. Luke's," ponders Maria Grasso Wolf, 39, Kathy's oldest daughter, who delivered all five of her children at St. Luke's. "My mother gave me the gift of life, just as her mother and her mother's mother before. Now, my sisters and I are able to share that gift with our mother in the delivery room with us too. I hope I can one day share that experience with my daughters at St. Luke's too."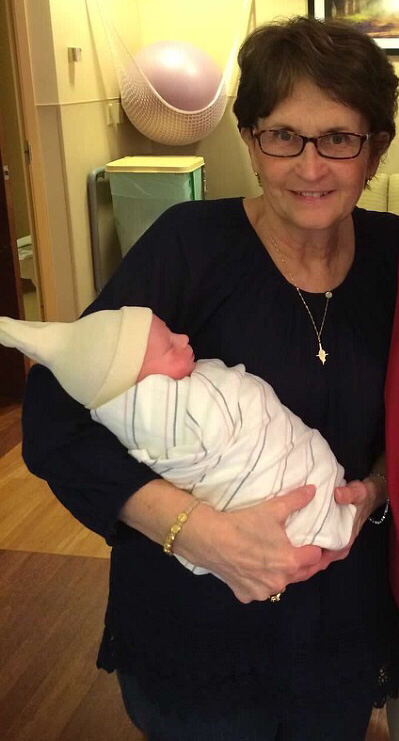 The oldest of Dorothy Ripper's great grandchildren is only 16 years old. Someday, Rosemary would love to see the St. Luke's tradition continue. "Even though we're a big family, we're very close and family and tradition are so important to us," says Rosemary. "It's amazing to think that so many new members of our family got their start at St. Luke's." Through the generations, her family got to know many different doctors and different staff… "but they all gave us personalized care, always putting our needs first and making sure the newest members of our family got a safe, healthy start in the world."
And that tradition of personalized care continues today.
With the announcement of St. Luke's new Baby & Me philosophy and the St. Luke's Baby & Me Support Center, as well as with a series of new women's and children's initiatives, St. Luke's has strengthened its ongoing commitment to the moms, babies and families in the region.
The St. Luke's philosophy of care implements evidenced-based practices such as skin to skin contact, rooming in and strong encouragement of breastfeeding while listening to and respecting each patient's choice and personalizing care accordingly… combining quality care, commitment to families and compassion with the best that modern science has to offer.
This new program really represents a continuance of what St. Luke's has always been known for – providing the highest level of maternal and newborn care through a compassionate and personalized approach.
The most comprehensive program of its kind in the region, the St. Luke's Baby & Me Support Center, located at 1425 Eighth Avenue in Bethlehem, will provide moms and family members with a variety of services commonly needed before, during and after pregnancy in one convenient location. Services will include pre-and post-natal classes, lactation consultations, post-partum health support, support groups and childcare for siblings.
Thank you Dorothy Ripper and the entire family… and Happy Mother's Day to all the moms in our region!
About St. Luke's
Founded in 1872, St. Luke's University Health Network (SLUHN) is a non-profit, regional, fully integrated and nationally recognized network providing services at seven hospitals and more than 270 outpatient sites. The network's service area includes Lehigh, Northampton, Carbon, Schuylkill, Bucks, Montgomery, Berks and Monroe counties in Pennsylvania and in Warren County in New Jersey. Dedicated to advancing health education, St. Luke's operates the nation's oldest School of Nursing and 22 graduate medical educational programs and is considered a major teaching hospital, the only one in the region. In partnership with Temple University, St. Luke's created the region's first Medical School. Repeatedly, including 2017, St. Luke's has earned Truven's 100 Top Major Teaching Hospital designation as well as 50 Top Cardiovascular program in addition to other honors for clinical excellence. St. Luke's is a multi-year recipient of the Most Wired award recognizing the breadth of St. Luke's information technology applications such as electronic medical records, telehealth, online scheduling and pricing information. St. Luke's is also recognized as one of the state's lowest cost providers in comparison to major teaching hospitals and other health systems.