News
New Post-Partum Program for New Moms at St. Luke's
September 07, 2017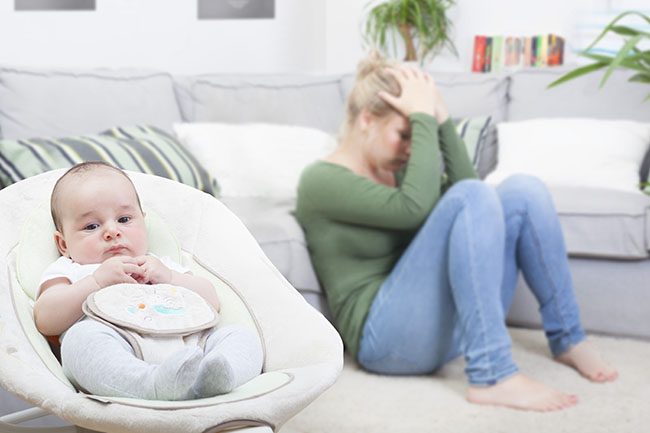 St. Luke's is supporting moms experiencing post-partum struggles in a whole new way. "Expectations" is a new post-partum support group held once a month at the new St. Luke's Baby & Me Support Center. The free meetings, co-led by St. Luke's physical and mental health experts, will provide education and support to new moms seeking balance and validation after giving birth.
The new Baby & Me Support Center – whose grand opening at 10 a.m. on Saturday, Sept. 9, is open to the news media and public – is an ideal location for these meetings since it will serve as a central hub for all new mom and new family services, making it easier and more convenient for moms to get the help they need in those perplexing times after baby's birth.
"Post-partum depression is the most common complication of childbirth," explains Judy Illingworth, LCSW (licensed clinical social worker.) "Between 11 and 20 percent of all women who give birth suffer from post-partum depression and only 15 percent of these women actually receive treatment. Our St. Luke's practices are consistently screening for moms at-risk and referring them for treatment; this program at the Baby & Me Support Center is one of the ways moms can get the help they need."
Studies show that the use of pharmacological treatment and cognitive behavioral therapy, both together and separately, have reduced depression symptoms by helping moms decrease negative thinking and giving them the proper coping mechanisms to reduce stress. The post-partum support group will discuss things like depression, anxiety, sleep, lactation, mood swings, relationship intimacy, work-baby balance, baby blues, nutrition/eating habits, self-doubt and stress management.
"The speakers will vary depending on the topic," Illingsworth said. "We recommend that our moms come to as many meetings as possible to listen to our scheduled topics, but we also make sure we allow for unstructured time so moms can present issues they are currently struggling with."
WHEN: The group will meet on the second Thursday of every month, starting with the first session on September 14.
Preregistration is appreciated – see the St. Luke's online Events Calendar at www.sluhn.org.
Media Contact:
Sam Kennedy, Corporate Communications Director, 484-526-4134, samuel.kennedy@sluhn.org

About St. Luke's
Founded in 1872, St. Luke's University Health Network (SLUHN) is a non-profit, regional, fully integrated and nationally recognized network providing services at seven hospitals and more than 270 outpatient sites. The network's service area includes Lehigh, Northampton, Carbon, Schuylkill, Bucks, Montgomery, Berks and Monroe counties in Pennsylvania and in Warren County in New Jersey. Dedicated to advancing health education, St. Luke's operates the nation's oldest School of Nursing and 23 graduate medical educational programs and is considered a major teaching hospital, the only one in the region. In partnership with Temple University, St. Luke's created the region's first Medical School. Repeatedly, including 2017, St. Luke's has earned Truven's 100 Top Major Teaching Hospital designation as well as 50 Top Cardiovascular program in addition to other honors for clinical excellence. St. Luke's is a multi-year recipient of the Most Wired award recognizing the breadth of St. Luke's information technology applications such as electronic medical records, telehealth, online scheduling and pricing information. St. Luke's is also recognized as one of the state's lowest cost providers in comparison to major teaching hospitals and other health systems.