News
Lifetime Achievement Award for St. Luke's Hospice Medical Director
May 17, 2017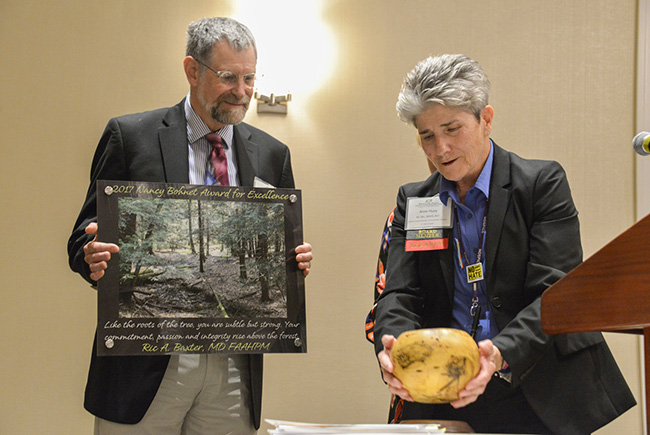 Ric Baxter, MD, Medical Director of St. Luke's Hospice, was honored this week with a lifetime achievement award from the Pennsylvania Hospice and Palliative Care Network (PHPCN).
Dr. Baxter was presented with the Nancy Bohnet Award of Excellence during a PHPCN luncheon on May 11 at the Sheraton Harrisburg-Hershey Hotel. Attending the luncheon were Dr. Baxter, his wife Martha, other family members and representatives from St. Luke's Hospice, including Lisa Giovanni, President of St Luke's Home Health and Hospice.
The Nancy Bohnet Award for Excellence honors an individual who exhibits honesty and integrity in their everyday work and throughout their career. Bohnet was a founding member and President of PHPCN who helped establish the roots of Pennsylvania's hospice community.
"The award is not given every year and is given as a lifetime achievement award to those who are deemed to be exceptional and deserving clinicians," explains Rev. Anne Huey, St. Luke's Hospice's Spiritual Services Manager and President of the Board of Directors for PHPCN.
Rev. Huey—who nominated Dr. Baxter for the award with the full support of the staff, volunteers and managers of St. Luke's Hospice—says Dr. Baxter is deserving of this honor for a host of reasons. However, at the core is his unfailing commitment to and respect for the patient.
"Ric uses his considerable skills and academic preparation to serve the patient as a person—always!" she says. "As the Hospice Medical Director, he participates in [interdisciplinary group] not only by prescribing medications, but even more in meeting the person and their family as they negotiate their way through the end-of-life journey. He is aware and respectful of cultural nuances, and pays attention to what meanings illness, treatment, pain medication, hope and suffering carry for the patient and their family members in their own context."
Dr. Baxter—who is also Chair of SLUHN's Department of Hospice and Palliative Medicine and Program Director for the network's Hospice/Palliative Medicine Fellowship—is generous with his time, and munificent with his experience and expertise. He serves on the PHPCN Board, and has been its President.
"He is not one to merely 'sit' on a Board, though," Rev. Huey clarifies. "Ric traverses the state every fall to three or four different sites, teaching an overwhelmingly successful clinical course that extends and enhances the knowledge, and deepens the clinical skills of Hospice and Palliative Care staffs throughout Pennsylvania."
At the national level, Dr. Baxter had been a presenter at the National Hospice and Palliative Care Organization Clinical Conference and webinars, for the American Academy of Hospice and Palliative Medicine, and for the National Association for Homecare and Hospice Annual Assembly.
"Ric is an amazing soul, a great teacher, and an inspiring physician," Rev. Huey says. "We are grateful every day that we get to work with him!"
Media Contact
Samuel Kennedy, Corporate Communications and Media Relations Director, Marketing & Public Relations, 484-526-4134, Samuel.Kennedy@sluhn.org
About St. Luke's
Founded in 1872, St. Luke's University Health Network (SLUHN) is a non-profit, regional, fully integrated and nationally recognized network providing services at seven hospitals and more than 270 outpatient sites. The network's service area includes Lehigh, Northampton, Carbon, Schuylkill, Bucks, Montgomery, Berks and Monroe counties in Pennsylvania and in Warren County in New Jersey. Dedicated to advancing health education, St. Luke's operates the nation's oldest School of Nursing and 22 graduate medical educational programs and is considered a major teaching hospital, the only one in the region. In partnership with Temple University, St. Luke's created the region's first Medical School. Repeatedly, including 2017, St. Luke's has earned Truven's 100 Top Major Teaching Hospital designation as well as 50 Top Cardiovascular program in addition to other honors for clinical excellence. St. Luke's is a multi-year recipient of the Most Wired award recognizing the breadth of St. Luke's information technology applications such as electronic medical records, telehealth, online scheduling and pricing information. St. Luke's is also recognized as one of the state's lowest cost providers in comparison to major teaching hospitals and other health systems.