News
How to Choose the Pediatric Practice that's Right for Your Family
March 23, 2017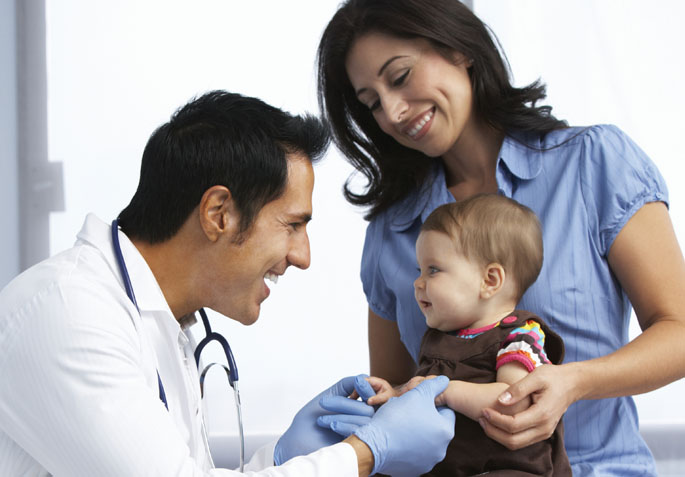 How to Choose the Pediatric Practice that's Right for Your Family
Know the Questions to Ask
You're about to have a baby. Or your pediatrician is retiring and you're not crazy about the practice taking over. Or you're moving to a new town. How do you find the best pediatrician for you and your children?
To start your list, ask trusted sources. Your OB/GYN or primary care physician may have practices they refer to. Your local friends or coworkers who have kids of similar ages can offer suggestions. Your realtor can connect you with folks who will help. Your local hospital may provide references, and even the school nurse may have some ideas.
Once you've collected names, it's time to start some practical research on them. Your first stop should be your insurance company's website. Look up the names you've been given on their providers list and make sure they're included. Double-check by looking at the website of the practice you're considering. (You'll call both your insurance company and the practice to make sure — these lists change often.)
According to Elizabeth Gibson, MD, of St. Luke's Coopersburg Pediatrics, it's best to review the practice website to find out the credentials the doctors have and and what hospital they are affiliated with. "Look for certification from the American Academy of Pediatrics (AAP) and the American Board of Pediatrics, as well as other qualifications that show that the practitioners are up-to-date with current medical practices," says Dr. Gibson. "You'll also want to make sure that the hospital has an excellent reputation in pediatric care and is convenient to you."
Now that you have a vetted group of practices from which to choose, it's time to consider the real questions:
Single provider or large practice? Perhaps you know that your kids are shy, and would prefer to see only one or two practitioners whom they can get to know. Or maybe you need the scheduling convenience of a larger practice.
If the practice includes nurse practitioners or physician's assistants, are these the primary people you will see, or will you generally see a physician — and does it matter to you?
Does gender make a difference? If your children are older, would they be more comfortable seeing a doctor who is either male or female? Does the practice include both?
Do your kids have special needs? Make sure your pediatrician is comfortable with handling — and knowledgeable about — any unique or complex medical conditions your child may have: for example, a tracheostomy or a gastronomy (G) tube.
What is the practice's philosophy of childcare? Are you looking for an interventionist or non-interventionist approach? How do the doctors handle tantrums or otherwise unruly behavior from sick or frightened children?
If your primary concern is an infant, how soon and how often will the doctor see you? Checkups, immunizations, feeding, proper weight gain — even a healthy infant has pretty demanding medical needs! Find out what the doctors' guidelines are, and whether they match up to those of the AAP.
What's the convenience factor? Weekday and weekend hours, coverage during off times, distance from your home — all these will have an impact on your decision.
When does the practice return calls? If you're a new or anxious parent, this can be very important. Some practices return calls whenever staff is freed up; others review non-emergency calls and respond to them once or twice a day.
Some of these questions can be addressed over the phone, but it is best for you and whoever else is involved in your children's daily care to meet with the providers face to face. You want to "feel right" about the meeting, and know that you and the doctor are on the same page when it comes to how to care for your children. That starts in the waiting room: you can listen to what's going on, observe how receptionists handle intake, and notice the atmosphere of the office setting — whether it's calm and peaceful, or bustling and energetic.
Eva Mayer, MD, also of St. Luke's Coopersburg Pediatrics, adds, "Having a good rapport with your child's doctors, along with confidence in their experience and expertise, are essential components of this vital relationship. The welfare of your child depends on it."
About St. Luke's
Founded in 1872, St. Luke's University Health Network (SLUHN) is a non-profit, regional, fully integrated and nationally recognized network providing services at seven hospitals and more than 270 outpatient sites. The network's service area includes Lehigh, Northampton, Carbon, Schuylkill, Bucks, Montgomery, Berks and Monroe counties in Pennsylvania and in Warren County in New Jersey. Dedicated to advancing health education, St. Luke's operates the nation's oldest School of Nursing and 22 graduate medical educational programs and is considered a major teaching hospital, the only one in the region. In partnership with Temple University, St. Luke's created the region's first Medical School. Repeatedly, including 2016, St. Luke's has earned Truven's 100 Top Major Teaching Hospital designation as well as 50 Top Cardiovascular program in addition to other honors for clinical excellence. St. Luke's is a multi-year recipient of the Most Wired award recognizing the breadth of St. Luke's information technology applications such as electronic medical records, telehealth, online scheduling and pricing information. St. Luke's is also recognized as one of the state's lowest cost providers in comparison to major teaching hospitals and other health systems.