News
7th Annual Charity Bike Ride to benefit St. Luke's Hospice
May 18, 2017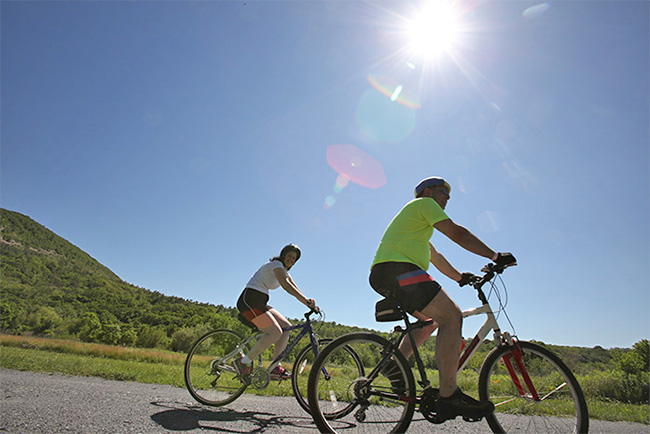 Ride the D & L Trail – 20- and 30-mile options
Peggy Cope and several other members of her family are biking for more than the fun or the exercise. They are training for St. Luke's Seventh Annual Charity Bike Ride, an event that will raise funds for the hospice services that comforted Cope's sister, Jenny Sweeney, at the end of her battle with breast cancer.
Before Jenny, who was 34, died in August, she spent her final days at St. Luke's Hospice House in Lower Saucon.
"I chose to participate in the event as a way to show my gratitude for the compassion and care St. Luke's Hospice has provided for my sister and my family during such difficult times," Peggy said. "Additionally, I wanted to find a way to memorialize my sister, who valued a healthy lifestyle. Cycling is a wonderful representation of this value."
The St. Luke's Hospice Charity Bike Ride is sanctioned by St. Luke's "Get Your Tail on the Trail" program. It begins at 10 a.m. on Saturday, June 3.
Bike enthusiasts of all ability levels can participate in either the 20- or 30-mile trail ride, which begins on the D&L National Heritage Trail, Lehighton Trailhead, 200 North Main Lane, Lehighton. The Annual Charity Ride raises funds and awareness of hospice care. Both rides begin south of Jim Thorpe and traverse by riverbeds, the canal towpath and some paved sections. Riders will see museums, the Appalachian Trail crossing, environmental center and beautiful views of the Blue Mountains, Appalachian Trail and Lehigh Gap.
The cost of the ride is $40, which includes a participation bag, shirt and bike loan from Pocono Biking (if needed). All proceeds benefit the St. Luke's Hospice program.
Register for the ride at http://vna.slhn.org/bikeride. Online registration closes at 10 pm on June 2. Event registration is also available the morning of the event from 8:30 – 9:45 am at the Lehighton Trail head.
When: 10 a.m., Saturday, June 3rd
Where: Lehighton Trailhead
Media Contact
Samuel Kennedy, Corporate Communications and Media Relations Director, Marketing & Public Relations, 484-526-4134, samuel.kennedy@sluhn.org
About St. Luke's
Founded in 1872, St. Luke's University Health Network (SLUHN) is a non-profit, regional, fully integrated and nationally recognized network providing services at seven hospitals and more than 270 outpatient sites. The network's service area includes Lehigh, Northampton, Carbon, Schuylkill, Bucks, Montgomery, Berks and Monroe counties in Pennsylvania and in Warren County in New Jersey. Dedicated to advancing health education, St. Luke's operates the nation's oldest School of Nursing and 22 graduate medical educational programs and is considered a major teaching hospital, the only one in the region. In partnership with Temple University, St. Luke's created the region's first Medical School. Repeatedly, including 2017, St. Luke's has earned Truven's 100 Top Major Teaching Hospital designation as well as 50 Top Cardiovascular program in addition to other honors for clinical excellence. St. Luke's is a multi-year recipient of the Most Wired award recognizing the breadth of St. Luke's information technology applications such as electronic medical records, telehealth, online scheduling and pricing information. St. Luke's is also recognized as one of the state's lowest cost providers in comparison to major teaching hospitals and other health systems.