News
St. Luke's Health Center—Forks Opens Offering Four Services
December 05, 2016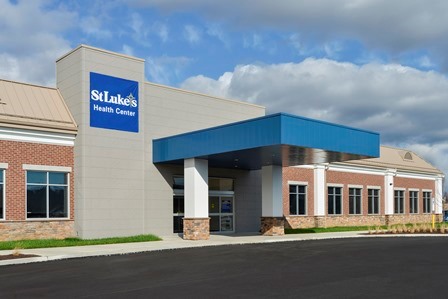 Bethlehem, PA (12/5/2016) – St. Luke's University Health Network, in an ongoing effort to fulfill its promise to provide patients with easy access to affordable health care, has opened its newest outpatient center—St. Luke's Health Center-Forks—at 2003 Sullivan Trail in Easton.
Always working to find ways to bring services to our communities, the health center includes St. Luke's Family Practice at Palmer—Forks Location with a clinical staff that includes Steven Blasi, DO, Uzma Mariam, MD, Twinkle Nagpal, MD, and Kathleen Mashintino, CRNP. For more information or to make an appointment, call 484-503-6400.
"Our newest outpatient facility is one more example of how St. Luke's shows its commitment to making health care easy to access," Edward Nawrocki, president of St. Luke's Anderson Campus, said.
Additionally, the center features the second location of St. Luke's Riverside Women's Healthcare. Physicians Holli Warholic, DO, Christin Gillier, MD, and Shenali Abeysekera, MD, practice at both the new location as well as at its primary location, 1700 St. Luke's Blvd., Suite 403, Easton, on the St. Luke's Anderson Campus.
New and existing OB/GYN patients are welcome to call 484-503-0628 to schedule an appointment.
St. Luke's newest health center also includes St. Luke's Laboratory Services – Forks for the detection, identification, monitoring and treatment of diseases, chronic illnesses and health conditions. No appointments are necessary and the lab's hours of operation are 7 a.m. to 3 p.m. Monday through Friday. Click on http://www.sluhn.org/labs or call 1-866-785-8537 for information.
Rounding out the suite of services, Physical Therapy at St. Luke's – Forks includes orthopaedics & sports rehab, vestibular balance testing & fall risk screening, manual therapy, and fitness programs. For information, call 484-503-6405 or visit www.stlukespt.com.
"So many services in one place means offers one stop shopping for a family," Nawrocki said.
---
About St. Luke's
Founded in 1872, St. Luke's University Health Network (SLUHN) is a non-profit, regional, fully integrated and nationally recognized network providing services at seven hospitals and more than 270 outpatient sites. The network's service area includes Lehigh, Northampton, Carbon, Schuylkill, Bucks, Montgomery, Berks and Monroe counties in Pennsylvania and in Warren County in New Jersey. Dedicated to advancing health education, St. Luke's operates the nation's oldest School of Nursing and 22 graduate medical educational programs and is considered a major teaching hospital, the only one in the region. In partnership with Temple University, St. Luke's created the region's first Medical School. Repeatedly, including 2016, St. Luke's has earned Truven's Top 100 Major Teaching Hospital designation as well as Top 50 Cardiovascular program in addition to other honors for clinical excellence. St. Luke's is a multi-year recipient of the Most Wired award recognizing the breadth of St. Luke's information technology applications such as electronic medical records, telehealth, online scheduling and pricing information. St. Luke's is also recognized as one of the state's lowest cost providers in comparison to major teaching hospitals and other health systems.