News
St. Luke's Creates Region's First Bariatric Surgery Fellowship Position
May 09, 2016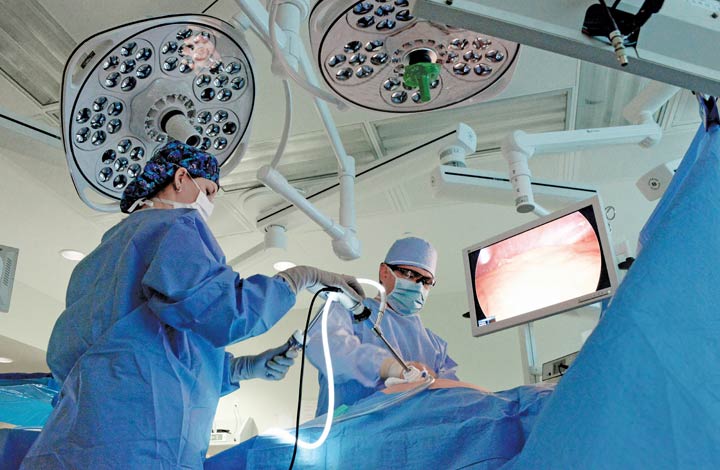 Maher El Chaar, MD
Bethlehem, PA (5/9/2016) – St. Luke's University Health Network's Bariatric Surgery program earned the right to create a fellowship in its surgical weight loss program. St. Luke's fellowship program request recently was approved by the Fellowship Council, a national body that oversees training physicians in advanced surgical specialties.
Leonardo Claros, MD
Additionally, the Foundation for Surgical Fellowships, an organization that provides funding for graduate medical training, has approved a grant for $20,000 to cover associated costs with the program.
Dr. Maher El Chaar, will serve as the fellowship director and Dr. Leonardo Claros will be the co-fellowship director. Dr. El Chaar will report quarterly to the fellowship council and hopes the new will rapidly grow to include two more fellowship positions in the near future.
St. Luke's is the region's only Health Network to have a bariatric fellowship program. The process to put it in place began almost two years ago.
"To become qualified, a program must meet rigorous requirements including a specific case volume, achievement of high quality outcomes, commitment to education, strong presence in national meetings and also peer reviewed publications and, of course, the organization's overall academic excellence," El Chaar says. A program must also perform a robust and diverse set of procedures that show very positive outcomes.
"St. Luke's is a high-volume Bariatric Center that performs up to 450 procedures each year," El Chaar says. "Comparatively speaking, the Cleveland Clinic performs about 500 procedures a year at its main and satellite locations," he says.
"In the coming weeks, we will choose a surgical resident who will have completed five years of surgical residency by this time next year. The surgical resident will begin his or her bariatric specialty training at St. Luke's after graduation, in June or July 2017," El Chaar says.
St. Luke's Bariatric Surgery program was also recently named an accredited center by the Metabolic and Bariatric Surgery Accreditation and Quality Improvement Program, an organization dedicated to reviewing standards and accreditation process for surgical weight loss programs.
About St. Luke's
St. Luke's University Health Network (SLUHN) is a non-profit, regional, fully integrated, nationally recognized network providing services at six hospitals and more than 200 sites, primarily in Lehigh, Northampton, Carbon, Schuylkill, Bucks, Montgomery, Berks and Monroe counties in Pennsylvania and in Warren County, New Jersey.
---
Media Contact
Mariella B. Miller Senior Director, Corporate Communications St. Luke's University Health Network 484-526-4134 Mariella.Miller@sluhn.org
For more information about St. Luke's services or to find a physician, call St. Luke's InfoLink toll-free at 1-866-STLUKES (785-8537) Monday through Friday from 8:30 am to 4:30 pm or email us anytime at Info.Link@sluhn.org.