News
Narpinder Singh, MD, and Arthur Popkave, MD, have joined St. Luke's Cardiology Associates
November 15, 2016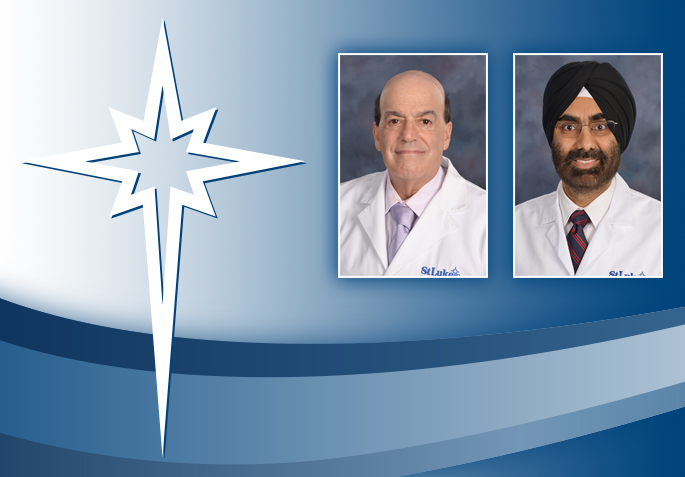 Phillipsburg, NJ (November, 2016) – Narpinder Singh, MD, and Arthur Popkave, MD, have joined St. Luke's Cardiology Associates, providing improved access to cardiac services to residents from Warren County, NJ and Northampton County, PA.
The addition of Drs. Singh and Popkave who will see patients at cardiology practices located in Phillipsburg and Easton, PA, bolsters an already impressive and highly trained team of cardiac and vascular physicians.
Both doctors are board certified in internal medicine and cardiovascular disease and are fellows of the American College of Cardiology.
Dr. Singh earned a bachelor of medicine and surgery degree in 1989 from Punjabi University and in 1991, also from Punjabi University, earned a postgraduate diploma in ophthalmic medicine and surgery.
He completed a residency in internal medicine in 2000 from Long Island College Hospital and a cardiology fellowship from Beth Israel Medical Center in 2004 and has been an interventional cardiology fellow at Albany Medical Center since 2004.
Dr. Popkave graduated from Temple University School of Medicine in 1972, completed a residency at the Hospital of the Medical College of Pennsylvania in 1975 and a cardiology fellowship, also from the Hospital of the Medical College of Pennsylvania, in 1977.
Drs. Popkave and Singh welcome new patients at two office locations: 1000 Coventry Drive and 755 Memorial Parkway, Building 100, Suite 106, both in Phillipsburg, NJ.
Dr. Singh also will see patients at St. Luke's Anderson Campus, 1872 St. Luke's Blvd., Suite 301, Easton, PA. For information or to make an appointment, please call 1-866-ST LUKES (1-866-785-8537).
---
About St. Luke's
Founded in 1872, St. Luke's University Health Network (SLUHN) is a non-profit, regional, fully integrated and nationally recognized network providing services at seven hospitals and more than 270 outpatient sites. The network's service area includes Lehigh, Northampton, Carbon, Schuylkill, Bucks, Montgomery, Berks and Monroe counties in Pennsylvania and in Warren County in New Jersey. Dedicated to advancing health education, St. Luke's operates the nation's oldest School of Nursing and 22 graduate medical educational programs and is considered a major teaching hospital, the only one in the region. In partnership with Temple University, St. Luke's created the region's first Medical School. Repeatedly, including 2016, St. Luke's has earned Truven's 100 Top Major Teaching Hospital designation as well as 50 Top Cardiovascular program in addition to other honors for clinical excellence. St. Luke's is a multi-year recipient of the Most Wired award recognizing the breadth of St. Luke's information technology applications such as electronic medical records, telehealth, online scheduling and pricing information. St. Luke's is also recognized as one of the state's lowest cost providers in comparison to major teaching hospitals and other health systems.