News
Dr. Christine Talmage joins St. Luke's Obstetrics and Gynecology Associates
August 22, 2016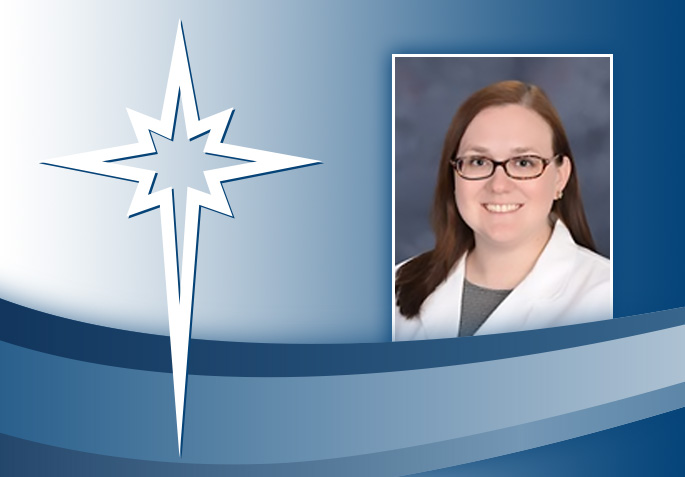 Bethlehem, PA (08/22/2016) – Christine Talmage, MD, has recently joined St. Luke's Obstetrics and Gynecology Associates' (SLOGA) in its Bethlehem office.
Christine Talmage, MD
A native of Long Island, Dr. Talmage received her undergraduate degree in Biology at Lehigh University before earning her medical degree from New York Medical College.
She recently completed her residency at St. Luke's, serving as Chief Academic Resident, and decided to begin her career within the St. Luke's family.
"I always liked this area, having lived here before when I was at Lehigh," she said of the Lehigh Valley. "I liked the environment, the culture, and I received an excellent education at St. Luke's. I also enjoy working with all the St. Luke's physicians, especially the partners in my group."
Those partners include Elizabeth L Dierking-McAtee, M.D., Christopher B Gilbert, M.D., Ronald M Kriner, D.O., Joseph C Merola, M.D., Robert J Sallash, M.D., and Karen E Taverna-Miller, M.D..
Dr. Talmage chose obstetrics and gynecology because she enjoys building long-term relationships with her patients that will last through all stages of their lives.
"Providing excellent, thorough care to patients is important to me," she said. "People here at St. Luke's really care about the patients."
She and her fiancé enjoy the Lehigh Valley, whether it's going to an IronPigs game, attending Musikfest, or just traveling to some of the area's numerous quality of life offerings.
Services
Providing comprehensive gynecologic and obstetrical care for women of all ages, she performs minimally invasive surgeries, contraceptive counseling, cares for women with high risk pregnancies, advises on hormone replacement therapies, and treats adolescents.
New Patient Appointments
New patients are welcome to schedule an appointment with Dr. Talmage by contacting St. Luke's Obstetrics and Gynecology Associates at 610-691-3603. The practice is located at 701 Ostrum Street, Suite 203, Fountain Hill, in the St. Luke's University Hospital's Doctors' Pavilion.
About St. Luke's
St. Luke's University Health Network (SLUHN) is a non-profit, regional, fully integrated, nationally recognized network providing services at six hospitals and more than 200 sites, primarily in Lehigh, Northampton, Carbon, Schuylkill, Bucks, Montgomery, Berks and Monroe counties in Pennsylvania and in Warren County, New Jersey.
---
Media Contact:
Mariella B. Miller
Senior Director, Corporate Communications
St. Luke's University Health Network
484-526-4134
Mariella.Miller@sluhn.org
For more information about St. Luke's services or to find a physician, call St. Luke's InfoLink toll-free at 1-866-STLUKES (785-8537) Monday through Friday from 8:30 am to 4:30 pm or email us anytime at Info.Link@sluhn.org.