News
Albita S. Lasanta, CRNP, Joins St. Luke's
September 23, 2016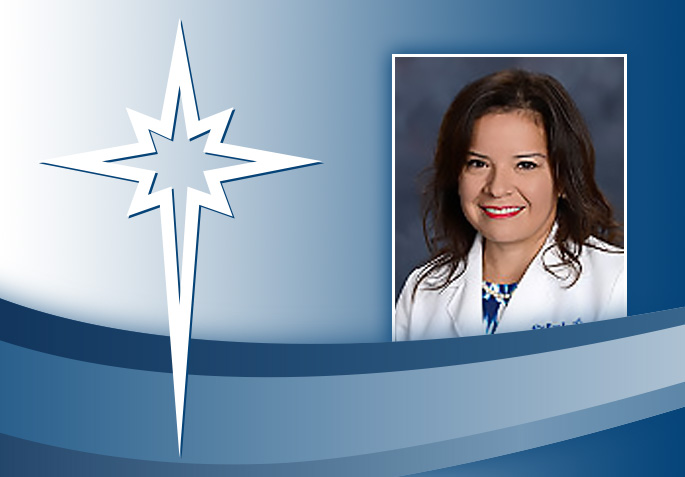 East Stroudsburg, PA (9/23/2016) – Albita S. Lasanta, a Certified Registered Nurse Practitioner (CRNP) well known to women in the Monroe County community, has joined St. Luke's Obstetrics and Gynecology Associates (SLOGA) located at 235 E. Brown St. in East Stroudsburg.
Albita S. Lasanta, CRNP
Now at St. Luke's, she will be performing gynecological exams, providing contraception methods and options, and a host of other women's services. She is bilingual in Spanish and English.
"Albita is an excellent clinician and knows so many people in the community. At our recent Monroe Campus open house, more than 100 women who have known her over the years were thrilled to have found her now associated with St. Luke's. We actually made appointments for her during the open house," Susan Cox, St. Luke's Regional Director, Women's Health Services, said.
Lasanta earned a bachelor's degree in nursing, cum laude, from Hunter College in New York City in 1990 and a master's degree from Columbia University in 1998.
Her nursing experience spans 25 years in the New York and Eastern Pennsylvania regions with more than 15 of those years dedicated to caring for women in Eastern Pennsylvania and Monroe County.
"Albita's decision to join St. Luke's is absolutely wonderful news for women in this community," Cox said.
Additionally, Karen Taverna-Miller, MD, will be seeing patients full time in SLOGA's East Stroudsburg office, and will no longer divide her time among offices.
Karen Taverna-Miller, MD
"The expertise found among the members of our practice is quite extensive," Dr. Taverna-Miller said. "We offer obstetric and gynecological services for women of all ages whether they are pregnant, trying to be pregnant, trying not to be pregnant, or come to see us with other women's health issues," she said.
Partners at the Monroe SLOGA group in addition to Dr. Taverna-Miller, physicians include Elizabeth L. Dierking-McAtee, Christopher B. Gilbert, Christine Talmage, Ronald M. Kriner, Joseph C. Merola, and Robert J. Sallash. The practice also has offices in Bethlehem and Wind Gap.
New patients are welcome. To make an appointment, call 570-645-1830.
About St. Luke's
Founded in 1872, St. Luke's University Health Network (SLUHN) is a non-profit, regional, fully integrated and nationally recognized network providing services at soon-to-be seven, hospitals and more than 270 outpatient sites. The network's service area includes Lehigh, Northampton, Carbon, and Schuylkill, Bucks, Montgomery, Berks and Monroe counties in Pennsylvania and in Warren County in New Jersey. Dedicated to advancing health education, St. Luke's operates the nation's oldest School of Nursing and 22 graduate medical educational programs and is considered a major teaching hospital, the only one in the region. In partnership with Temple University, St. Luke's created the region's first Medical School. Repeatedly, including 2016, St. Luke's has earned Truven's Top 100 Major Teaching Hospital designation as well as Top 50 Cardiovascular program in addition to other honors for clinical excellence. St. Luke's is a multi-year recipient of the Most Wired award recognizing the breadth of St. Luke's information technology applications such as electronic medical records, telehealth, online scheduling and pricing information. St. Luke's is also recognized as one of the state's lowest cost providers in comparison to major teaching hospitals and other health systems.
---
Media Contact:
Mariella B. Miller
Senior Director, Corporate Communications
St. Luke's University Health Network
484-526-4134
Mariella.Miller@sluhn.org
For more information about St. Luke's services or to find a physician, call St. Luke's InfoLink toll-free at
1-866-STLUKES (785-8537) Monday through Friday from 8:30 am to 4:30 pm or email us anytime at Info.Link@sluhn.org.