News
St. Luke's University Health Network Waives Additional Cost for 3D Screening Mammography
October 16, 2015
Bethlehem, PA (10/16/2015) — A new statewide policy announced October 5 by Governor Thomas Wolf requires all Pennsylvania insurers to cover all screening mammograms, including 3D, at no out-of-pocket cost to consumers. Insurance companies have until the end of the calendar year to put this into effect. In response, St. Luke's is taking this one step further by waiving any additional fees charged for 3D mammograms effective immediately.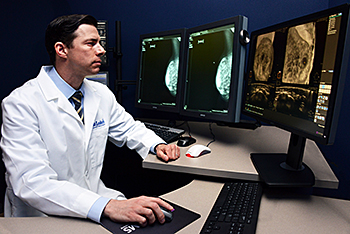 Joseph Russo, MD, Section Chief of Women's Imaging, St. Luke's University Health Network reviews breast images at St. Luke's Regional Breast Center in Center Valley, PA.
"We applaud the new policy and hope that more women will seek out the most appropriate breast screening option for them without the worry of an extra fee," says Dr. Joseph Russo, Section Chief of Women's Imaging for St. Luke's University Health Network. Pennsylvania is the first state in the nation to require this coverage. First lady Frances Wolf made the historic announcement October 5 to the applause of hundreds of women attending the 2015 PA Breast Cancer Coalition Conference in Harrisburg.
St. Luke's installed a low-dose 3D Tomosynthesis mammography unit with Sensory Suite at St. Luke's West End Medical Center in Allentown earlier this year. These state-of-the-art technologies from GE Healthcare were installed more recently at St. Luke's Upper Perkiomen Outpatient Health Center in Pennsburg earlier this month.
The Sensory Suite technology helps reduce anxiety that may be experienced during a mammogram. Flat panel TVs provide a visual distraction and can show a number of scenes, from the beach to a tranquil garden or waterfall. An aroma and soothing sounds can also be selected by the patient to add to the experience. This soothing environment encourages women to get their screening mammogram on a regular basis.
About St. Luke's Women's Imaging Centers
St. Luke's University Health Network operates 13 Women's Imaging Centers throughout the region and the St. Luke's Regional Breast Center in Center Valley, a state-of-the-art breast care facility specifically designed for women who need diagnostic mammograms or higher-level breast imaging. St. Luke's breast imaging services include 3D Tomosynthesis mammography with Sensory Suite, digital screening and diagnostic mammography, automated breast ultrasound (ABUS) for dense breasts, same-day breast ultrasound, ultrasound-guided core biopsy, stereotactic core biopsy, galactography and ultrasound-guided cyst aspirations.
---
Media Contact:

Denise E. Rader
Director, Network Media Relations
St. Luke's University Health Network
484-526-4104
Denise.Rader@sluhn.org
For more information about St. Luke's services or to find a physician, call St. Luke's InfoLink toll-free at 1-866-STLUKES (785-8537) Monday through Friday from 8:30 am to 4:30 pm or email us anytime at Info.Link@sluhn.org.