News
St. Luke's Hospice 5th Annual Charity Bike Ride Raises Funds and Creates Beautiful Memories
June 11, 2015

Bethlehem, PA (6/11/2015) – Five years ago a family member of a hospice patient approached St. Luke's Hospice to organize a Bike Ride because he wanted to give back to the hospice who cared for his mother. Now, celebrating its fifth year, St. Luke's Hospice Bike Ride has become a way for many others to give back to hospice. On Saturday, June 6, more than 200 riders took to the trail to celebrate life, riding in memory of family and friends. Memorial signs for loved ones dotted the trail under the shining sun.
"The turnout for the hospice bike ride was amazing. Everyone was very enthusiastic and ready to ride. I recognized the many familiar faces of those who rode for hospice last year, returning to ride again in this year's event," said Linda Moller, RN, MSN, Director, St. Luke's Hospice. "Even more employees, friends and family participated in the ride this year, many of whom rode for family members, friends and patients. In fact, St. Luke's employee Aimee Kipila was riding in memory of her father who was cared for by St Luke's Hospice."
Rider and Bethlehem resident Aimee Kipila, MS, RN, CCRN, Patient Care Manager, Intensive Care Unit at St. Luke's Anderson Campus, said, "My dad, William Rauenzahn, was diagnosed with glioblastoma, a form of brain cancer, in the fall of 2012. After fighting a long battle that included chemo and radiation he transitioned to hospice care in the spring of 2014. St. Luke's Hospice gave my dad and my family the support we needed at that time. Because of them, I believe my dad had the most peaceful end of life possible, and we were able to cherish the time we had left with him. The last 'normal' cancer-free father's day I had with my dad was spent riding bikes together on the D&L trail, so I rode for him." Aimee rode with a group of friends from her work unit who rode to support her and in memory of St. Luke's Hospice patients.
Aimee continued, "Riding for St. Luke's Hospice and seeing my dad's memorial sign meant so much to me. I felt like I was doing a little something to keep my dad's spirit alive by being a part of such a great cause. I will certainly participate again next year."
After the bike ride several riders approached hospice staff to thank them for the wonderful hospice care their loved ones received and for organizing the bike ride to allow them to ride in their respective loved ones memories, said Moller.
Special thanks to the following sponsors for the generosity to allow 100 percent of the rider's registration fee to directly support St. Luke's Hospice:
Memorial and event signs were graciously donated by Valley Wide Signs and Graphics.
Gold sponsors: City Line Construction and Service Electric, and our silver sponsors: Liberty Property Trust, Moravian Village, Plantique and Fellowship Community.
Food and drink donations: Top Star Express, Body Armour, Dunbars Beverage, 14 Acre Farm, Subway, US Foods, The Bagel Bunch and Dunkin Donuts
The St. Luke's Hospice annual charity bike ride is a perfect combination of fun, exercise and charitable giving, according to Moller. The ride was supported by Pocono Biking and was part of the nationally-recognized "Get Your Tail on the Trail" initiative encouraging healthy exercise and activity.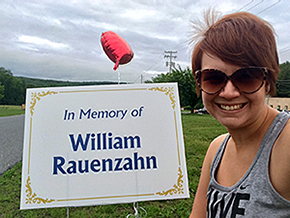 Aimee Kipila takes a break from the St. Luke's Hospice Bike Ride to remember her dad William Rauenzahn.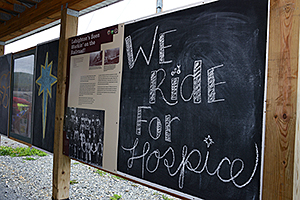 The sign says it all!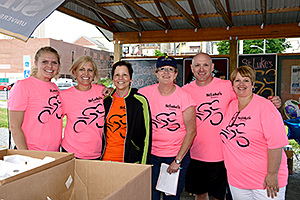 Sophie Eckroth, volunteer;
Kay Shumock, Liaison, VNA of St. Luke's;
Joy Hill, RN, VNA of St. Luke's;
Beth Brong, Hospital Liaison, VNA of St. Luke's;
Dennis Udicious, volunteer;
Lisa Giovanni, MSN, RN, President, VNA of St. Luke's/Home Health & Hospice registered all 213 riders for the St. Luke's Hospice Charity Bike Ride.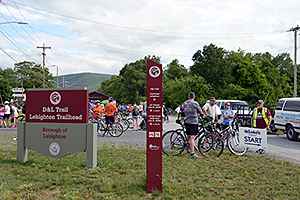 More than 200 riders started at the D&L trailhead in Lehighton to ride in St. Luke's Fifth Annual Charity Bike Ride.
---
Media Contact:
Denise E. Rader
Director, Network Media Relations
St. Luke's University Health Network
484-526-4104
Denise.Rader@sluhn.org
For more information about St. Luke's services or to find a physician, call St. Luke's InfoLink toll-free at 1-866-STLUKES (785-8537) Monday through Friday from 8:30 am to 4:30 pm or email us anytime at Info.Link@sluhn.org.