News
St. Luke's is First in the Region to Offer Frameless Stereotactic Radiosurgery to Treat Brain Tumors
August 23, 2015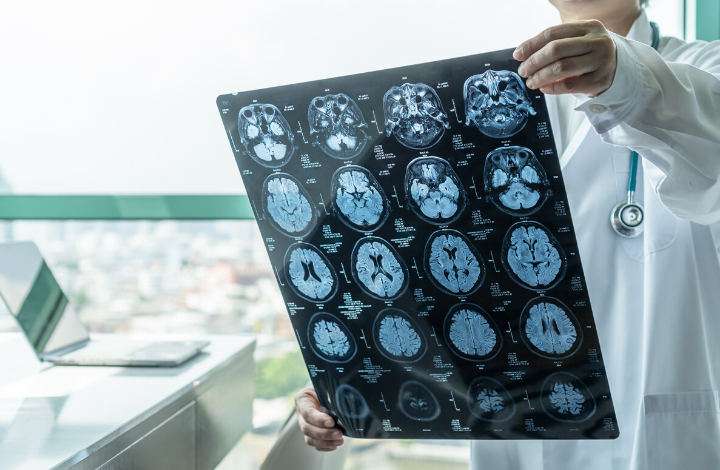 No Pins, No Pain, No Scars, No Anxiety Translates to Enhanced Patient Comfort
St. Luke's University Health Network was the region's first health care provider to offer "Frameless" Stereotactic Radiosurgery (SRS) using Varian's TrueBeam™ STx linear accelerator. The technology is offered through St. Luke's Brain & Spine Tumor Center for malignant and benign brain tumors, as well as some cerebrovascular malformations.
Stereotactic Radiosurgery (SRS) is a type of radiation treatment that uses precise 3-D computerized planning and imaging to deliver a highly concentrated dose to a targeted tumor or lesion, minimizing the amount of radiation exposure to normal, healthy tissues.
"Traditionally, SRS for brain tumors has been delivered while the patient wears a stereotactic frame, a rigid immobilization device that ensures precision and accuracy," says neurosurgical oncologist Hugh Moulding, MD, PhD, Clinical Director, St. Luke's Brain & Spine Tumor Center. "Applying the frame can be uncomfortable and produce considerable anxiety for patients, as it involves affixing the frame to the patent's head with pins that pierce the skin and embed into the skull. Up until now, this has been a necessary part of the process to ensure accuracy, precision and safety."
"Varian's TrueBeam frameless SRS is the most advanced and best technology currently available for patients with brain tumors," says Dr. Nimisha Deb, Section Chief of Radiation Oncology, St. Luke's University Health Network. "Gone is the heavy stereotactic frame. The sophisticated frameless system utilizes surface mapping — tracking of the patient's facial features during treatment — allowing SRS to be performed without the cumbersome immobilization device." Markers, able to be viewed on a scan, are placed on the scalp or the face mask used to help hold the head steady. The treatment equipment is then aligned with the markers.
"With our frameless SRS technology, we are able to provide our brain tumor patients with a dramatically more comfortable and faster treatment and recovery experience that's not available anywhere else in the area." — Hugh Moulding, MD
About St. Lukes' Brain & Spine Tumor Center
St. Luke's Brain & Spine Tumor Center is the region's only patient-centered multidisciplinary clinic for primary and metastatic diseases of the brain and spine. The center gives patients an opportunity to meet a multidisciplinary team of doctors from neurosurgery, radiation therapy and medical oncology at one time. No other cancer center in the region offers this service, which expedites treatment planning and initiation, minimizing delays. By bringing together physician expertise in these highly specialized areas, St. Luke's offers patients a cohesive, comprehensive, personalized treatment plan tailored to each patient's diagnosis and unique needs. Patients benefit from innovative surgical and radiation oncology treatment approaches and access to the latest clinical trials and investigational therapies.
As a member of St. Luke's Neurosurgical Associates, Dr. Moulding works closely with family physicians, medical oncologists, radiation oncologists, neurologists and neuroradiologists to diagnose and treat tumors of the brain and spine.
Specialized Nurses Help St. Luke's Patients Navigate Cancer Care
St. Luke's has dedicated Oncology Nurse Navigators for many different types of cancers. Oncology Nurse Navigators (ONN) are clinically trained and have the expertise necessary to support cancer patients and their families from diagnosis through survivorship.
"St. Luke's oncology nurse navigators improve patient care and patient satisfaction," says Alina Rivera, RN, St. Luke's Neuro-oncology Nurse Navigator. "Patients benefit from having a single point-of-contact who understands their diagnosis and unique needs. This creates higher patient satisfaction, enhanced coordination of care, and a reduction in health care costs achieved through the appropriate utilization of resources and fewer hospital readmissions."
Oncology nurse navigators:
proactively reach out to patients to identify and remove potential barriers to care;

address any concerns regarding diagnosis and treatment;

provide emotional support;

facilitate physician appointments and disseminate information between the specialists;

prevent treatment delays;

address duplicate testing;

provide referrals to support services; and

monitor and manage treatment-related side effects.

Referrals
For more information or to refer a patient to St. Luke's Brain & Spine Tumor Center, call 484-526-6000.