News
Nursing Excellence Awards
July 01, 2016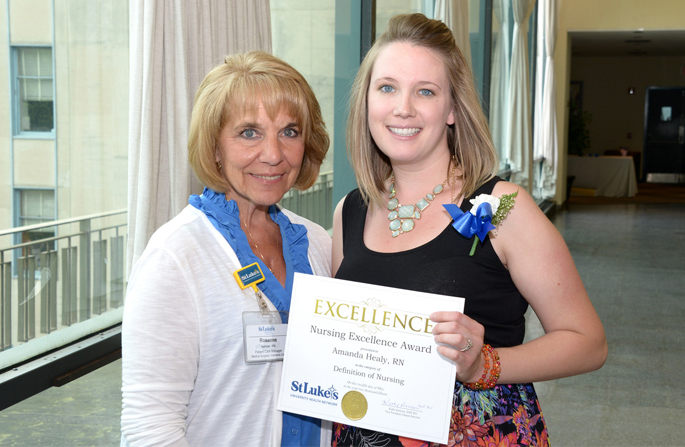 A message from Carol Kuplen, RN, MSN, Chief Nursing Officer, St. Luke's University Health Network
Better Nurses. Best Hospital.
The Only Nationally Ranked Hospital in PA
Carol A. Kuplen, RN, MSN
St. Luke's is one of the Top 100 Hospitals in the nation and one of the Top 15 Major Teaching Hospitals. In fact, St. Luke's is the only hospital in the Lehigh Valley named one of Truven Health Analytics™ 100 Top Hospitals in the nation. The only one.
We Deliver the Care Patients Need
Nurses are vital to health care. Across St. Luke's, our nurses have a critical responsibility to uphold the highest level of quality and ethical standards in their practice to ensure the delivery of superior health care to patients, families and the community. This responsibility is evident in all aspects of care - patient safety, care coordination, patient/family engagement, education, patient outcomes and quality of care. St. Luke's nurses are highly trusted as a result; earning a well-deserved reputation for providing the highest level of quality and ethical care to our patients.
In recognition of National Nurse Week 2015 and the week's theme of "Ethical Practice. Quality Care.", we celebrate all of our exceptional nursing professionals at St. Luke's and their commitment to delivering the care our patients need.
We take this opportunity to recognize our Nursing Excellence Award winners. These fine individuals are shining examples of St. Luke's nurses at their best. They are selected for their outstanding nursing care, leadership and community contributions. It is a privilege to practice with such outstanding nurses who represent the "best" of the nursing profession.
Congratulations to our Winners!
Definition of Nursing
Eydie Neves, RN
Anderson Campus

Ashley Petrohoy, RN
Allentown Campus
Juliet Hanna, RN
Bethlehem Campus

Diane Briggs, RN
Miners Campus

Amanda Healy, RN
Quakertown Campus

Kristyn Sbriscia, RN, BSN
Warren Campus

Sue Montag, RN, BSN, MA
St. Luke's Home Health/Hospice
Relationship with Patient

Lisa Sittler, RN
Allentown Campus

Felicia Buchanan, RN, BSN
Anderson Campus

Janine Beck, RN, BSN
Bethlehem Campus

Jamie Schantz, RN, BSN
Miners Campus

Robin Wasatonic, RN
Quakertown Campus

Kelsey Stocker, RN
Warren Campus

Ashley Nevin, RN, BS
St. Luke's Home Health/Hospice
Commitment to Nursing

Rose Mary Soto, RN, BSN
Allentown Campus

Kristina Zielinski, RN
Anderson Campus

Diane Ward, RN, BA
Bethlehem Campus

Kelsey Burkett, RN
Miners Campus

Leah Paul, RN
Quakertown Campus

Holly Wesner, RN
Warren Campus

Dianne Novak, RN, BS
St. Luke's Home Health/Hospice
Community Health Promotion

Lisa Zajdel, RN, BSN, CNOR
Allentown Campus

Annette Stoltzfus, RN, MSN
Bethlehem Campus

Mary Lazur, RN
Miners Campus

Kathy Ramson, DNP, RN, NE-BC, CCRN
Quakertown Campus

Linda Zachar, RN
Warren Campus

Christi Bartynski, RN
St. Luke's Home Health/Hospice
Accountability

Sheila Boyd, RN
Allentown Campus

Patricia Koch, RN
Anderson Campus

Kristin Ramella, RN
Bethlehem Campus

Christine Zizlemann, RN
Miners Campus

Diane Bryan, RN
Quakertown Campus

Mary Spiller, RN
Warren Campus

Lynn Lewicki, RN, COHN-S
St. Luke's Home Health/Hospice
Teamwork

Rebecca Fiore, UC
Allentown Campus

Michael Neel, ED Tech
Allentown Campus

Ruby Gudzinas
Anderson Campus

Roberta Snyder, PCA
Bethlehem Campus

Michelle Karol, Anes. Tech
Bethlehem Campus

Cathy Mundy, LPN
Miners Campus

Devan Hepner, MA
Miners Campus

Sherry Hartman, Support Associate
Quakertown Campus

Melissa Weaver, PCA
Quakertown Campus
Kaitlin Johnson
Warren Campus
Jill Martin
St. Luke's Home Health/Hospice

Harold Mason
St. Luke's Home Health/Hospice
Leadership

Diane Sands, RN, BSN, MS
Allentown Campus

Paul Hlavinka, RN, BSN
Anderson Campus

Kathy Willner, RN, MSN
Bethlehem Campus

Kristie Leshko, RN, MSN
Miners Campus
Nichole Hartman, DNP, CRNP
Advanced Practitioner

Queenie Tolete-Renner, CRNA
Advanced Practitioner

Katherine Ann Evans, RN, MSN
School of Nursing

Michelle Jacobs, RN
Quakertown Campus

Catherine Gauthier, RN, BSN
Warren Campus

Tiffany Grabinski, RN, BSN
St. Luke's Home Health/Hospice