News
St Luke's University Health Network First In Region To Receive And Successfully Place New Generation Transcatheter Aortic Valve
July 18, 2014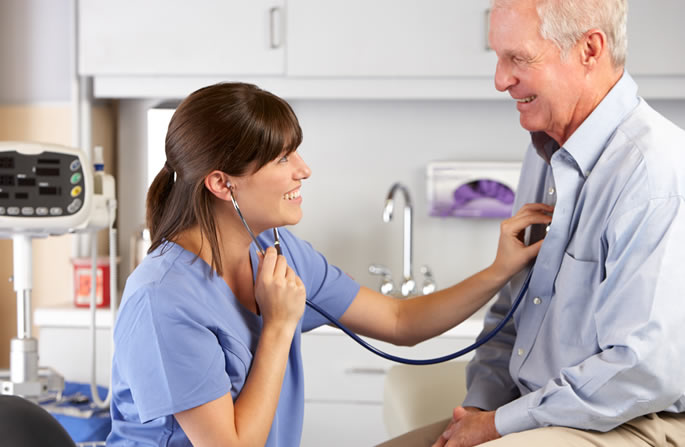 Raymond Durkin, MD
Bethlehem, PA (7/18/14) – St. Luke's is the first in the region and among the first group of hospitals in the country to implant a smaller and more refined second generation transcatheter aortic valve that was approved by the FDA last month. On Tuesday, St. Luke's University Hospital - Bethlehem cardiac surgeons and interventional cardiologists successfully performed two Transcatheter Aortic Valve Replacement (TAVR) cases, placing the new valve into patients who were not candidates for the first generation valve, said Raymond Durkin, MD, Chief of Cardiology.
The valve is manufactured by Edwards Lifesciences and is the Sapien XT model.
Stephen Olenchock, DO
For patients who have been deemed inoperable or at high surgical risk for traditional open-heart surgery, TAVR was a ground-breaking option two years ago that allows the diseased heart valve to be replaced without open-heart surgery for the treatment of severe symptomatic aortic stenosis (AS). This next-generation, lower-profile system, which includes the 29mm valve size for patients with a large native annulus, will allow for the treatment of more patients, said Edwards Lifesciences.
"We are so pleased and proud to be among the country's leaders in partnering with Edwards Lifesciences to provide this next generation of valves to our patients," said Dr. Durkin. "Patients who were not candidates for the first generation of transcatheter valves are now able to receive this life-saving surgery."
Stephen Olenchock, DO, St. Luke's Section Chief of Cardiovascular Surgery, said, "TAVR surgery provides relief for patient's symptoms, improves overall quality of life and increases longevity. We are honored to be able to serve more patients with a better quality and longer life with the aid of the newest technology available. This is definitely a benefit to our patients, their families and loved ones and the community."
About St. Luke's Heart Valve Center
St. Luke's University Health Network earned the designation as one of the nation's Top 50 Cardiovascular Hospitals by Thomson Reuters – the only hospital in the region to earn this distinction. To earn this recognition, St. Luke's has among the best cardiac surgery outcomes in the nation.
St. Luke's clinicians participated in the development of the first laser-guided interventional imaging system that provides unparalleled access to patients in the operating room. St. Luke's University Hospital – Bethlehem was the first hospital in the country to offer this new technology, the Discovery IGS 730 Hybrid OR from GE Healthcare, into an integrated operating suite with mobile advanced imaging into one operating room.
About Edwards Lifesciences
Edwards Lifesciences is the global leader in the science of heart valves and hemodynamic monitoring. Driven by a passion to help patients, the company partners with clinicians to develop innovative technologies in the areas of structural heart disease and critical care monitoring, enabling them to save and enhance lives. Additional company information can be found at www.edwards.com. Media Contact: Sarah Huoh 949-250-5070
Contact
Denise E. Rader
Director, Network Media Relations
St. Luke's University Health Network
484-526-4104
Denise.Rader@sluhn.org