News
St. Luke's University Hospital is First in the United States to Install GE Healthcare's Discovery IGS 730 Hybrid Operating Room
September 16, 2012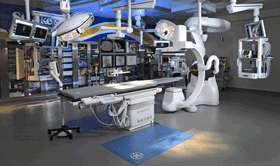 Bethlehem, PA (November 16, 2012) - St. Luke's University Hospital unveiled the Discovery IGS 730 Hybrid OR from GE Healthcare today, becoming the first hospital in the United States to offer this exciting new technology. This interventional suite combines the advanced imaging world and the surgical world into the Operating Room. The system received FDA clearance in February 2012.
St. Luke's University Health Network clinicians traveled to Buc, France three years ago to provide surgical insight that served in the development of the first GE Hybrid OR which comes equipped with laser-guided navigation. The system is completely mobile and can be programmed to move widely within the operating room, giving physicians the ultimate in precision and flexibility during even the most complex procedures.
St. Luke's and GE Healthcare – a 25-year relationship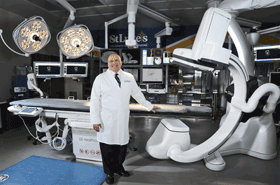 "Together with GE healthcare engineers and, from St. Luke's University Health Network, vascular surgeon Tim Oskin, MD, Section Chief of Vascular Surgery; Raymond Durkin, MD, Chief of Cardiology; and Carol McGee, Supervisor of Interventional Radiology, we are delighted to have been among those to have contributed to the product development of the Discovery IGS 730," says Hal Folander, MD, Chairman of the Radiology Department and Section Chief of Interventional Radiology at St. Luke's University Health Network.
"Having been part of the development process from the ground up, we know firsthand how extremely agile and capable this new technology truly is," says Dr. Folander. "I would say this is probably one of the most revolutionary interventional projects that I've seen. The innovation is equivalent to or greater than the invention of the flat panel technology for interventional procedures."
"We are thrilled to have St. Luke's be the first U.S. site to use the Discovery IGS 730," says Suzanne Winter, General Manager, United States and Canada, GE Healthcare, Detection & Guidance Solutions. "With their medical staff we have truly found a key partner willing to progress alongside us when it comes to technological advancements. With this, we are well positioned to address the growing trend in the United States for minimally invasive procedures and we are grateful to have St Luke's be our national reference site for future customers; surgeons and interventionalists."
About the technology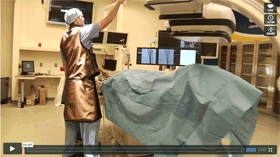 The Discovery IGS 730 Hybrid OR is neither floor- nor ceiling-mounted, and enables full patient access. It has the mobility of a C-arm with the power and image quality of a fixed system. This laser-guided, motorized mobile gantry creates an interventional environment without boundaries. It allows complete access to the patient and multiple parking possibilities, while helping maintain sterility for a flexible and secure OR environment. The unique gantry comes with a new wide bore design, which allows for steep angles ease in 3D visualization, especially for large patients. Thanks to its flexibility, multiple, or combined endovascular and open procedures, can be done in one room at one time when necessary.
"A tether housing the electrical connection to the unit allows the system to float, providing an additional degree of freedom," says Dr. Folander. "Its flexibility means the unit can also be moved completely out of the way and into multiple positions."
Aside from its supreme flexibility, the system also provides a large field, or flat panel, for precise 3D visualization, according to Dr. Folander. Critical organs and vessels can be imaged with lower dose radiation. The wide C-arm can help accommodate larger patients; and multiple, or combined procedures, can be done in one room at one time if necessary.
"Simply put, it's a sophisticated interventional environment without boundaries that will enhance how we do complex vascular and cardiac procedures and even trauma cases," says Dr. Folander. "It could be a true time saver and potentially a life saver, when reverting to surgery, as it could prove especially invaluable in emergency situations when every second counts."
Complex procedures to be performed in the Hybrid OR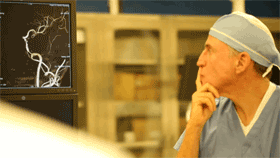 Specialists using the hybrid OR at St. Luke's include vascular surgeons, cardiothoracic surgeons, interventional cardiologists, cardiac electrophysiologists and interventional radiologists. Procedures to be performed in this new environment include endovascular repair of thoracic and abdominal aortic aneurysms; pacemaker lead extractions; transcatheter aortic valve replacement (TAVR); trauma cases requiring multiple, or combined, procedures. Non-trauma patients requiring combined procedures or surgeries, will also be candidates for procedures in the hybrid OR at St. Luke's.
"In designing the Discovery IGS 730, it was always our goal to provide the latest in OR efficiency – with high-precision imaging capability and exceptional in-room mobility. This solution aims to accommodate a wide range of minimally invasive and surgical procedures. Due to the technological advancement and flexibility of the system we hope it will allow our customers to explore and discover new ways within the OR room." says Chantal Le Chat, General Manager, GE Healthcare, Detection & Guidance Solutions. "It is clear that St. Luke's shares this goal and as such represents a great partner."
The TAVR procedure will be performed in the new Hybrid OR at St. Luke's by cardiothoracic surgeon Stephen Olenchock, DO, Section Chief, Cardiovascular Surgery, St. Luke's University Health Network. This leading-edge procedure is approved for patients who are not candidates for open heart surgery procedures, because the risk of an open heart procedure would be too great. Earlier this year, St. Luke's became one of the first institutions in the country to offer TAVR with the Edwards Sapien valve due to exceptional outcomes and a multidisciplinary team approach.
TAVR is an alternative to open heart surgery for valve replacement in which a catheter is guided thru a small incision in the groin and then advanced thru the femoral artery. The valve is deployed via catheter. TAVR received FDA approved in November 2011. This procedure is approved for patients who are not candidates for open heart surgery procedures, because the risk of an open heart procedure would be too great. To qualify for TAVR, patients cannot have severe buildup of plaque in the arteries.
Benefits of TAVR include a shorter hospital stay; less anesthesia; less risk of infection; and a faster recovery. Patients avoid a cardiopulmonary bypass, or the use of the heart/lung machine, since the heart continues to beat during the procedure. With the new valve in place, blood flow occurs immediately.
A History of Introducing Medical Innovations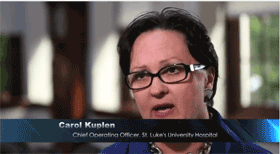 St. Luke's University Health Network is a show site for GE Healthcare and continues to be a regional leader in offering advanced medical technologies and innovations. In 2002, St. Luke's was first in the world to offer the GE Innova 4100 large-format digital flat panel detector, providing detailed, real-time fluoroscopic images of human anatomy for radiological procedures. For the past 10 years, the technology has helped physicians treat a wide variety of medical disorders, including peripheral vascular, cardiovascular and neurological diseases and uterine fibroids, without major surgery.
Dr. Folander participated in the study of the Innova 4100, to then become the first user of the system in the US. St. Luke's was also the first hospital in the region to offer Computed Tomography (CT) scanner in 1978, an early-generation CT scanner from GE Healthcare.
About GE Healthcare
GE Healthcare provides transformational medical technologies and services that are shaping a new age of patient care. Our broad expertise in medical imaging and information technologies, medical diagnostics, patient monitoring systems, drug discovery, biopharmaceutical manufacturing technologies, performance improvement and performance solutions services help our customers to deliver better care to more people around the world at a lower cost. In addition, we partner with healthcare leaders, striving to leverage the global policy change necessary to implement a successful shift to sustainable healthcare systems.
Our "healthymagination" vision for the future invites the world to join us on our journey as we continuously develop innovations focused on reducing costs, increasing access and improving quality and efficiency around the world. Headquartered in the United Kingdom, GE Healthcare is a $16 billion unit of General Electric Company (NYSE: GE). Worldwide, GE Healthcare employs more than 46,000 people committed to serving healthcare professionals and their patients in more than 100 countries. For more information about GE Healthcare, visit our website at www.gehealthcare.com.
For our latest news, please visit http://newsroom.gehealthcare.com.
---
Contact Information
Sue Ross, Director, Marketing & Public Relations
St. Luke's University Health Network
484-526-4122
Denise Rader, Director, Media Relations
St. Luke's University Health Network
484-526-4104
GE Healthcare
Pilar Anton Serrano
Global Communications Manager, Detection & Guidance Solutions (DGS)
+33665874751