News
Heart Vascular Center Opens at Miners Campus
September 05, 2012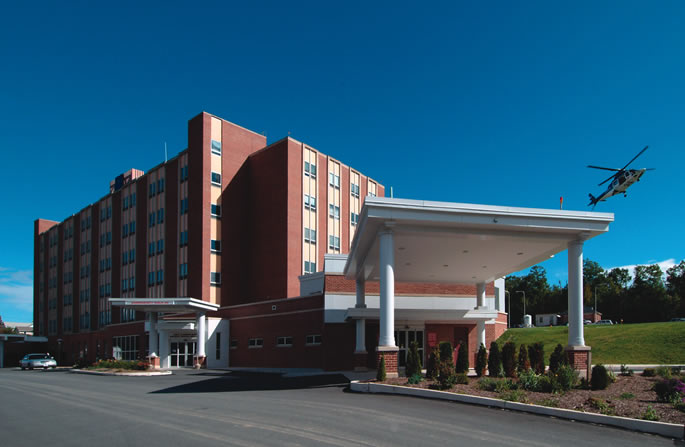 Coaldale, PA. (9/5/2012) – Today, administrators, physicians, staff and donors celebrated as St. Luke's Miners Hospital officially opened its brand new Heart & Vascular Center, Sleep Lab and Outpatient Lab Service site – all located adjacent to the main lobby which was flooded because of a water main break in November, 2011.
"The water that flooded the hospital that night did not dampen our resolve to continue to meet the needs of the community," said Bill Moyer, President of St. Luke's Miners Hospital. "In fact, the aftermath of that unfortunate night created a new awareness as to how much the community relies on our services which provided the drive to build a better facility with services that are easy to access. With that in mind, we improved physical access by placing key services near the main lobby entrance, featuring our new heart and vascular center which provides state of the art diagnostic cardiac testing complimented by the exceptional team of St. Luke's Cardiology Associates."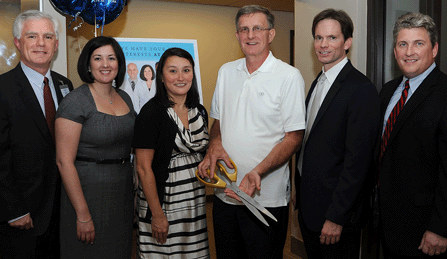 Celebrating New Services near the Main Lobby!
From left to right:
Dr. James Bohri, Chief of Medicine and Chairman of the Board of Directors at St. Luke's Hospital – Miners Campus
Dr. Lynn Moran, cardiologist, St. Luke's Cardiology Associates
Kim Sargent, VP Patient Care Services, St. Luke's Hospital - Miners Campus
Nesquehoning resident and heart patient Edward Gogal (holding scissors)
William Moyer, President, St. Luke's Hospital – Miners Campus
Dr. Ray Durkin, Chief of Cardiology, St. Luke's University Health Network
Proceeds from the 2012 Black Diamond Garden Party helped to construct a Heart & Vascular Center at St. Luke's Miners Hospital.
"The funds from the Black Diamond Garden Party have contributed to making this space into a full service Heart & Vascular Center, Sleep Disorder Center and Outpatient Lab site," said James D. Bohri, MD, Chair, St. Luke's Board of Trustees. "Putting patient services right at the main lobby has always been our goal – this was a good opportunity to do that with cardiology, sleep lab, pulmonary and other services."
The Center will be staffed by the experienced and skilled cardiologists of St. Luke's Cardiology Associates including Palmerton native Christopher Cutitta, DO; Richard Kolecki, MD; Hazleton native Lynn Moran, DO and Sobhan Kodali, MD. The Heart & Vascular Center will provide full access to the latest treatments and technology including echocardiograms, EKGs, holter monitors and outpatient visits.
"I am thrilled to be part of a practice that is bringing advanced cardiology services into the community where I was raised," said cardiologist Lynn Moran, DO. "I believe we can make a big difference to the residents as we strive to improve the quality of life for patients with heart and vascular disease."
The total cost of the construction of the new Heart & Vascular Center is more than $2 million, according to Moyer. The establishment of this center will provide easy access to heart specialists for local patients to receive the identical cardiology care with the very same cardiologists that also serve St. Luke's Heart & Vascular Center on 8th Avenue in Bethlehem.
"With the help of the Black Diamond proceeds, St. Luke's is able to make it easy for patients to see their St. Luke's cardiologist close to home," said Moyer. "St. Luke's Miners Hospital had a strong year financially despite today's challenges, and those dollars and funds from the St. Luke's Network get reinvested into the facility here in Coaldale."
In addition to the Heart & Vascular Center, the new space accommodates a new Sleep Lab and Outpatient Lab Services location.
The Sleep Disorders Centers at St. Luke's help evaluate, test and treat problems with sleeping. A sleep disorder may include difficulty falling or staying asleep, falling asleep at inappropriate times, excessive total sleep time and / or abnormal behaviors associated with sleep.
St. Luke's Sleep Disorders Centers are supported by board-certified sleep physicians and registered sleep technicians (polysomnographers) utilizing state-of-the-art equipment and technology St. Luke's Miners Sleep Lab conducts testing for all sleep disorders and is accredited by the American Academy of Sleep Medicine. Patients need to have an order from a primary care physician to schedule sleep studies.
The new outpatient lab site at St. Luke's Miners has been serving patients throughout construction, but moved into the new space in early August. The hospital-based site offers walk-in service, early morning hours and ensures timely, accurate and state-of-the-art analysis that is provided directly to the ordering physician. Other St. Luke's lab sites in the community include Brodheadsville, Jim Thorpe, Lehighton, Mahanoy City, McAdoo Nesquehoning and Tamaqua. All of St. Luke's University's Health Network's laboratories are fully accredited and certified by the College of American Pathologists.
Denise E. Rader
Director, Network Media Relations
St. Luke's University Health Network
484-526-4104
raderd@slhn.org
fax: 484-526-3068